Once you have extra virgin olive oil in your kitchen, what should you do with it? As the world's top consumers of olive oil, Greeks are happy to share tips for everyday use of this flavorful liquid gold!
If you ask Greeks how to use olive oil, you will probably hear two main answers: use it all the time in and on all your food (for both cooking and finishing), and use it to help you stay healthy. Of course you can dip crusty bread in good extra virgin olive oil and use EVOO in (or as) salad dressing, as Greeks do all the time, but that is only the beginning of a traditional Greek meal. As Evi Psounou Prodromou points out, in Greece "we use olive oil all day, every day in significant quantities, from the beginning of our life as babies and throughout our life, as food, in delicacies, as a beauty product, and even as a medicine" (Yanni's Olive Grove, Chalkidiki). As Dimitris Tsarpalis confirms, "olive oil is used in all aspects of life in Greece. In birth, in baptisms, in marriages, in death ceremonies, in oil lamps, as well as cooking, frying, and grilling, even drinking it in the olive oil producing areas. Whatever I cook, I add extra virgin olive oil" (Sparta Groves, Laconia).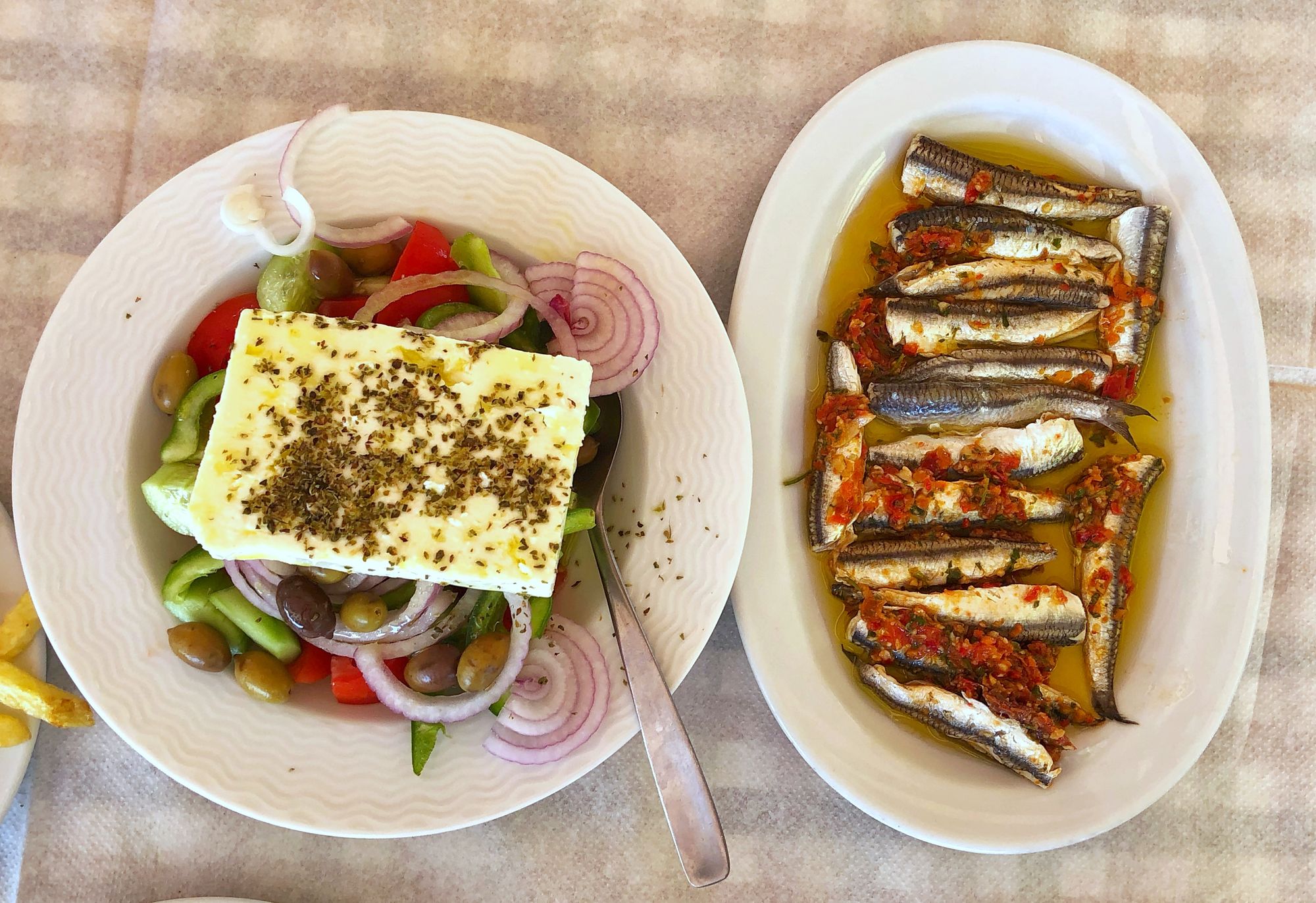 Tsarpalis is not alone. Greeks tend to put bite-size pieces of potatoes or vegetables and most meats, poultry, and fish into the oven bathed in olive oil and sprinkled with fresh lemon juice, salt, pepper, and (in many cases) oregano. Stewed green beans, peas, cauliflower, pulses, poultry, or meat positively swimming in olive oil and tomato sauce are so widespread in Greece that they compose their own category. "Ladera," or "oily," dishes may even have a separate section on the menu of a traditional Greek restaurant.
Eleftheria Mamidaki explains how olive oil is an "everyday staple ingredient" for her. She pours it onto cooked fish, meat, chicken, and roasted or boiled vegetables, salads such as cherry tomatoes with goat cheese, and "all kinds of bruschetta (for example, bruschetta with avocado slices and cherry tomatoes topped with extra virgin olive oil). A common Greek go-to choice is oven-cooked sardines with cherry tomatoes and some garlic topped with extra virgin olive oil" (Anoskeli SA, Crete). Chris Kavalieratos highlights the traditional Greek use of extra virgin olive oil on various types of boiled greens. As Diamantis Pierrakos reminds us, "an olive oil with a rich flavor and aroma does not need many ingredients." Added to foods such as bread, cheese, steamed vegetables, and salads, "the fresh green fruity aroma of premium quality extra virgin olive oil has the power to enhance the simplest of dishes" (Laconiko, Laconia).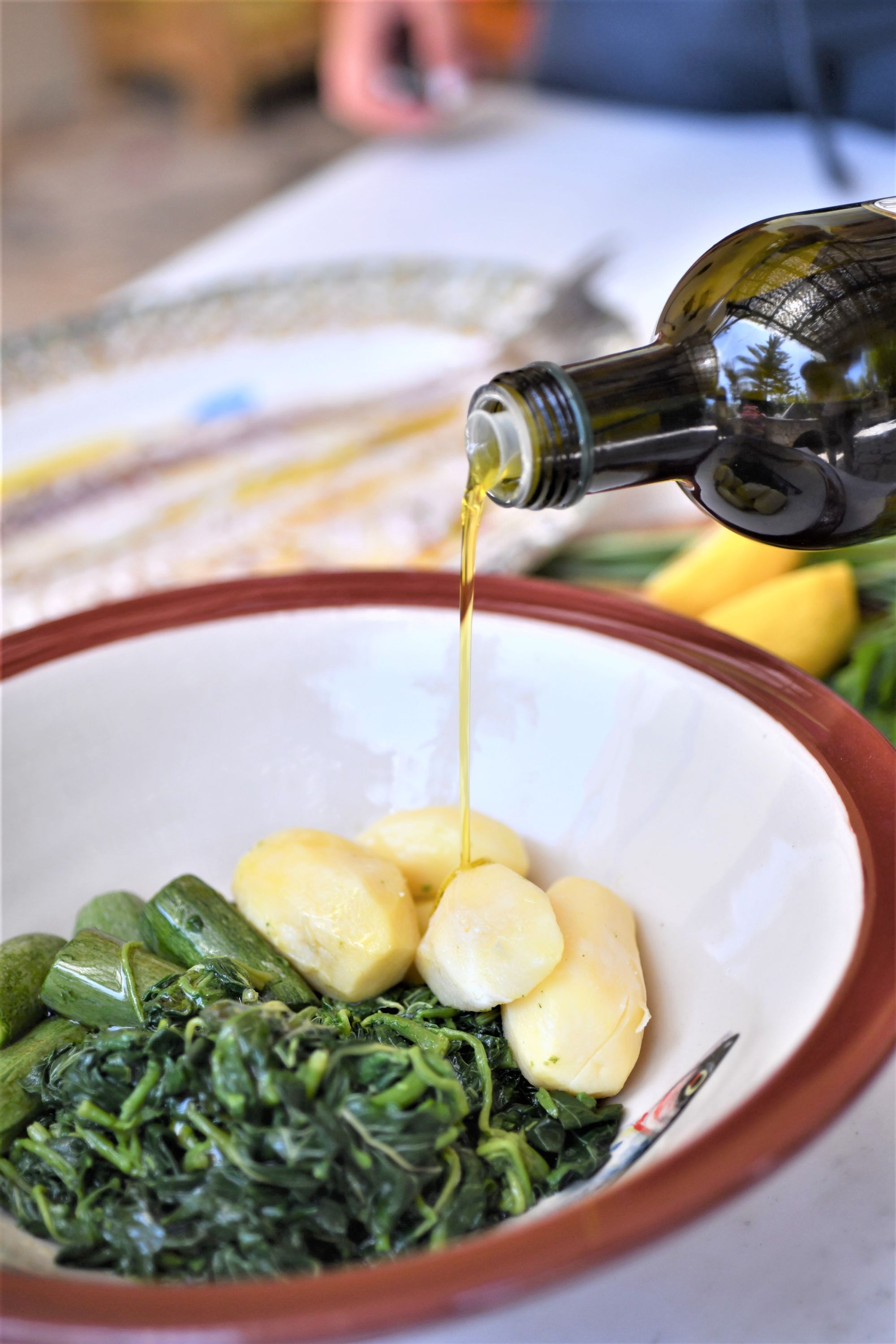 Kavalieratos recommends that every kitchen feature at least two types of extra virgin olive oil for finishing dishes. For example, you can equip yourself with one olive oil that is "sweet and mild for boiled greens or salads with an intense, bitter taste or where raw onions are used, and another intense, spicy EVOO" to enliven sweet or bland greens, vegetables such as zucchini and potatoes, soups, and legumes (Anopaea Organic Estate, Central Greece). Of course, as Kavalieratos admits, you can also experiment by combining two intense flavors, or two mild ones, according to your taste.
Kavalieratos likes to use a mild olive oil in traditional Greek desserts such as halva or baklava, and a spicier EVOO such as an early harvest Koroneiki in certain chocolate desserts. Olive oil is essential to moist Greek orange, lemon, and vanilla cakes and olive oil orange juice cookies. Kyriakos Edipides even drizzles olive oil over his ice cream (Levantes Family Farm, Evia).
This doesn't sound as strange to Greeks as it might to others, since the ubiquitous presence of olive oil is ingrained starting in their earliest years.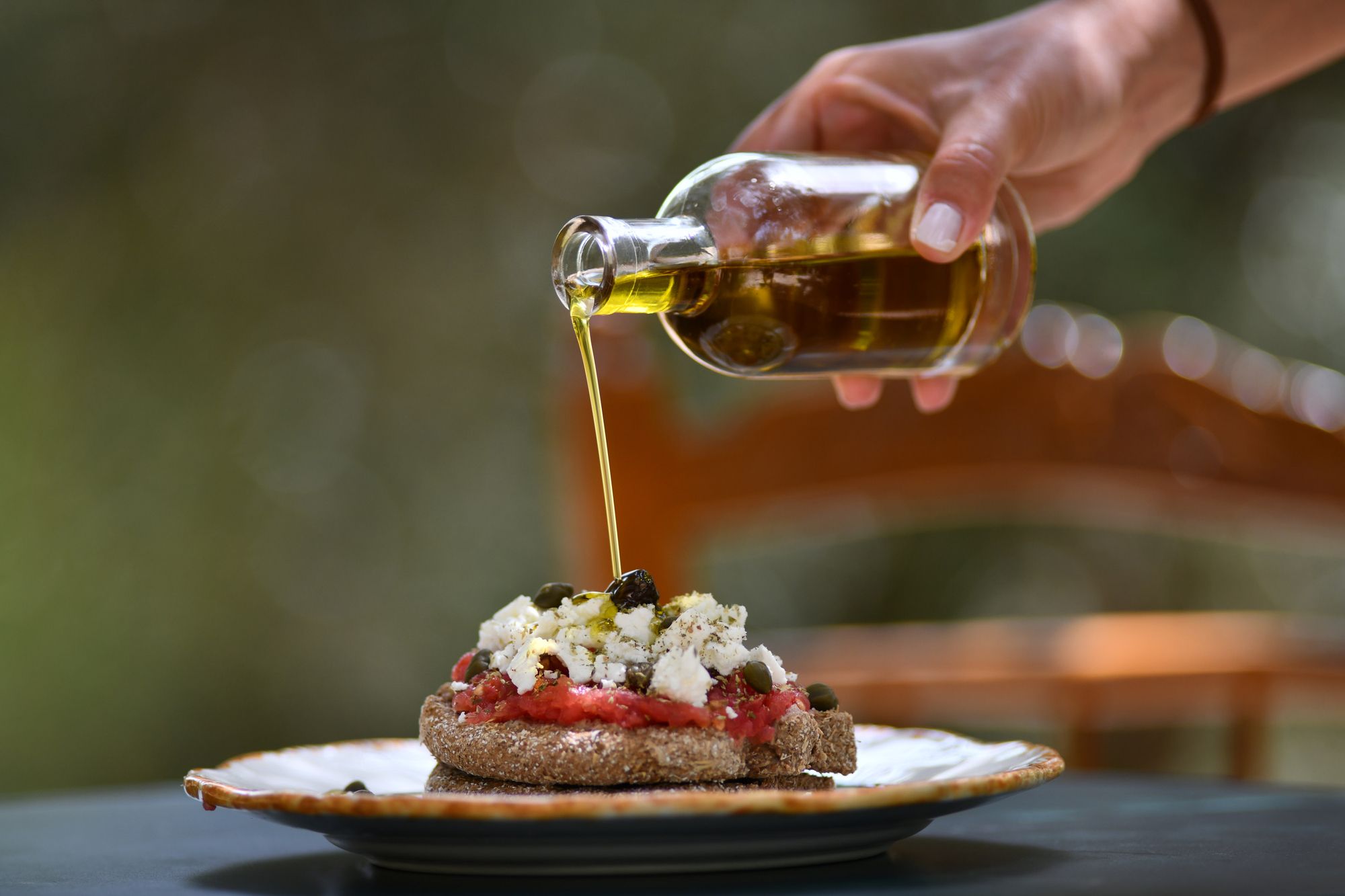 "When you are a child" in Greece, suggests Ioannis Kampouris, "you see olive oil dominating the family table, both at breakfast with slices of bread, grated cheese, and olive oil, and in the lunch salad that accompanies oil-filled Mediterranean meals. In the evening we eat dakos with tomato, cheese, olives, capers, and nuts. These childhood experiences accompany us, indelibly engraved in our soul, and we pass them on to our own children" (E-LA-WON, Peloponnese).
With his own deep-rooted devotion to olive oil, Eftychis Androulakis enjoys a slightly different version of the simple raw creation known as dakos, which he views as "the most Cretan dish, and extremely healthy: Cretan rusks with juicy tomatoes, oregano, mizithra cheese, and extra virgin olive oil" (Pamako, Crete). Chop some tomatoes in a food processor (or with a knife), blend in EVOO and oregano, spoon the mixture onto rusks, and add the soft cheese and more olive oil on top.
To give herself additional choices when cooking, Maria Katsetos fills "pretty dark glass vintage bottles with my favorite olive oil. Each bottle has its own little recipe inside, because I have added different herbs, spices, and even special flowers and fruits to my olive oil. As I cook, they are all there ready for me to easily add to any dish I am preparing. It's delicious and easy" (Loutraki Oil Company, Peloponnese).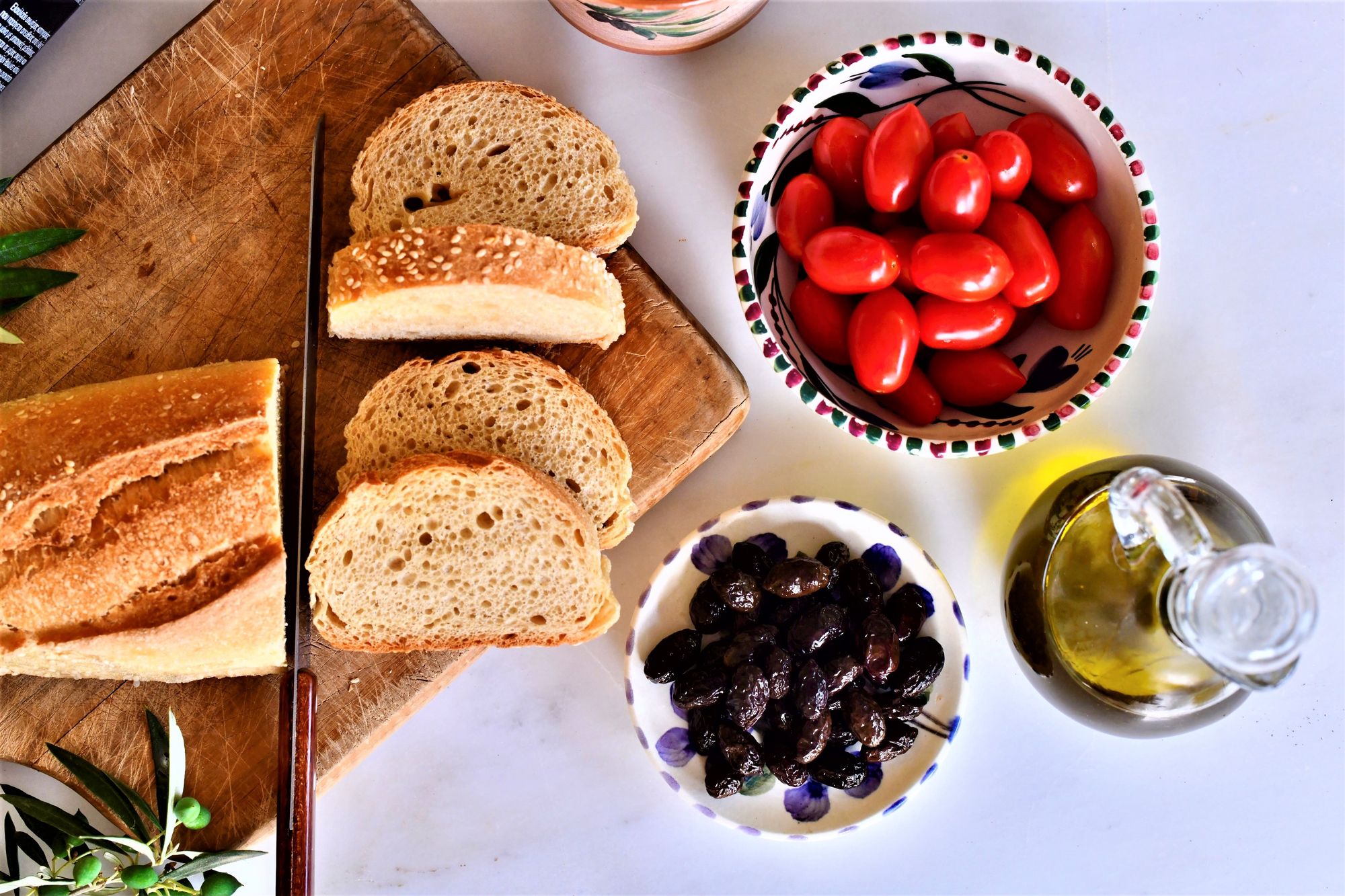 While Kostas Kidonakis also uses olive oil "almost everywhere" in cooking and finishing, he joins many Greeks in believing "a good fresh olive oil is a medicine" to drink by the spoonful every morning (Kidonakis Bros., Crete). Eftychis Androulakis recommends "15 ml of high polyphenol olive oil every morning on an empty stomach to strengthen the immune system." Kris Giannakos suggests that we "mix one tablespoon of high polyphenol extra virgin olive oil with half a lemon every morning to nourish the body" (Ilias and Sons, Laconia). Recent scientific evidence supports claims about the antioxidant, anti-inflammatory and other health benefits of EVOO  which is often cited as a central component of the famously nutritious Mediterranean diet. Olive oil can be beneficial alone or with food, raw or cooked.
As Evi Psounou Prodromou reminds us, "from ancient times to the modern day, olive oil has held a prominent place in Greek history because of its recognized benefits." Diamantis Pierrakos believes "olive oil is an essential part of our culture, tradition, and everyday cuisine." For Greeks, Vassiliki Tsilivarakou adds, "olive oil is in our everyday life, not just as a product, but as a lifestyle," with olive groves an essential part of the landscape, the hard work of the olive harvest central to autumn, and the aroma of fresh olive oil part of the collective memory (OleaJuice, Peloponnese).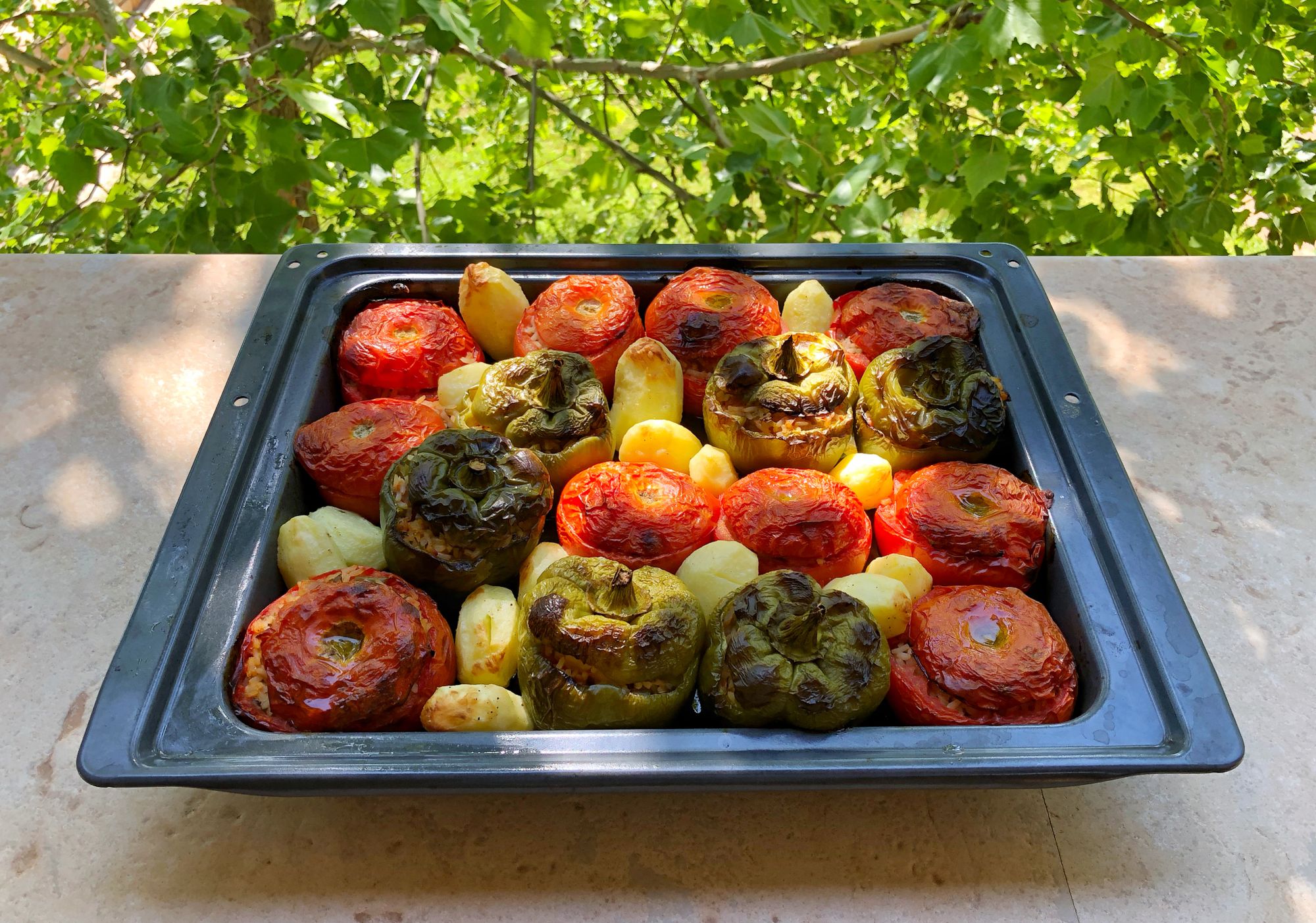 Product placement
PJ KABOS 'Family Reserve Organic - Medium'
High Phenolic and 2022 Gold-Award Winner.
Declared as 'One of the World's Best Olive Oils'.
Click here to shop.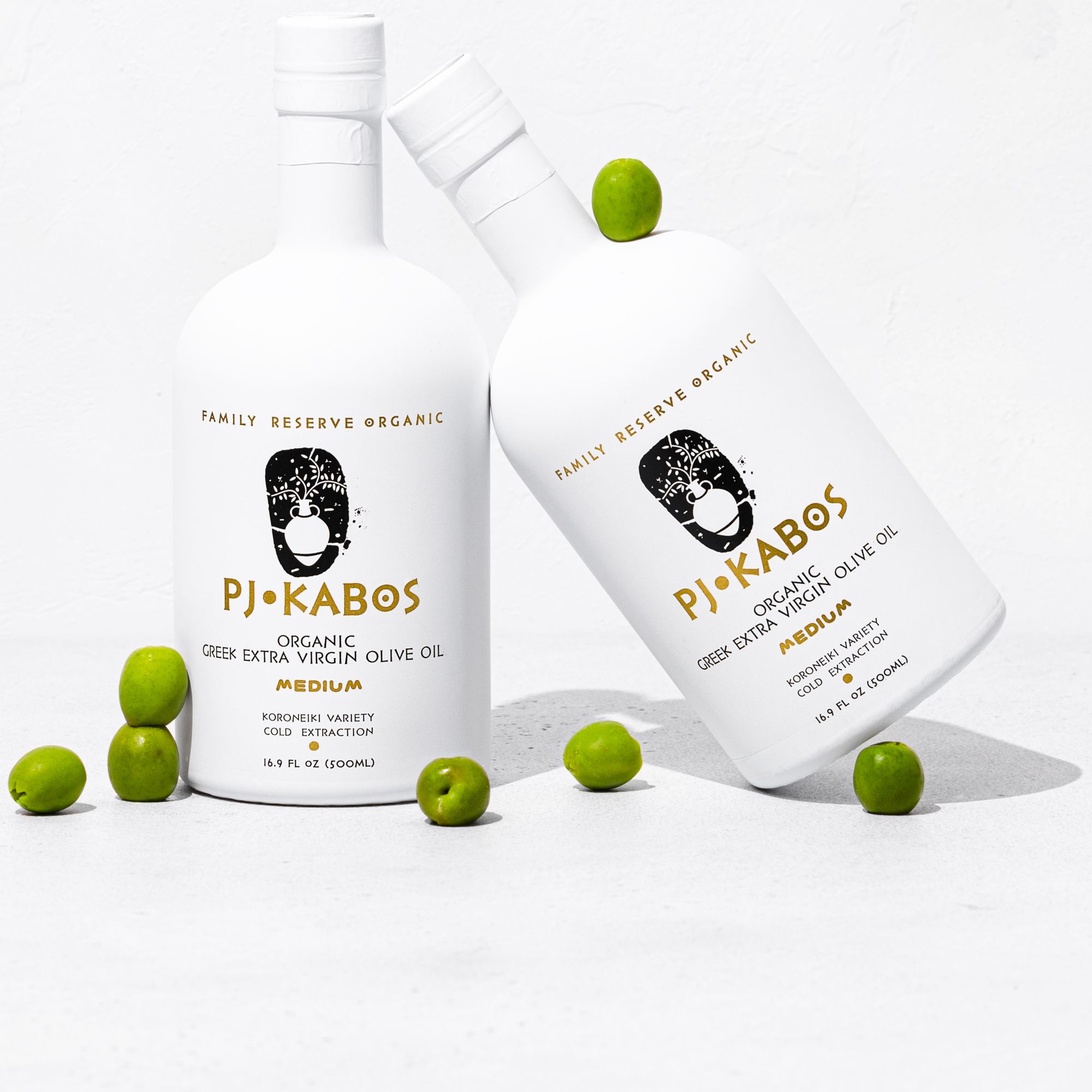 Join the newsletter to receive the latest updates in your inbox.