There's a battle royale in the California olive oil industry. On one side is the state's largest olive oil company, California Olive Ranch. On the other side is the majority of California's olive oil makers. What is the dust-up about and what—if anything—does it mean for the olive oil consumer?
At the heart of the issue is AB 535, a bill by Assemblymember Cecilia Aguiar-Curry stipulating that the word "California" may only be used on the front label of an olive oil bottle if it contains 100% California-grown olive oil.  It also says that if you use a California geographical region name to indicate the origin of the oil, at least 85% of the olive oil must come from that region.  [UPDATE: the bill has been amended to say that if the word California is used on the label of a product containing non-California oil, in a similar size font it must list the percentage of California-grown oil. The bill passed with this and other amendments.]  
Opposing this legislation is California Olive Ranch (COR), whose "Global Series" of olive oils would appear to fall afoul of this law. These products under the "California Olive Ranch" brand contain a blend of imported and California-produced olive oil. The origins are listed on the front label: Argentina, Chile, Portugal and California. COR argues that because "California Olive Ranch" is a registered trademark, and because the product labels indicate the origins, AB 535 is an infringement on a truthfully labeled product and sets a "concerning precedent for regulating businesses with geographic names and trademarks in other food and agriculture industries."
The rhetoric is heated. On one side, the bill is being described as a violation of first amendment commercial speech rights and an attack by competitors on the Global Blend series. On the other side, claims are made that California farmers and producers cannot compete with misleadingly labeled foreign oil, produced more cheaply overseas. Consumers are asked to choose "honesty and transparency over greed."
So, what is going on and what does it mean for the consumer?
A Global Blend of Oils
A quick look at the origin of the COR Global Blend is instructive. Its inception is described by CEO Michael Fox in a Food Navigator piece:
"We started blending high-quality oil from other regions as a result of a crop disaster [in 2017/18][sic] when we produced only a third of what we needed to produce..."
The "crop disaster" year was the harvest of 2018-19 (CA olive oil is made in the fall and winter), not 2017-18 as stated in the Food Navigator piece. But the truth is this project started long before the crop failure of 2018-19.
The Americas Blend
An article from August 16, 2017 in Olive Oil Times states,
"COR, whose sales reportedly exceed $100 million, has announced a limited-edition release of its new Americas Blend, made with South American oils that will be available through December in a 1.4-liter 'Chef Size" bottle. The Americas Blend results from COR's partnerships with producers in South America — including Argentina, Peru and Chile — and features "fifty percent Californian and fifty percent South American extra virgin olive oil…' the company said."
So the business need to create a multi-country blend was not borne of the 2018-19 bad crop year; August 16, 2017 was the summer before the near-record harvest of 2017-18. The Americas Blend came and went quietly, but in retrospect, it looks like a trial balloon—one which created supply channels for a blended retail product. So when the abysmal harvest of 2018 came, the Global Blend (initially and less clearly named as the "Destination Series") was market ready, debuting in late 2018 as the harvest was still underway.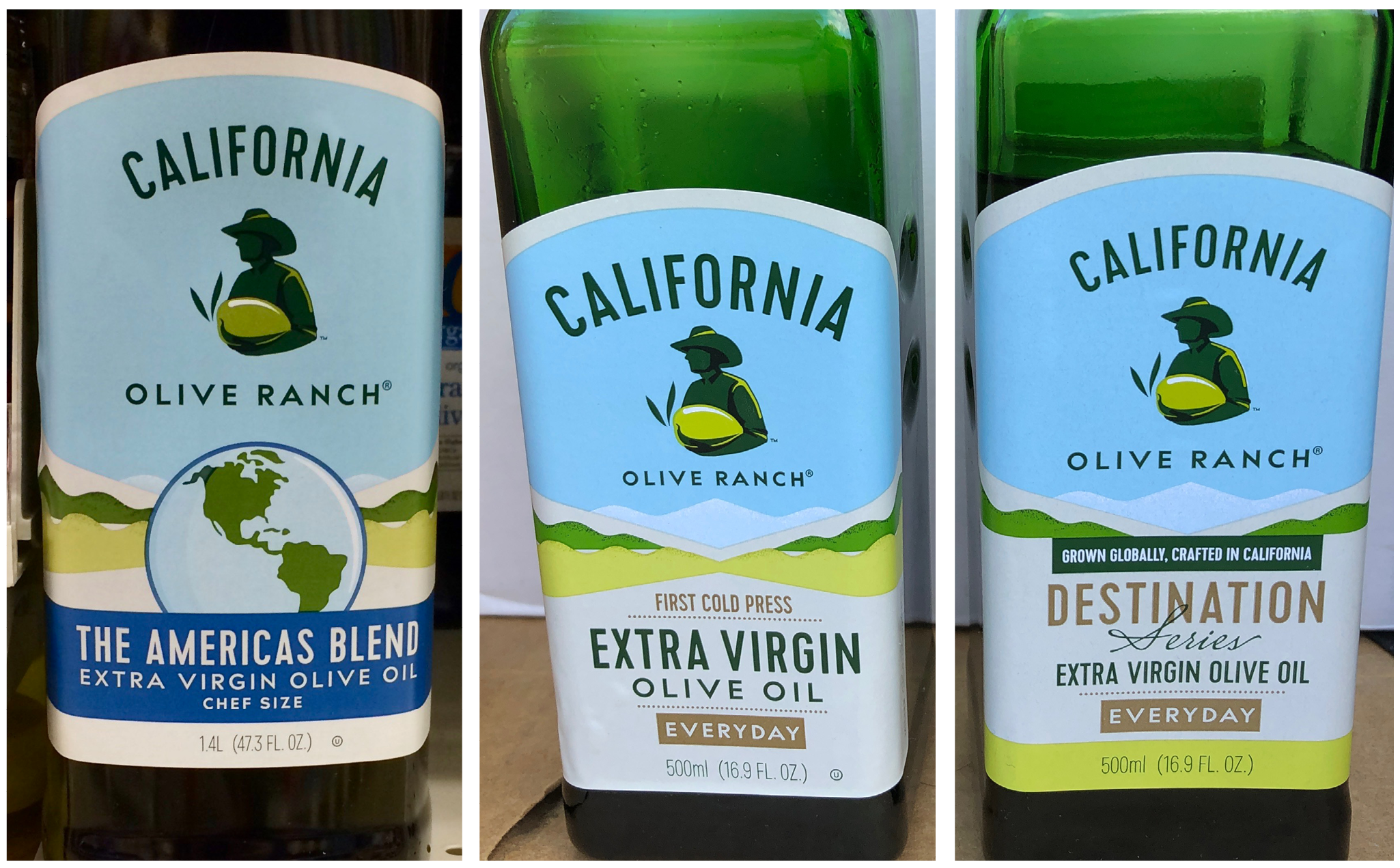 Since the initial release, there have been a few label redesigns and the renaming of the series from Destination Series to Global Blend, but the basics are the same: olive oil sourced at a lower price overseas is bottled in an import/California blend and sold for 25-35% less than COR's original 100% California product. Critics say that the view from the supermarket aisle remains confusing with "CALIFORNIA" dominating the label of the import/California blend.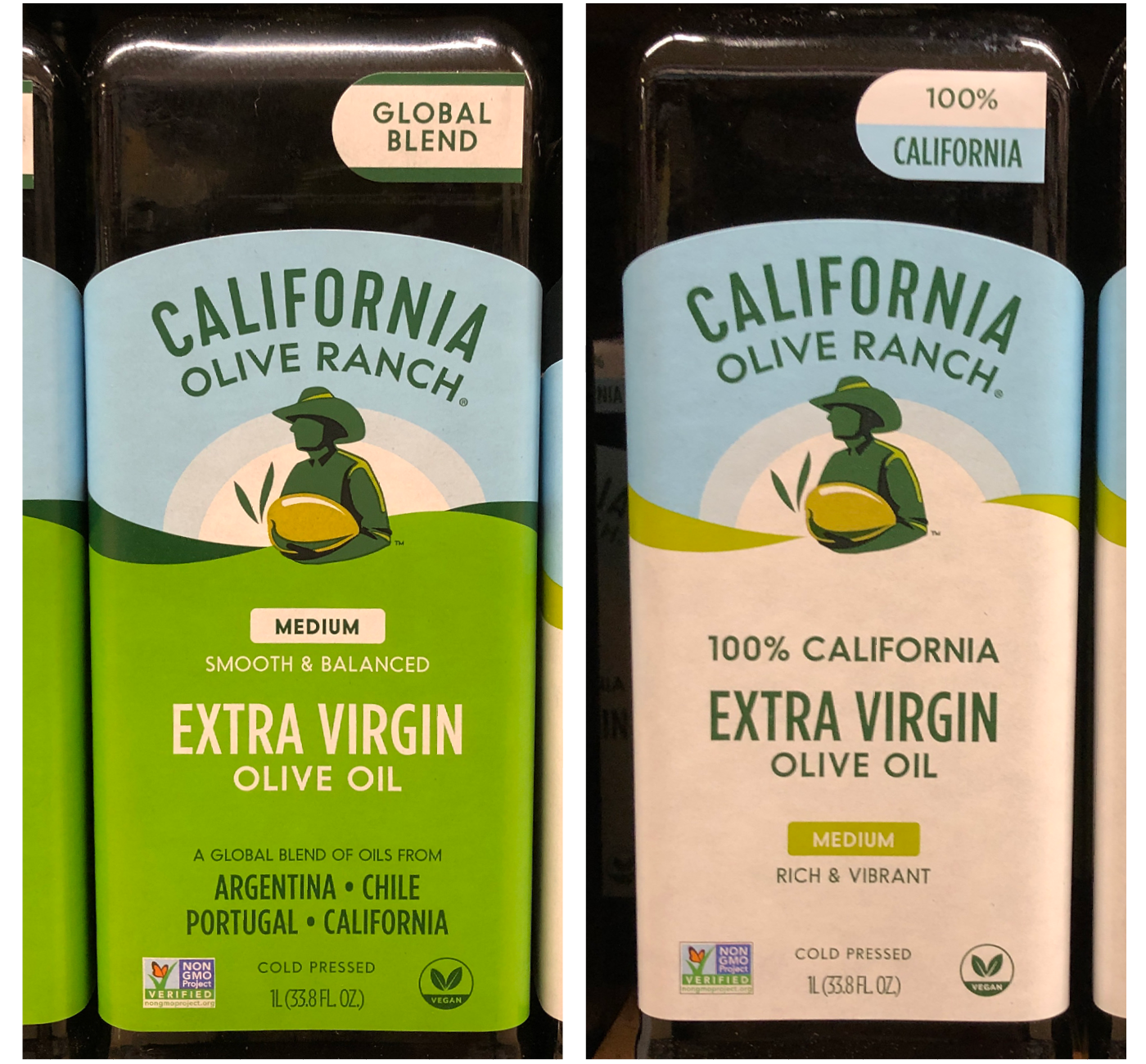 To most producers of 100% California-grown olive oil, this isn't fair play. They bear all the costs of producing olive oil in California, a state with higher mandatory quality standards, more demanding environmental and pesticide regulation and stricter labor requirements, yet they must compete with a mostly imported product bearing the word "CALIFORNIA" across the front. To these producers, having the words "ARGENTINA, CHILE, PORTUGAL, CALIFORNIA" down below at less than half the size doesn't make that CALIFORNIA banner okay.
Precedent in California Wine
The protection of geographical origins is nothing new in the food and wine world. In Europe and elsewhere, producers of high-quality products associated with certain regions long ago recognized the value of these regional names and have enacted laws governing usage to protect the farmers and producers of these regions. In California the wine industry has been active for decades in enacting legislation to restrict the use of regional names to wines actually produced in those regions (at least 85% from that region in most cases).
The olive oil industry in California maintains that it deserves the same protections for California-grown olive oil. The existence of these laws regarding wine origins have not had any impact on other products: the laws are specific to wine and have not caused a flood of litigation over other geographically branded products.
An argument against AB 535 says that it's unnecessary because the California Health and Safety Code (HSC) already states: "If any olive oil is produced, processed, sold, offered for sale, given away, or possessed in California, that indicates on its label "California Olive Oil," or uses words of similar import that indicate that California is the source of the oil, 100 percent of that oil shall be derived from olives grown in California." But this existing HSC language has not been adequate to prohibit the current use of "California Olive" on the Global Blend package. The language of AB 535 tightens this to prohibit any reference to California or representation unless the olive oil is 100% California grown.
Who Supports AB 535?
According to Fox, as reported in Food Navigator, this bill was created as "a blatant attempt – backed by some of his competitors - to go after his company's 'Global Blend' extra virgin olive oil series." There is some truth to this. Although there is a history of the CA industry advocating truthful olive oil labeling, the need for the specific provisions in AB 535 stems from the sale of this import/California oil bearing CALIFORNIA as the most prominent word on the label. Just as the list of opponents to the bill includes COR suppliers, customers and vendors, the list of supporters for AB 535 includes COR competitors, as well as dozens of smaller California olive oil brands that operate in the artisan sector.
Supporters of AB 535 include Sciabica's California Olive Oil, Seka Hills, Cobram Estate, Frantoio Grove, Corto Olive Oil, Pasolivo, McEvoy Ranch, Kiler Ridge, Fandango, 43 Ranch and more: 31 California olive oil brands and at least 35 olive growers are on record in support. In addition, close to 400 consumer letters have gone to legislators. Other supporters include the Farm Bureaus of Monterey, Sonoma, Yolo, Solano and Marin Counties, the Olive Oil Commission of CA, Community Alliance of Family Farmers, the Center for Land-Based Learning and the Olive Growers Council of California. Various California olive oil companies have been active in drawing attention to the bill. The Keep California Real campaign developed by McEvoy Ranch, one of California's oldest and most respected brands, started an online consumer petition that has gathered almost 1,500 signatures to date.
Consumer impacts
So far, the discussion of this legislation has centered primarily on industry interests. It is clear there would be an impact on California Olive Ranch if it is unable to sell the Global Blend under its current California Olive Ranch banner and needed to develop an alternative label. It has been suggested that AB 535 would stifle innovation and consumer choice, but so far nothing has been cited to support this claim. COR—and the other companies now selling similar products under other brand names—would still be able to sell an import/California blend. Nothing in existing or proposed legislation would prohibit this, but it would prohibit using a CALIFORNIA banner on the front label.
If AB 535 is defeated and there is no addition restriction on the use of "California" on olive oil labels outside the current prohibitions, what will this likely mean for American consumers? Initially, it will mean business as usual, with less-expensive import/California blends marketed with the current COR label. It will mean never grabbing a bottle of "California" olive oil without scrutinizing the label to verify the origin—the same drill as we already go through with a lot of the Italian-sounding Mediterranean blends in the market.
The more troublesome outcome if AB 535 is defeated comes back to this issue of fairness and a level playing field. In the long run, California farmer-producers will almost certainly be affected by this downward pressure on prices from cheaper import/California blends that degrade the premium and trust attached to the California name. This makes an already challenging landscape for California olive farmers even more difficult. Harvard Management Company, the majority owner of COR, has a controversial track record with California farmers, water rights and farmland investments; this history adds to the anxiety.  
If you are a person who wants to support domestic farmers, AB 535 is a good law. If you are a cost-conscious shopper, AB 535 will not affect the availability of lower-priced import options so it will have no impact on your market basket. As for import/California blend olive oils, they are highly unlikely to disappear from your shopping choices. They will just be easier to pick out of the line-up.  
Alexandra Kicenik Devarenne is a freelance olive oil consultant, writer and educator based in California.
Correction: an earlier version of this article incorrectly stated the name of the table olive association that supports AB 535. It is the Olive Growers Council of California.
Product placement
PJ KABOS 'Family Reserve Organic - Medium'
High Phenolic and 2022 Gold-Award Winner.
Declared as 'One of the World's Best Olive Oils'.
Click here to shop.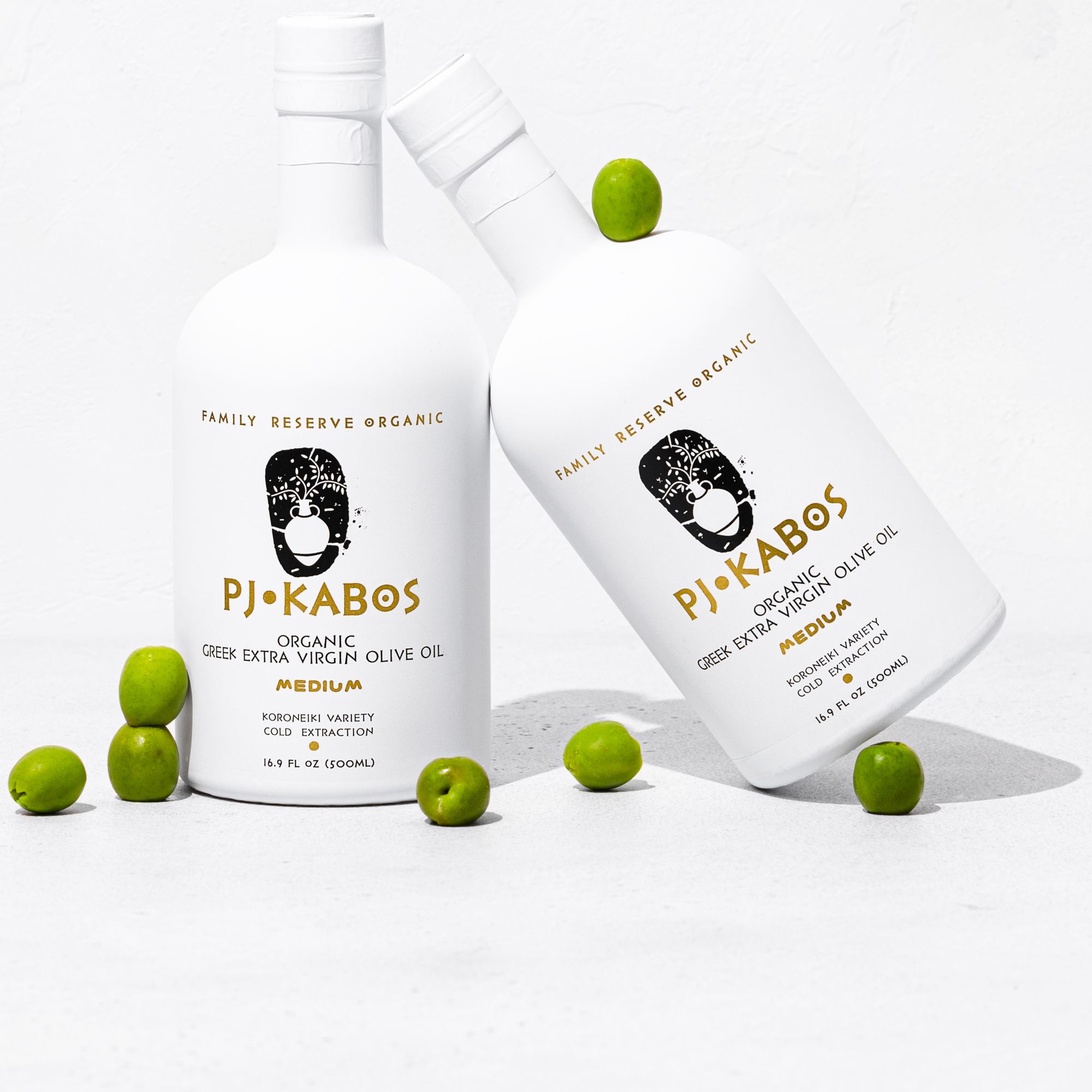 Join the newsletter to receive the latest updates in your inbox.