For most of us, Australia isn't the first country we think of when we imagine award winner olive oil. That might be changing. These days, the land down under is producing Australia select extra virgin olive oil that has the industry taking notice.
In fact, Epicurious recently heralded Australian olive oil as the "hoodie-wearing tech startup guy in a roomful of suits." They're a new player on the international olive oil scene, but that new blood means something: Australian olive oil has pioneering methods, effective regulations, and a lot of energy.
Here's a brief history of Australian olive oil, what makes it so special, and how to taste some of the best bottles on the market.
Australia Had a Long Way to Go
While European countries like Italy and Spain have long had access to high-quality extra virgin olive oils (EVOO), the world's best oils – or even decent oils – didn't always make it to Australia.
As former CEO of the Australian Olive Association (AOA) Lisa Rowntree told the publication Australian Extra Virgin Olive Oil, "In Australia back in the earlier days we were only ever given poor quality olive oil."
While Rowntree still loves imported oils from Greece and Turkey when she can get them, they were hard to come by in Australia. "We get the dregs here because we don't have any decent labelling laws around olive oil here. We're a dumping ground for the product that is old and can't be sold."
She continues, "None of us really knew any different and for a number of people my age the idea of dipping bread in oil and balsamic vinegar was ghastly." However, new regulations have changed the landscape, and the health benefits coming out of that little spout are hard to argue.
The Quality of Australian Olive Oil is Better Than Ever
Now that Australians are making their own olive oil, however, the perception – and the quality – is changing. As Lisa said, "People now realize it complements food and how those nice, robust oils with high polyphenols are so good for our health."
And it really is well-made. As Rowntree told Epicurious, most growers have acres and acres of their own olive trees and their own mills and bottling facilities. As such, they can press their green olives within 24 hours. Lisa adds that they often press them "much quicker" than 24 hours, keeping the harvest date fresh for the retailer, an appealing trait of the world's best olive oils.
Green Olive Oil Production Methods Are Prevalent
Not only are their methods quick – they're also friendly to environmental wellness. As Shane Cummins, the head judge of the Australian National Olive competition and chairman of judges of the first Australian International EVOO Competition, told the publication Australian Extra Virgin Olive Oil, "We have a history of doing things clean and green. We have some really good policies and practices in place, right through the horticultural and food industries."
While methods are green, they're also efficient. According to a 2013 report by the U.S. International Trade Commission cited in Epicurious, Australia's olive oil producers are focused on "intensive layouts of olive groves, modern irrigation and farm management practices, mechanized harvesting, and advanced milling technologies."
Another thing that makes Aussie oil so green (and we don't mean its grassy hue), is the access. There are many small to large high-quality producers throughout the country. As such, after years of importing sub-par olive oil, it's finally easy for Australians to access locally-made olive oil.
As olive oil is best served fresh (it does not improve with age unlike wine or cheese) this is great news for Aussies. That said, some of the best bottles are now available for export, so everyone can taste the wonders of Australian olive oil. We just have to use them quickly!
Australian olive oil is very closely regulated
While the international olive oil industry is regulated, Australia goes above and beyond. In fact, Larry Olmsted, author of Real Food Fake Food, told Epicurious that Australia has the strictest regulations for what can be called EVOO. In fact, if he had to choose an oil based solely on its place of origin, his first choice would be an Australian olive oil.
Currently, the global olive oil grading standards are those written by the Madrid-based International Olive Council. While these standards require lab analysis as well as sensory tests, some say that they are too broad and do not sufficiently determine the age of an oil, or some other important factors.
In Australia, however, thorough regulations reign supreme. Here's a bit about olive oil regulations in Australia.
Australia's Olive Oil Regulating Bodies
The Australian Olive Association (AOA) was formed in 1995 as the body that represents Australian olive growers. The Board of Directors is populated by growers from small, medium, and large farms.
This organization is responsible for maintaining the quality of Australian olive oils. The Australian Standard for Olive Oils and Olive Pomace Oils carefully regulates the use of confusing terminology on the packaging and the provenance of the product.
Published in 2011, the Standard accomplishes the following:
It clearly outlines the different grades of oil (including natural or refined)
Unambiguously defines what makes an Extra Virgin Olive Oil (EVOO)
Includes the best and most current testing methods to ensure quality and authenticity
Offers technical reasoning for the "best before" dates
Features labeling requirements to prevent confusion for customers
Regulates the use of misleading words on labels, like light, extra light, and lite. Light olive oil is not actually low in fat or calories – it's just refined so it has a very neutral flavor. Read more about the different types of olive oil here.
Requires that words describing the country and/or region of origin are verified
Certified Australian growers have a special triangle-shaped sticker on the bottle so the customer can be sure their olive oil comes from Australia.
According to Epicurious, these standards are much more rigorous than the tests required by the  International Olive Council. How? They require two additional tests that are not used in the IOC regulations. These are designed to test for freshness, quality, and whether the oil is cut with oil that is cheap or old.
The DAG test, known to be one of the most sophisticated tests available, measures the ratio of diacylglycerols. These compounds change with age, heat, and/or the refining process, making this a very effective test for doctoring.
The PPP test tests for the degradation of chlorophyll in the oil, which happens as an oil ages. It can also be affected by heat, such as when an oil is refined.
There Are Many Award-Winning Bottles to Choose Between
Are you sold on Australian olive oil? Good! Here's where to start.
Competitions like The Australian International Olive Awards keep producers on their toes and help customers choose the best bottles.
Here are the winners of the 2020 AIOA Best of Show
Best Extra Virgin Olive Oil of Show, Boutique Volume: Flinders Island Olives Organic Extra Virgin Olive Oil - Produced on the only commercial grove on Flinders Island, Tasmania, this olive oil is peppery and complex. Perfect for Moroccan dishes.
Best Extra Virgin Olive Oil of Show, Commercial Volume: Cape Schanck Olive Estate Picual - Made with Picual olives, this EVOO is robust and spicy, with a little bitterness to finish. It has aromas of fig leaf, rocket, ripe tomato, and passionfruit.
Best Flavoured Olive Oil of Show: Rio Vista Olives Basil Pressed - Made with approximately 150g of basil per bottle, this cold-extracted basil is ideal for pesto, as a dipping sauce, or drizzled over Thai dishes.
Here Are a Few International Award Winners
Produced in Victoria, the Cobram Estate Reserve Picual is made from Picual olives. This olive oil is made with olives that were picked at the peak ripeness and cold-pressed on-site within just four hours of harvest.
Also produced in Victoria, the Taralinga Estate Robusto is a robust EVOO with the highest possible amount of healthy, antioxidant polyphenols. As such, it has a peppery finish with an herbaceous flavor and fruity aroma.
The Schanck Olive Estate Frantoio is a medium olive oil with a balanced flavor and aromas of green almond and chicory. This oil is produced on the southern tip of Australia in Mornington Peninsula.
To Sum Up
While Australian olive oil is newer and lesser-known than its European counterparts, they are doing wonderful things. Thanks to strict regulations, you can be sure that Australian extra virgin olive oil is legitimate. But are they better than European olive oils? Have an olive oil tasting party to decide for yourself.
Product placement
PJ KABOS 'Family Reserve Organic - Medium'
High Phenolic and 2022 Gold-Award Winner.
Declared as 'One of the World's Best Olive Oils'.
Click here to shop.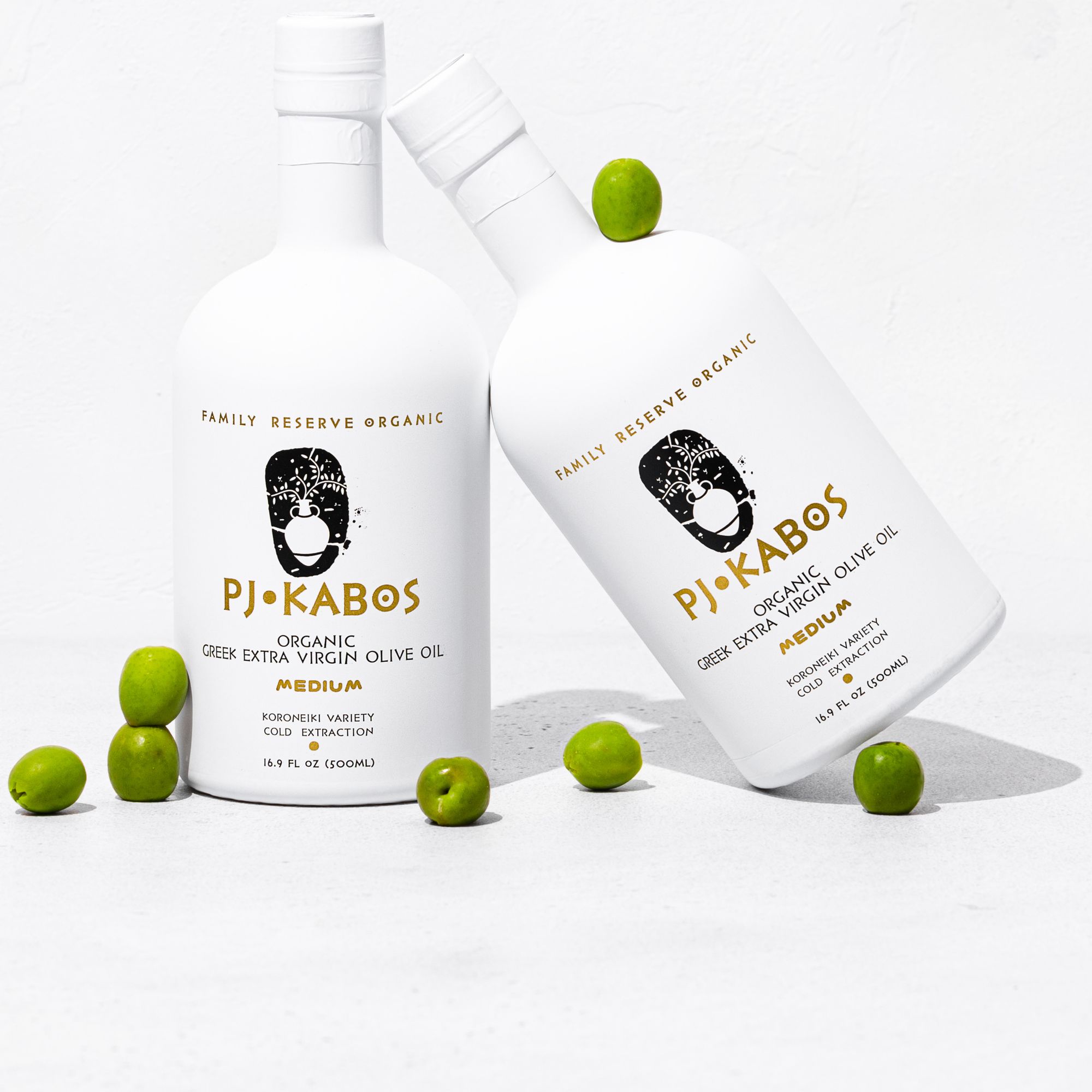 Join the newsletter to receive the latest updates in your inbox.