When you think about olive oil country, your mind probably travels to Spain, Italy, and Greece. You're right – these countries are the world's top three producers of olive oil. But you might be surprised to hear that the sixth-largest producer of olive oil is Morocco, their North African neighbor to the south. When it comes to Moroccan olive oil, it's not just about the volume – their olive oils are now winning awards.
For those who have traveled to Morocco, it's an easy concept to understand. You'll see olives tossed in harissa, a fiery local spice, and placed on the table for pre-dinner snacking. You'll find them in a tagine, adding some salty umami to the local stew that's already flavorful with a hint of artichoke. You'll pass them while wandering through the maze-like souks, shimmering and piled high outside of market stalls.
Where there are olives, there can be olive oil. And, as it turns out, Morocco is producing some pretty impressive product. In fact, there's never been a better time to try this premium olive oil from Morocco. Here are the reasons why you should start using Moroccan olive oil (or keep it up if you already are).
1. Olive oil has some significant health benefits.
First of all, let's delve into the benefits of olive oil in general. In addition to being delicious and versatile, olive oil is packed with healthy monounsaturated fats and polyphenol compounds, which are believed to slow the development of a range of diseases. Read more about the bioactive compounds here.
Olive oil may improve heart health. In the 2013 PREDIMED study, more than 7,000 adults in Spain consumed a Mediterranean diet with either mixed nuts or more than four tablespoons of olive oil each day (with fat 1.5g per tbsp, just 2 percent daily value, and sodium 0mg). The study found that this group had a significantly lower risk of experiencing a major cardiovascular event than those eating a low-fat diet. In fact, the risk of stroke, heart attack, and death from heart disease was 28% lower among the group on the Mediterranean diet with nuts, and 31% lower in the group with Mediterranean diet and olive oil.
Olive oil may help your brain function, too. A 2019 study on mice suggested that consuming oleocanthal-rich Moroccan extra virgin olive oil may help slow or halt the progression of Alzheimer's disease. (As you'll read below, the olives grown in Morocco may have a particularly strong effect.)
Olive oil may have cancer-preventing properties. People who live in Mediterranean regions have relatively lower rates of cancer. Over the years, research has shown that olive oil may have something to do with that. A 2011 research review found that women who consumed the highest levels of olive oil had a lower risk of breast cancer and colon cancer. While more research is needed, these results are promising.
This is just the beginning. To read more about the health benefits of olive oil, read our story on 10 Science-Backed Health Benefits of Olive Oil here.
2. Morocco's climate is a perfect match.
The bulk of the country's olive production takes place in the Atlas Mountains, a mountain range in northwestern Africa that spans Morocco, nearby Marrakech, Algeria, and Tunisia, and separates the Atlantic and Mediterranean coast from the Sahara Desert. Its varied terroir, with a variety of altitudes and micro-climates, creates unique flavors. There are mild winters and warm, dry summers, which make an ideal climate for the highest quality olive trees. With clay and coarse sands, the trees are able to thrive, especially at the foot of the high atlas mountains.
3. Production is increasing.
Olives have been growing on this land since ancient times. Charcoal analysis found that the wild olive tree was present in Morocco as early as the 9th millennium BCE. However, the local people were hunter-gatherers and did not spend their time cultivating olives trees.
Nowadays, of course, that has changed. According to the International Olive Council, Morocco is now the sixth-largest producer of olive oil in the world. In 1991, they produced 36,000 tons. In 2019, they're up to 145,000 tons.
4. Morocco's olive oil is winning awards.
As production has increased, so has the quality. In 2020, Morocco won three awards at the NYIOOC World Olive Oil Competition. This was exciting news for Morocco's olive-producing community – they won just one award in 2019 and none in 2018.
The olive oils are judged based on a number of qualities: fruitiness, pungency, complexity, harmony, bitterness, and persistence. With several winners from Morocco, it seems that Moroccan olive oil is finally being recognized by the international community.
Some varieties of organic extra virgin olive oil can even have notes of red apples and hints of of mature bananas.
5. Morocco is home to the delightful Picholine varietal.
In Morocco, many of the top olive oil makers use the Picholine olive variety. Originally from the south of France, the Picholine olive is green and medium-sized with an elongated shape. The balanced fruitiness of the Moroccan Picholine variety is delicious for crisp salads and fish dishes. Its flavor also has a little nuttiness.
Additional varieties often used in Moroccan blends include the Arbequina variety and the Dahbia autochthonous variety.
In fact, when compared with other varieties of olive oil, the Picholine olive may have a neuroprotective effect against Alzheimer's. Picholine olives have a particularly high amount of hydroxycinnamic acids, which may be helpful for reducing oxidative stress in neurodegenerative disorders.
6. The industry supports Moroccan women.
According to the International Olive Council, olives are the main fruit grown in Morocco, making up 65% of the country's tree-growing land. As such, olive cultivation has increased the value of the land and allowed people to settle in the mountain regions.
Olive growing provides more than 51 million working days every year, which equates to 380,000 jobs. Twenty percent of these jobs are held by women.
7. Olive oil can be a beauty treatment, too.
Moroccan argan oil is a popular beauty treatment for hair and skin, but Moroccan olive oil can serve as a moisturizer as well. You can apply it directly to the skin unfiltered, or apply to your hair as a pre-treatment before shampooing.
In fact, some dermatologists say that applying olive oil to the face can prevent some signs of aging. As aesthetic plastic surgeon Paul Lorenc told Byrdie, "Olive oil contains antioxidants that fight free-radical damage, as well as an ingredient called squalene, which is extremely hydrating. It's been used on skin since ancient times—even Cleopatra was a fan."
Here are a few ways to use olive oil as a beauty treatment:
Remove waxy makeup like mascara and waterproof eyeliner.
Apply as a moisturizer when your skin is still wet.
Use on your eyelashes like a conditioner.
8. You can use it to make authentic Moroccan cuisine.
Would you rather eat your olive oil than apply it? That's understandable! Moroccan olive oil can be used for all your culinary needs, but it's a good reason to experiment with some authentic Moroccan recipes. Here are a few ideas to try:
Make a classic harissa, the North African hot sauce made with olive oil and sun-dried chilis that are crushed together into a fiery paste. While it's traditionally made by drying chilis outside in the sun, it's also possible to dry them in the oven.
Taktouka is a popular salad made with green bell peppers, tomatoes, garlic, and olive oil. The bell peppers are grilled so that their sweetness comes out. Unlike an American salad, this Moroccan salad is more like a dip, served warm or cold with bread.
Olive oil is also prominent in the Moroccan classic, tagine (pictured). A tagine is a slow-cooked stew that's often sweet, thanks to fruity notes from raisins or prunes, and also savory, featuring a meat like lamb or chicken, vegetables, and often olives. It's cooked in a Dutch oven or a traditional earthenware pot and served with bread. Try this recipe for a lamb and olive variety.
Zaalouk is a Moroccan salad made with eggplants, red tomatoes, coriander, garlic, cumin, paprika, and plenty of olive oil. After cooking all the ingredients in a pan, mash them together and allow the liquid to evaporate. To serve, drizzle with a healthy pour of good-quality olive oil.
Moroccan olive oil can really shine in a subtle dessert, like a pistachio, orange, and olive oil cake. The olive oil keeps everything moist and rich. (Prefer a more classic take? Try our Gluten Free Lemon Olive Oil Cake.)
Don't forget the classic drizzle of olive oil over warm pasta.
Here's the takeaway.
Moroccan olive oil has all of the health benefits of Italian, Greek, Spanish, Californian, and all other olive oils, including potential advantages for heart and brain health and cancer prevention. Made in the unique terroir surrounding the Atlas Mountains, Moroccan olive oil has a flavor all its own.
Perhaps the terroir is to thank for Morocco's recent rise on the olive oil scene. They're winning more awards than ever before. Once you have some Moroccan olive oil in your pantry, it's a perfect time to delve into the delicious world of Moroccan cuisine. Try making some salads, a tagine, or a sweet and savory olive oil cake.
Product placement
PJ KABOS 'Family Reserve Organic - Medium'
High Phenolic and 2022 Gold-Award Winner.
Declared as 'One of the World's Best Olive Oils'.
Click here to shop.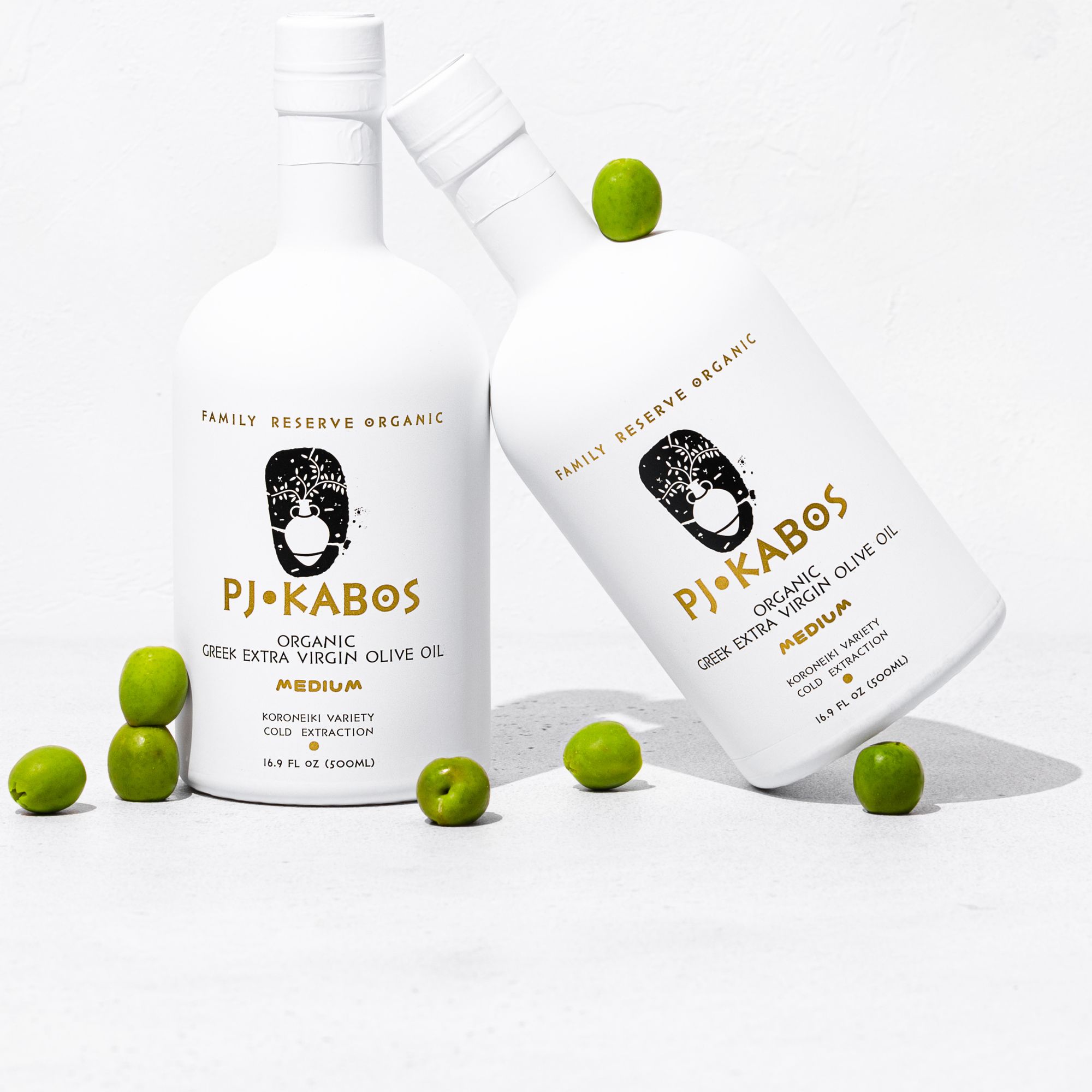 Join the newsletter to receive the latest updates in your inbox.