It may come as a surprise, but Spain (not Italy) is the world's largest producer of olive oil. In fact, the country produces more olive oil annually than Italy, Greece, and Turkey combined, and Spaniards consume an average of 2.5 gallons of olive oil (or "aceite de olivo") per person per year!
It's believed that the Phoenicians first introduced olive trees to Spain around 3,000 years ago. The ancient Romans were also integral in the spread of olive groves throughout the country, and the Moors (medieval Muslim inhabitants of Al-Andalus, or what is now modern-day Spain and Portugal) introduced more sophisticated irrigation technology, olive cultivation practices, and olive oil production techniques.
The collective efforts of these groups can easily be seen if you take a drive through the Spanish countryside, especially when traveling through Andalucía, the region that comprises southern Spain, where you'll see lines of olive trees spreading for miles. (Fun fact: There are currently around 300 million olive trees in Spain!)
But, not only does Spain produce a lot of olive oil, the country produces really good olive oil, too. Out of the world's top 10 olive oils (as determined in the most recent annual EVOOLEUM Guide) Spanish olive oils snagged 5 of those top spots—and they consistently rank highly.
Both Spain's climate and the specific olive cultivars (i.e. olive varieties) grown there contribute to Spanish olive oil's unique flavor, which is often noticeably different in color and aroma than the olive oil produced in countries like Italy, Greece, Turkey, and Morocco.
Here, we discuss what makes Spanish olive oil special, some common Spanish olive varieties and what their oils taste like, and the best ways to use Spanish olive oil in your home cooking.
What Do Spanish Olive Oils Look & Taste Like?
High-quality extra virgin olive oil from Spain can vary in flavor and color depending on when the olives were harvested, the region of Spain in which the olives were grown, and the specific variety/cultivar of olive used. So there's no single description that can fully encapsulate what Spanish olive oil is like—you'll have to taste several for yourself. But, keeping this in mind, we can still make a few generalizations that are true for a lot of Spanish olive oils.
Many of the olive oils made in Spain are traditionally a bit sweeter and riper in style and parts of Spain tend to have a much hotter climate, too. Together, these  factors often yield a yellower olive oil that is more fruity and nutty in aroma as opposed to herbaceous and grassy—although Spanish olive oil can still have green, spicy notes. In recent years, there has been big growth in premium artisan brands, and these extra virgin olive oils are often made in a more robust, greener style than the traditional olive oils of Spain.
There are over 200 varieties of olive grown in Spain, and around 24 are commonly used in olive oil production. Here are a few of the most popular olive cultivars used to make Spanish olive oil. Pro tip: Look for monovarietals (single-olive oils) or blends that feature these olives, then host an olive oil tasting with some friends to determine your favorite!
Common Spanish Olive Varietals
Picual: Picual is the most abundant olive in Spain and is grown predominantly in Andalucía (southern Spain). Picual olives produce a very aromatic, fruity oil with a bit of enjoyable bitterness and tomato leaf and tropical flavors. As with any olive oil, the ripeness of the fruit at harvest will have a big impact on the character of the oil, especially bitterness and peppery flavors. Picual olive oil is also known for its high levels of polyphenols and resistance to oxidation during cooking.
Hojiblanca: Hojiblanca olives are grown throughout Andalucía, and they're  consumed both as table olives and olive oil. The olives produce an oil of moderate intensity with notes of fresh cut grass, artichoke, aromatic herbs, and apple. It's somewhat sweet, with low to moderate bitterness and a slightly peppery finish.
Arbequina: The Arbequina variety originated in Catalonia, in the northeast region of Spain, but is now widely planted in Spain (and the world). Arbequina produces an oil that's fruity, fresh, and somewhat sweet, with notes of apple, banana, and almond. It's a very smooth oil with very little (sometimes undetectable) bitter and moderate peppery flavors.
Cornicabra: Cornicabra olives are often grown in central Spain, in places like Toledo and Madrid. These olives produce a highly aromatic olive oil with notes of fruity olive, apple, and herbal olive leaf. Cornicabra olive oil ranges in intensity, and finishes with a pleasant bitterness that might even make you cough! This bitterness is due to high levels of polyphenols, including oleocanthal.
When Should I Use Spanish Olive Oil?
Wherever you'd normally use extra virgin olive oil, Spanish olive oil works great! Because Spanish olive oil often has fruity, nutty, subtly sweet, and smooth qualities, it works well with a wide variety of dishes—especially those whose flavors aren't ultra dominant or intense.
Here are some ideas on how to use Spanish olive oil:
Drizzle it over the classic Spanish chilled soup (or "sopa") gazpacho.
Use it as your go-to cooking oil when making paella—the popular Spanish seafood and rice dish.
Make pan con tomate with toasted bread, Spanish EVOO, tomato, and garlic.
Pour it over ripe honeydew melon that's been wrapped in a Spanish dry-cured ham such as jamón ibérico or jamón serrano.
Drizzle over tortilla española (a.k.a. Spanish omelette)—one of Spain's signature dishes made with egg, potato, and onion
Incorporate it into vegetable or meat marinades where flavors are more subtle.
Use it for cooking or drizzling over dishes featuring halibut, haddock or any white fish.
Pour it over boiled potatoes with sea salt and black pepper to taste.
Product placement
PJ KABOS 'Family Reserve Organic - Medium'
High Phenolic and 2022 Gold-Award Winner.
Declared as 'One of the World's Best Olive Oils'.
Click here to shop.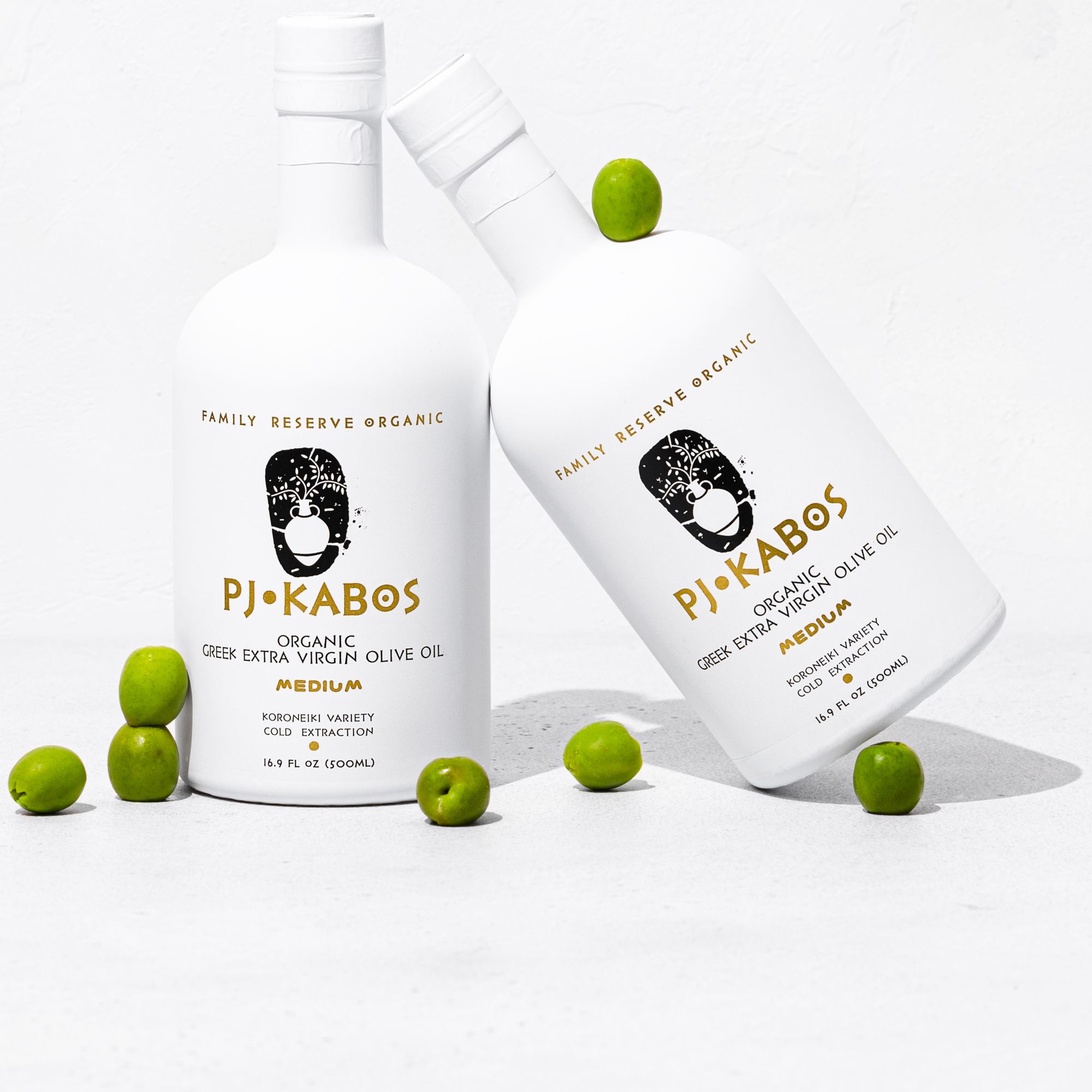 Join the newsletter to receive the latest updates in your inbox.