Many olive oils—especially the ones you'll find at your local grocery store—contain oil from several different olive cultivars, or varieties. In the wine world, these would be comparable to your "red blends" or "white blends." But extra virgin olive oils can also be sold as monovarietals, meaning they contain oil from just one type of olive.

There are many monovarietals, each with a unique flavor profile, and one extremely popular pick is Arbequina olive oil, which is made—you guessed it!—from Arbequina olives. These olives were originally cultivated in Catalonia, Spain, and they're still grown there in large numbers today, as well as in other countries including Argentina, Chile, Australia, and the United States. In fact, Arbequina makes up the largest percentage of olive trees planted in California and Texas—the two top olive oil producing states.

Here's everything you need to know about Arbequina olive oil and how to use it.
What Does Arbequina Olive Oil Taste Like
Arbequina olive oil is known for its subtly sweet, delicate flavor and buttery texture. It's a mild olive oil with no bitter aftertaste and it's great for EVOO newbies. That's because some other extra virgin olive oils can be intensely bitter and peppery, especially high-polyphenol varieties—which are great, but take some getting used to.

Specifically, Arbequina olive oil may be pleasantly grassy, fruity, and fresh with aromatic notes of green apple, artichoke, and even banana. On the finish, fresh, high-quality Arbequina olive oils have a subtly sweet almond flavor and slight peppery kick.
What's Unique About Arbequina Olive Oil?
Arbequina olive oil is noticeably fruity in aroma. This is due to Arbequina olive oil's relatively high percentage of polyunsaturated fats. To be clear, Arbequina's fatty acid profile is still predominantly monounsaturated fat (specifically oleic acid), but it contains more polyunsaturated fats than EVOO made from other olive cultivars.

Arbequina olive oil's higher polyunsaturated fat content has one downside. Polyunsaturated fats are less stable than monounsaturated fats, so Arbequina olive oil is more prone to oxidation and spoilage if not stored properly. Pro tip: Always keep your olive oil in a cool, dark, place away from the stove or other heat sources.

Arbequina olive oil also tends to be lower in polyphenols—natural bioactive compounds with antioxidant properties that are found in plant foods—compared to other olive oil monovarietals such as Koroneiki, Picual, Moraiolo, and Coratina.

However, Arbquina olive oil still contains significant amounts of oleic acid, a powerfully health-promoting monounsaturated fat that's been shown to help reduce inflammation and oxidative stress, and modify cholesterol levels in the bloodstream. Research suggests that oleic acid, and monounsaturated fats in general, helps lower LDL cholesterol ("bad" cholesterol) and triglycerides, and may even help elevate HDL cholesterol ("good cholesterol).

The U.S. Food and Drug Administration (FDA) says there's credible evidence to support the claim that consuming 1 ½ tablespoons of oleic acid-rich oils, including olive oil, may reduce the risk of coronary heart disease, provided they replace fats/oils higher in saturated fat and do not increase the total number of calories you eat in a day.
How To Use Arbequina Olive Oil
Arbequina's mild, subtly sweet, buttery flavor profile lends itself well to a wide variety of culinary uses. Here are a few ways to try it:

Sauces: Thanks to its milder flavor profile, Arbequina olive oil works well in rich, creamy sauces like mayonnaise and aioli. It lends great flavor to a pesto as well.
Dipping oil: A glug of this olive oil, with a sprinkle of salt and freshly cracked pepper, makes the perfect dipping oil for crusty bread.
Dressings: The fresh fruitiness of Arbequina olive oil sings when drizzled on salads containing apple slices, grapes, raisins, and other fruits. Pair it with a good balsamic vinegar or a squeeze of citrus, or whisk it up with Dijon mustard and white wine vinegar.
Finishing oil: By drizzling this olive oil onto warm grain dishes, roasted vegetables, or homemade soup, you can truly appreciate its unadulterated flavor. Arbequina is phenomenal when served with hard and soft cheeses, too.
Baking: Arbquina's mild fruitiness means it's a great substitute for butter in a variety of baked goods, including cakes, biscuits, pancakes, and more.
Cooking: Like all olive oil, Arbequina is great for roasting or sauteing vegetables.
Seafood: Arbequina is a great pick for cooking salmon, white fish, or other delicate seafood, since it's not overpowering. To really get the flavor, drizzle some on top, too.
Dessert: Yep, you heard that right! Drizzle a little Arbequina over some quality vanilla bean ice cream then top it it with a tiny bit of sea salt.

Product placement
PJ KABOS 'Family Reserve Organic - Medium'
High Phenolic and 2022 Gold-Award Winner.
Declared as 'One of the World's Best Olive Oils'.
Click here to shop.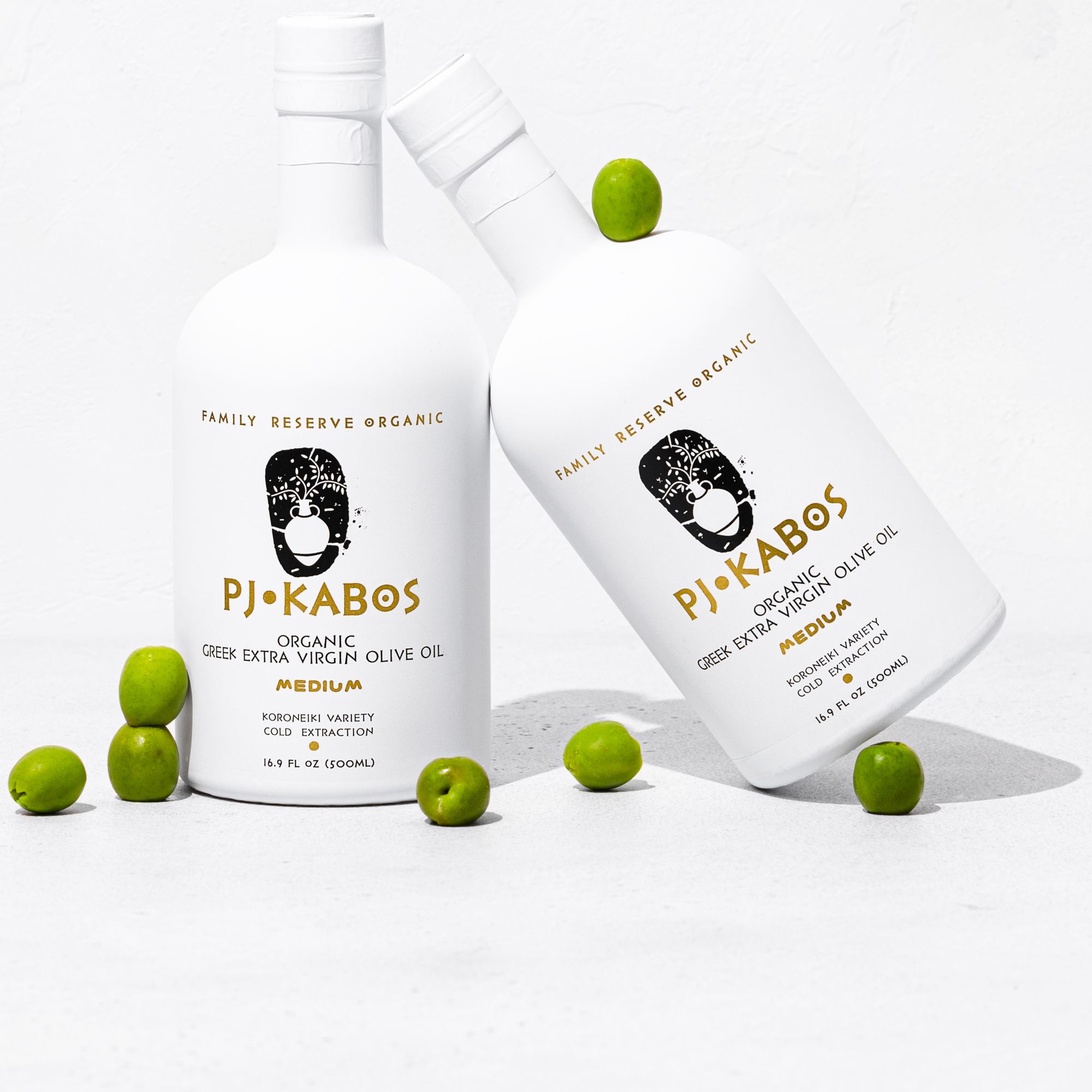 Join the newsletter to receive the latest updates in your inbox.