Tuscany calls to mind sun-dappled bike rides, rolling vineyards, and sweetly crumbling villas. In a perfect world, you'd be dining outside, enjoying a long, lingering lunch beneath a pergola. And, the fantasy follows, that lunch would feature a thing of beauty: high quality Tuscan extra virgin olive oil.
Among chefs, Tuscan olive oil is the stuff of legends. As Jenkins and Erin Shambura, the owner and chef at Fausto in New York told New York Magazine, that cold pressed Tuscan EVOO "is the best oil in the world."
With farms that date back centuries, an ideal olive-growing climate, and traditional recipes and marinades that highlight the ingredient, Tuscany is an epicenter of the global olive oil scene. Here's a look at one of Italy's most famous olive oil-producing regions.
What Makes Tuscan Olive Oil Special?
Tuscany is both a DOP and the country's only IGP-certified region. DOP, which stands for "Denominazione di Origine Protetta," or "Protected Designation of Origin" ensures that the product is locally grown and packaged IGP, which stands for "Indicazione Geografica Protetta," meaning that a product can be traced back to its geographical origin during at least one phase in the production process.
While Tuscan olive oil is known around the world, it's not quite as simple as one one umbrella term. There are smaller regions within Tuscany, each creating its own unique olive oil. Tuscan olive oil comes in the following varieties: Seggiano, Colline Lucchesi, Colline della Lunigiana, Colline di Arezzo, Colline Senesi, Colline di Firenze, Montalbano, and Monti Pisani.
The most common olive trees grown in these regions are the Frantoio, Leccino, Pendolino, and Moraiolo. The most common are Leccino, which produces a light and fruity oil, and Frantoio, which yields a more intense and herbaceous oil that has a slight pungency.
Many factors go into the flavor, color, and aroma of an olive oil. There's the harvest time, the type of trees, the processing methods, and more.
Whether you're traveling through Tuscany to taste these olive oils fresh or tasting the olive oils at home, olive oils can teach you a lot about this region's terroir. Here's a look at the olive oils from some of Tuscany's top olive-growing sub-areas.
Toscano Olive Oil
We'll begin with Toscano Olive Oil, which comes from the entire region. Olive oils with this label may me made of any number of olives, including Americano, Arancino, Ciliegino, Frantoio, Grappolo, Gremignolo, Grossolana, Larcianese, Lazzero, Leccino, Leccio del Corno, Leccion, Madonna dell'Impruneta, Marzio, Maurino, Melaiolo, Mignolo, Moraiolo, Marchisio, Olivastra Seggianese, Pendolino, Pesciatina, Piangente, Punteruolo, Razzaio, Rossellino, Rossello, San Francesco, Santa Caterina, Scarlinese, and Tondello, as cited in Taste Atlas. Collectively these olive varietals comprise at least 95% of the olives grown in Tuscany.
While the taste, aroma, and color may vary greatly, these olive oils tend to have a rich complexity, with a spicy taste and an aroma of almonds, artichokes, ripe fruits, and green leaves.
As Toscano olive oil has so much character, it's best showcased uncooked, whether drizzled atop a bruschetta, coloring the top of a fresh soup, or for baking in traditional Tuscan desserts.
Chianti Classico Olive Oil
While you may be more familiar with the wines by the same name, this powerhouse region also produces some of the finest olive oil in Tuscany. Set in between Florence and Siena, this central region produces an olive oil that's low in acidity, with a bright yellow, slightly green hue. The limestone-rich soil produces oil that is low in acidity.
Approximately 80% of the olives used in Chianti Classico are of the Correggiolo, Frantoio, Moraiolo and Leccino varieties. The olives are hand-picked and pressed soon after harvesting – no later than three days. Pressing the olive oil early means the olive oil retains its heart-healthy nutrients and other antioxidants.
Terre di Siena Olive Oil
Neighboring the Chianti region is the Terre di Siena. The Siena region – famous for its beautiful medieval city center and the Palio, a horse race held twice a year – has been cultivating olives since the late Middle Ages. The olive oil here is made primarily from Frantoio, Correggiola, Leccino, and Moraiolo varieties. Between the four of them, these olive trees comprise at least 85% of the groves.
The olive oil from this region is golden yellow to green in color. It is quite spicy, with a delicate fruity aroma. As its flavor is so bold, it's wonderful for bruschetta and dipping fresh, raw vegetables with a little bit of salt.
Seggiano Olive Oil
Hailing from the province of Grosseto, to the southwest of Siena, Seggiano is a very interesting olive oil. These olive oils must be made exclusively from olive groves in which at least 85% of trees are the Olivastra Seggianese varietal. Local to the Grosseto surrounds, this cultivar can be traced back as far as 1550 in written records.
This olive oil has a beautiful green color with a hint of golden yellow. It's known for its fruity, fresh aroma and tasting notes of hay and artichokes. To finish, it has a spicy, bitter flavor. As this olive oil has a delicate flavor, it works well on top of pastas, in salad dressings, and in sweet desserts and pastries.
Lucca Olive Oil
Extra virgin olive oil from Lucca is one of the most prized olive oils made in Tuscany, and possibly the entire country. As said in the New York Times, Lucca olive oil is "among the most prized in Italy, but limited production means that very little makes its way beyond the region. There are only small-batch farmers here, and their natural methods reduce output and carry more risks."
Produced near the western coast of Tuscany, not far from Pisa, Lucca is home to the biggest concentration of biodynamic farms in Italy. These olive oils are made mostly with olives of the Frantoio and Leccino varieties.
If you're able to get your hands on some of the prized Lucca olive oil, you'll find that it's deep gold in color, with a slightly green hue. The aroma is fruity and sweet, with some notes of fresh herbs, almond, and artichokes. As Lucca oil is tangy and slightly bitter, it adds some character to salads, soups, and as a dipping oil for breads.
Recipes With Tuscan Olive Oil
An iconic Tuscan recipe made better with Tuscan olive oil is Panzanella. It's a salad made with stale bread, tomatoes, onions, basil, and topped with a little vinegar and some good, peppery olive oil. Here's how to make it at home.
Want to try some Tuscan olive oil in a sweeter application? Try a classic Italian olive oil cake. Brightened up with lemon and dusted with powdered sugar, this is a moist, flavorful cake. If you're gluten free, try our Gluten Free Lemon Olive Oil Cake instead.
A recipe that's perfect for cool weather is ribollita, a Tuscan soup. It's made with stale bread and vegetables. It's perfect topped with a drizzle of good, spicy EVOO.
Don't you dare leave out that classic bread dipping with balsamic vinegar; even herb-infused glass bottles of this organic extra virgin olive oil are no sin here (oregano and marjoram are must-have Tuscan flavors)
Tuscan Olive Oil Tasting
If traveling to Tuscany to taste olive oils isn't in the cards this year, you can still experience the range of the Tuscan terror with an at-home olive oil tasting. Here's how to host your own olive oil tasting. Enjoy!
Sources:
https://nymag.com/strategist/article
https://www.tasteatlas.com/toscano
https://bestoliveoils.com/news/kali-srl
https://bestoliveoils.com/news/giachi
https://www.tasteatlas.com/most-popular
https://www.specialityfoodmagazine.com/assets
https://www.nytimes.com/2015/11/23/t-magazine
http://www.colledibordocheo.com/
https://www.bonappetit.com/story/panzanella-bread-salad
https://www.italianfoodforever.com/2008/05/olive-oil-cake/
https://www.bonappetit.com/recipe/simple-ribollita
Product placement
PJ KABOS 'Family Reserve Organic - Medium'
High Phenolic and 2022 Gold-Award Winner.
Declared as 'One of the World's Best Olive Oils'.
Click here to shop.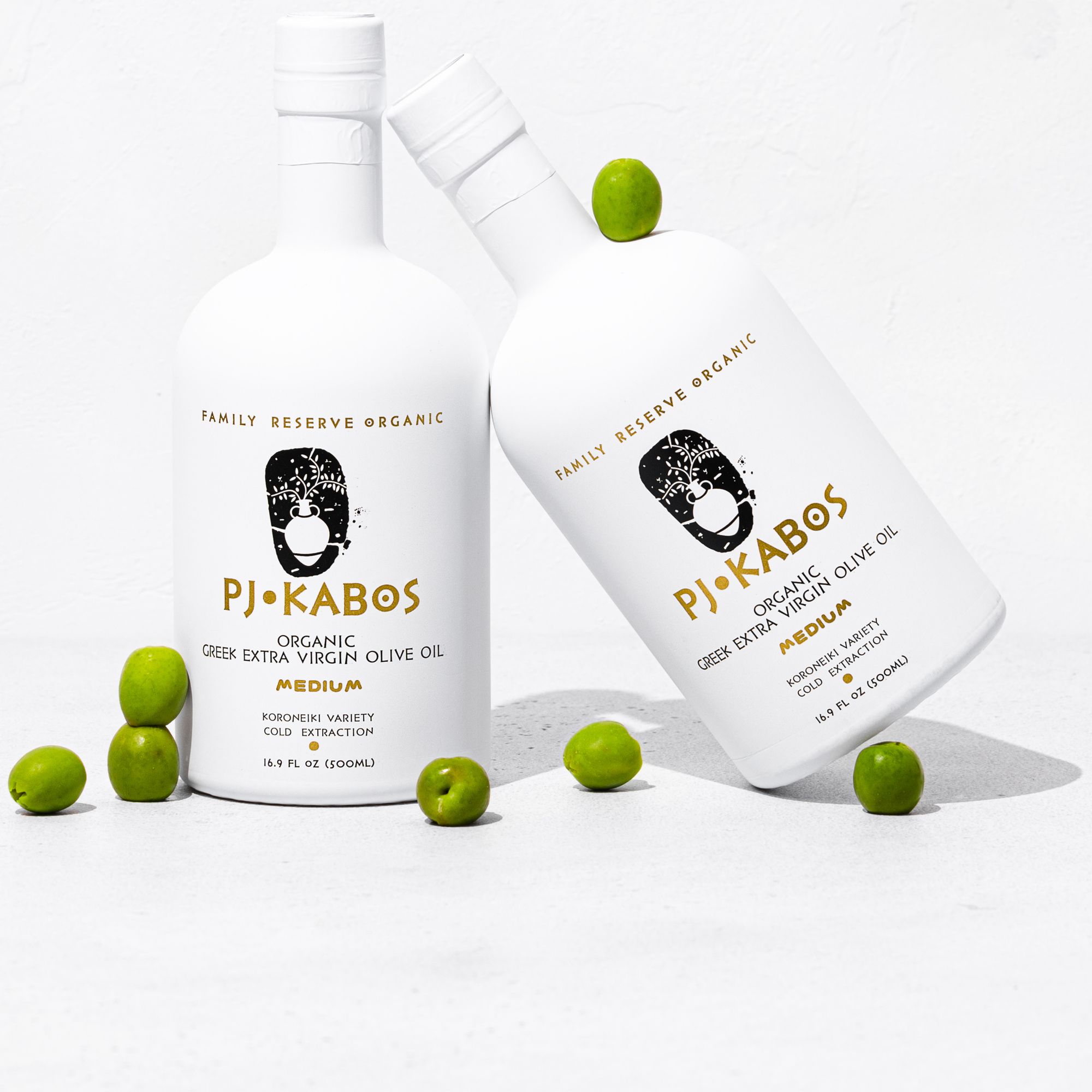 Join the newsletter to receive the latest updates in your inbox.