California isn't the first place that comes to mind when you think of the extra virgin olive oil, but over the past few decades, it's slowly but surely been making a name for itself as a stand-out product that competes with the finest EVOOs of Spain, Italy, and Greece.
It may not seem all that impressive when you hear how California olive oil accounts for about 5% of total olive oil consumed in the United States (most of what we buy is still imported from Europe)—but this is a pretty big jump compared to just 15 years ago, when it accounted for only 1.5% of U.S. olive oil consumption.
Olive oil production in California actually dates back hundreds of years. Starting in the late 1700s, Spanish explorers and missionaries traveled north from Mexico and established 21 missions between what is now modern-day San Diego and Sonoma. At each of these missions, they planted olive trees (along with grapes for wine production) and by the mid-1800s there was a thriving olive oil industry. Unfortunately, in the early 1900s, the advent of inexpensive vegetable oils coupled with an uptick in imported olive oil from European countries, led to a drastic decline in California-produced olive oil.
Thankfully, consumers began to recognize the health benefits of olive oil (and appreciate its unique flavor) in the early 1990s, which prompted a revival of old olive groves along with the planting of new ones—paving the way for the California olive oil resurgence that we're seeing today. Now, California is home to 600+ olive growers, spanning over 41,000 acres, who collectively produce millions of gallons of olive oil per year.
What Makes California Olive Oil Special
Olive trees are a drought-resistant crop that thrive in subtropical climates with mild winters and long, warm, dry summers—which is why California is so perfect for them. But due to California's giant size, it actually encompasses a variety of climates, microclimates, and soil types that are each ideal for growing different types of olives and bringing out different tastes and aromas in olives and their oil.
This means there are an enormous variety of flavor profiles within the category of California olive oil, depending on where exactly the olives were grown, what olive cultivar was used, and when the olives were harvested. These factors will dictate the final olive oil's levels of three prominent flavor characteristics (fruitiness, bitterness, and pungency), along with more subtle flavor nuances, such as whether an olive oil has notes of green tea, tomato leaf, green apple, artichoke, or ripe banana.
Although there are around 75 varieties of olives in the Golden State, about two dozen cultivars are commercially grown. The lack of long-established olive oil traditions has  led to olive oil blends that are unique to the state, mixing varieties originating from different countries. Monovarietal oils are also produced, including a distinctive oil from the one cultivar that is considered a native to California: the aptly named Mission olive. According to UC Davis Olive Center, Arbequina is California's most widely planted olive for olive oil production, followed by Arbosana and Koroneiki, because of the dominance of super-high-density production in the interior of the state.
Arbequina: Originally from Spain, Arbequina olives produce a mild oil that's fruity, fresh, and somewhat sweet, with notes of apple, banana, and almond. It's a very smooth oil with very little (sometimes undetectable) bitter or peppery flavors.
Arbosana: Like Arbequina, Arbosana olives hail from Spain, but they produce an oil that's more robust and herbaceous. Arbosana olive oils also have subtle nutty, floral, green fruit notes that make this a great olive oil for incorporating into baked goods.  
Koroneiki: Koroneiki olives are known for their robust flavor. The oil it produces has a unique flavor profile that's herbaceous with notes of pear, green olive, and fresh grass. It also tends to be quite pungent or peppery and has a pleasant bitterness, due to its high levels of polyphenols. It's typically combined with other olive oils to create a blend.
California Olive Oil Sets A Higher Quality Standard
Beyond just flavor, California olive oil stands out due to stringent quality standards set forth by the Olive Oil Commission of California (OOCC), established under the California Department of Food and Agriculture in 2014. This standard is mandatory for producers of over 5,000 gallons per year, and producers of less than 5,000 gallons per year can voluntarily participate.
The OOCC standard is one of the world's strictest mandatory standards for determining what can and cannot be labeled California Extra Virgin Olive Oil. According  to OOCC's website, the standard includes all the tests and parameters for olive oil purity outlined in the California Health and Safety Code (so you know you're getting an unadulterated product). It also requires producers to meet both chemical analysis and sensory analysis parameters that exceed those set forth by the USDA and International Olive Council (IOC), which sets standards for olive oil produced in Italy, Greece, Spain, and other E.U. countries.
To enforce these standards, a designated number of olive oil samples are collected from producers by California Department of Food and Agriculture officials. The samples are then sent to accredited third-party laboratories for sensory and chemical analysis. Results of the third-party analysis are provided back to the producers, and the verified olive oil grade must be accurately reflected on product labels for California olive oil.
Best Uses for Californian Olive Oil
Due to California's variety of climates and olive varieties, California olive oil comes in a wide variety of flavors—from pungent and peppery to nutty and floral—so you're guaranteed to find something that will perform beautifully in just about any dish.
Here are a few uniquely Californian ways to enjoy California olive oil:
Use California olive oil to take your avocado toast to the next level. Toast up some whole grain bread, spread mashed avocado on top, and finish with salt, pepper, toasted pumpkin seeds (or your favorite toppings), and EVOO.
Drizzle it onto a hearty bowl of Cioppino, an Italian-American fish stew originating in San Francisco, typically featuring crab, clams, shrimp, scallops, and mussels combined with fresh tomatoes in a wine sauce.
Use it as a dipping oil for fresh or toasted sourdough bread.
Top a thin crust pizza with fresh arugula and finish with a drizzle of olive oil.
Use Californian olive oil and apple cider vinegar to dress a cobb salad. Fun fact: The cobb salad was actually invented at the Hollywood Brown Derby restaurant.
Host a California wine and olive oil tasting! Try these power pairs: Chardonnay + Arbosana, Sauvignon Blanc + Koroneiki, Arbequina + Merlot. Note the qualities they have in common—are they smooth and buttery, robust and peppery, bitter?
Product placement
PJ KABOS 'Family Reserve Organic - Medium'
High Phenolic and 2022 Gold-Award Winner.
Declared as 'One of the World's Best Olive Oils'.
Click here to shop.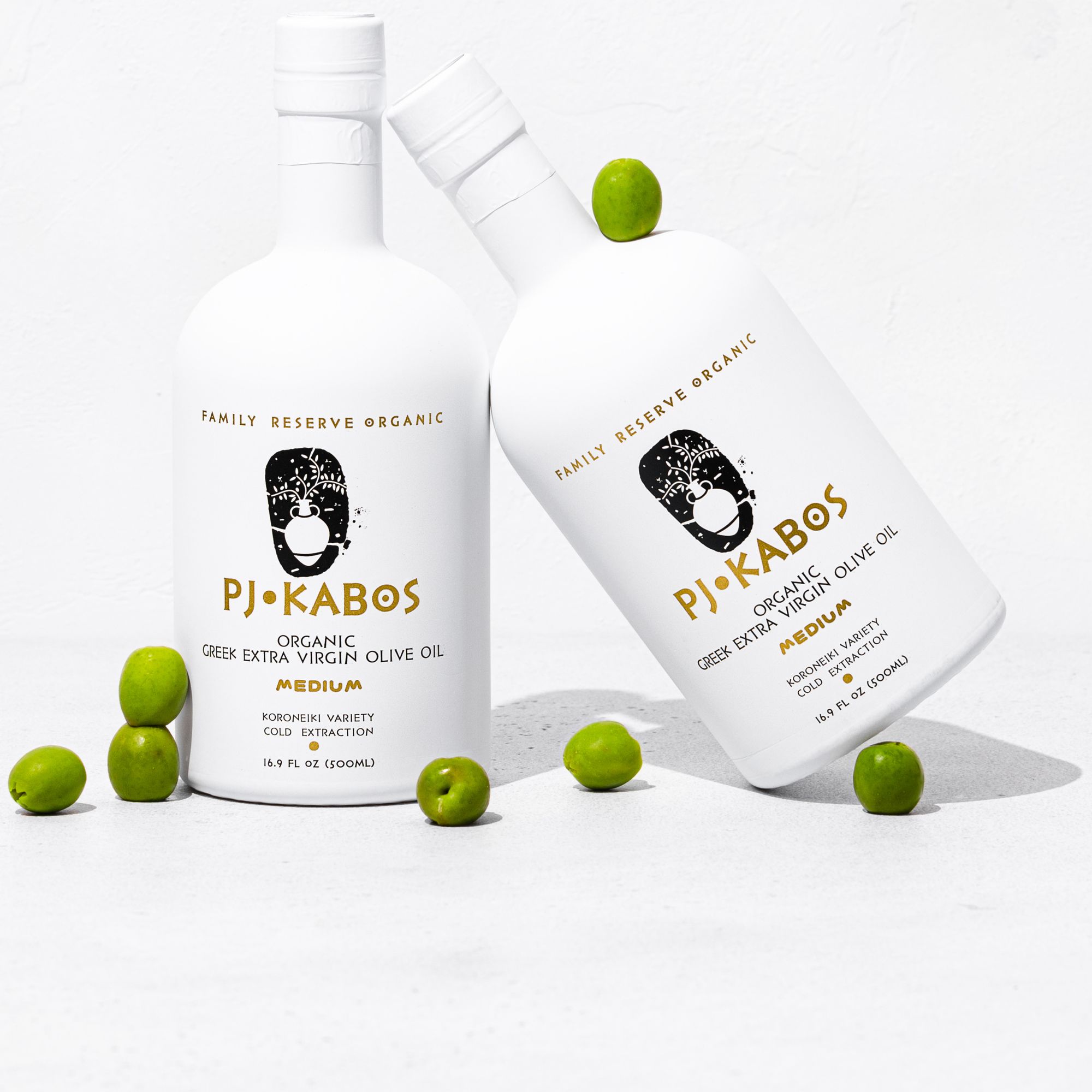 Join the newsletter to receive the latest updates in your inbox.