Olive oil expert Johnny Madge has been traveling with the team from YouTube hit Pasta Grannies as they gather recipes and stories from the heart of olive oil country. He shares some thoughts on life, grannies and olive oil…
I have been very lucky to be involved in the extraordinary Pasta Grannies project over the last few months. Although you could say that it was olive oil that brought us together when Vicky Bennison (the creator of Pasta Grannies) invited me to make a video about olive oil, my work with Pasta Grannies has taken me into a fascinating world of people and history. We meet some of the most extraordinary women, with stories that I will never forget. Of course, the pasta making is fascinating, and filming them is an important way of creating an archive of techniques that, like rare animals, are becoming extinct. But the lives of these women are what inspire me most of all.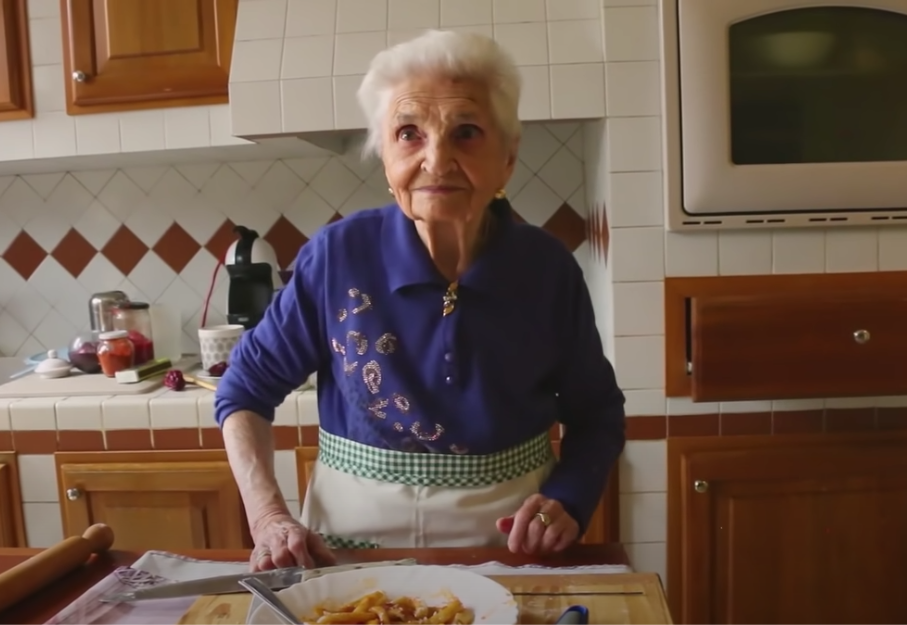 One of the most memorable stories is that of Concettina, 101 years old, in Calabria. Just before the war she married a man who, to judge from the old blurred photographs, was film star glamorous. Fifteen days later he was in Albania with the Italian army. The weather was viciously cold and he got very serious frost bite in his legs and was left by the army in the snow. Local Albanians took pity on him and got him into hospital where they amputated both legs. He was taken back to Concettina and they had seven children.
We always ask the grannies how, according to them, they got to such an impressive age. Concettina, like nearly all the other women, told us it was work that kept her healthy: work in the fields and work looking after her husband and seven children. But I have the feeling that there is a type: a woman with a spirit and energy that powers her through life—and which you can still see in their eyes.
While watching the women in their kitchens I am always paying attention to how they use olive oil and, if possible, tasting to see what their oil is like. This I have to do with tact; as a trained olive oil taster and judge, I know that I am applying a particular set of standards. On the last Pasta Grannies trip I was involved in we were in Liguria. I knew that olive oil was going to be big because this is the land of pesto genovese: basil, garlic, pine nuts, cheese and, of course, olive oil.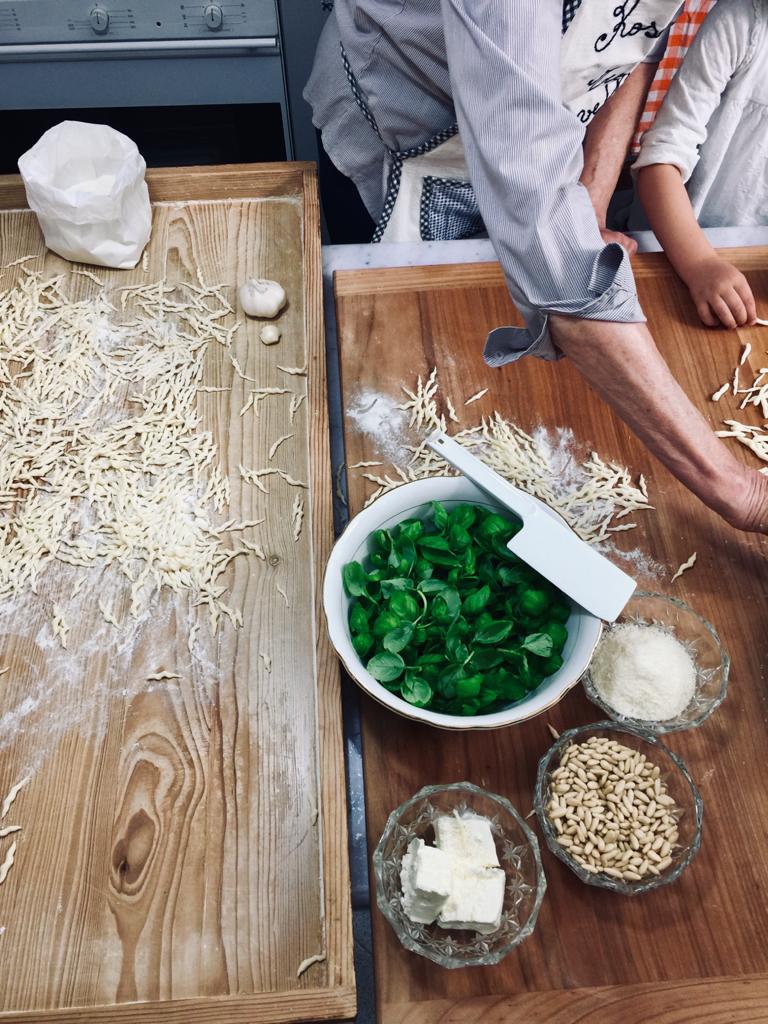 There are many purists out there, particularly on social media, who will pontificate about "the only proper way" to make this and that and they would be shocked to find that pesto in Liguria can be made in all sorts of ways—even with cream!—and certainly not always with a pestle and mortar but usually with a blender.
But the olive oil is always there and mostly it is Ligurian oil which is traditionally mild. Using a grassy, bitter and pungent oil—more characteristic of Tuscany, Umbria and Puglia—would be difficult with the leafy character of the basil. So an oil made from olives picked a little riper is a good idea for pesto.
Having said this, however, I noticed that when I could discreetly taste their oils, much of the time the oil had that characteristic smell and taste of black olive paste. It is not offensive in a pesto but in an official taste panel assessment or a competition, would be considered "fusty." In other words, the olive oil has an odor that results from fermentation in the olives before they are made into oil.
As I drove my van up and down steep hills past the terraced olive groves and their dry stone walls—so characteristic of Liguria and the Cinque Terre in particular—I explained to the others in the van that the nets you see still hanging in the trees make harvesting the olives so much easier. In most areas of Italy people will spread their nets under the trees as they work their way through the groves but in such an extreme landscape as this, that would be very labor intensive.
Therefore, in Liguria many people simply hang meters and meters of nets under the trees to be opened up as the olives ripen so that the fruit can fall into the nets. Every now and then, they come through the grove and tip the olives off into crates. You might say that the olives are not so much picked as picked up. This means that when they get into the mill they are not as fresh as they might be and the resulting oil has that characteristic smell of fermentation that we get in some types of table olives.
In some areas just over the border from Liguria in France this characteristic tapenade smell and taste is very popular and there are French producers who intentionally ferment their late-picked, black olives to make Fruité Noir olive oil. This olive oil is prized for use on truffles, game and mushrooms. As they know that the oil has the defect which we call fusty—the smell and taste of olive paste or a jar of black olives—they, quite rightly, don't call the oil extra virgin but Vierge (virgin) because, being officially defective, it should not be called extra virgin olive oil. This is honest labeling, labeling that respects and promotes a tradition which the people of Provence love.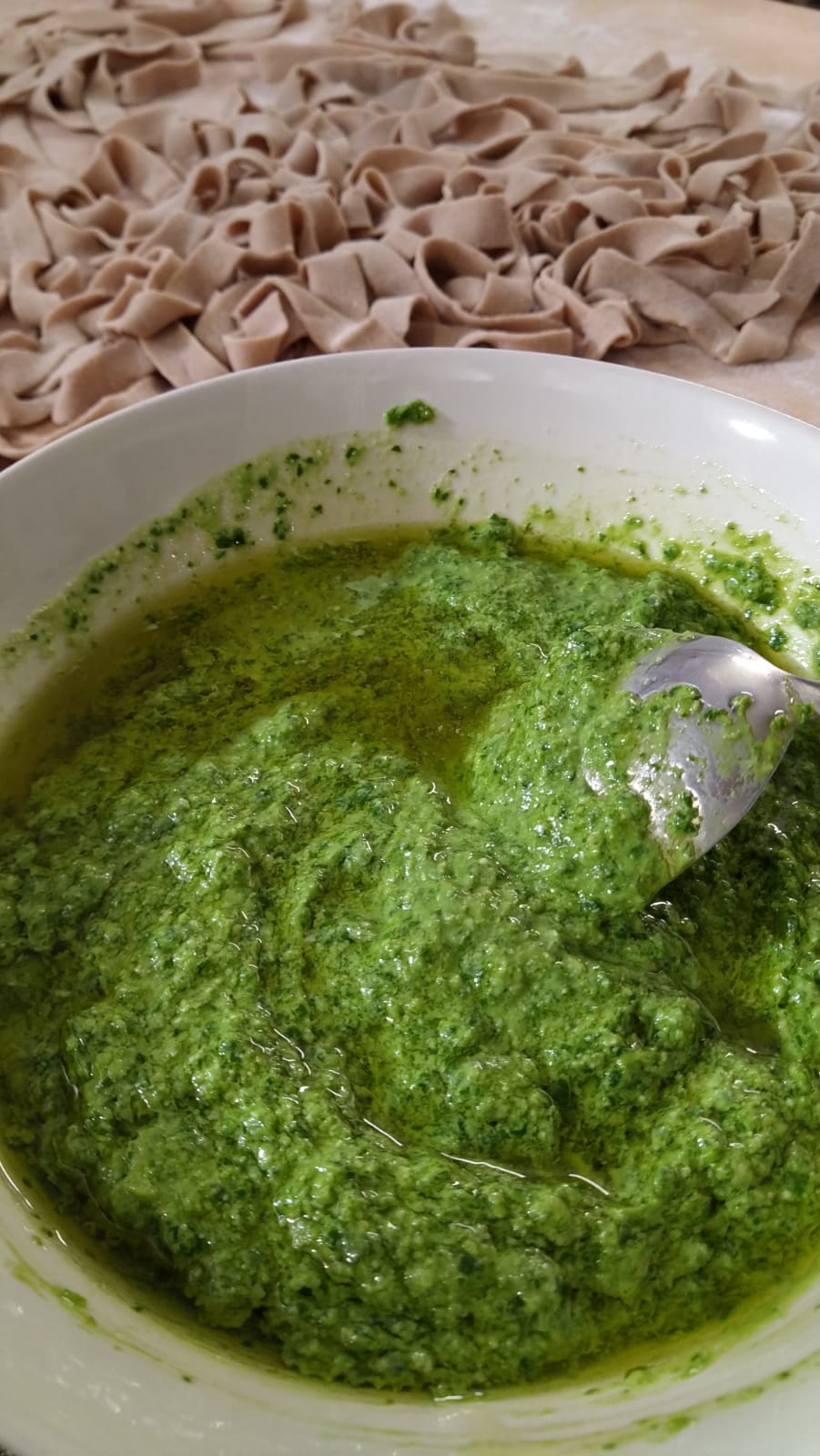 I did manage to taste a handful of the oils that the women were using and often found they had this characteristic which, as I said, is fine in pesto. As the troupe filmed the women, my 'job' was often to chat to the other members of the family, often men. I would ask them where the olive oils came from and how they were made. Just occasionally a family would tell me proudly that their oil was made from olives that went straight into the mill every day. Although these were still harvested quite late to produce pleasant, softer oils, they made fresh, fruity oils—delicious in pesto but also great poured into those deep dimples in focaccia genovese.
You can see the story of Vicky and the amazing Pasta Grannies project on YouTube. Johnny Madge lives in Italy where he does olive oil tours and online tastings.
Product placement
PJ KABOS 'Family Reserve Organic - Medium'
High Phenolic and 2022 Gold-Award Winner.
Declared as 'One of the World's Best Olive Oils'.
Click here to shop.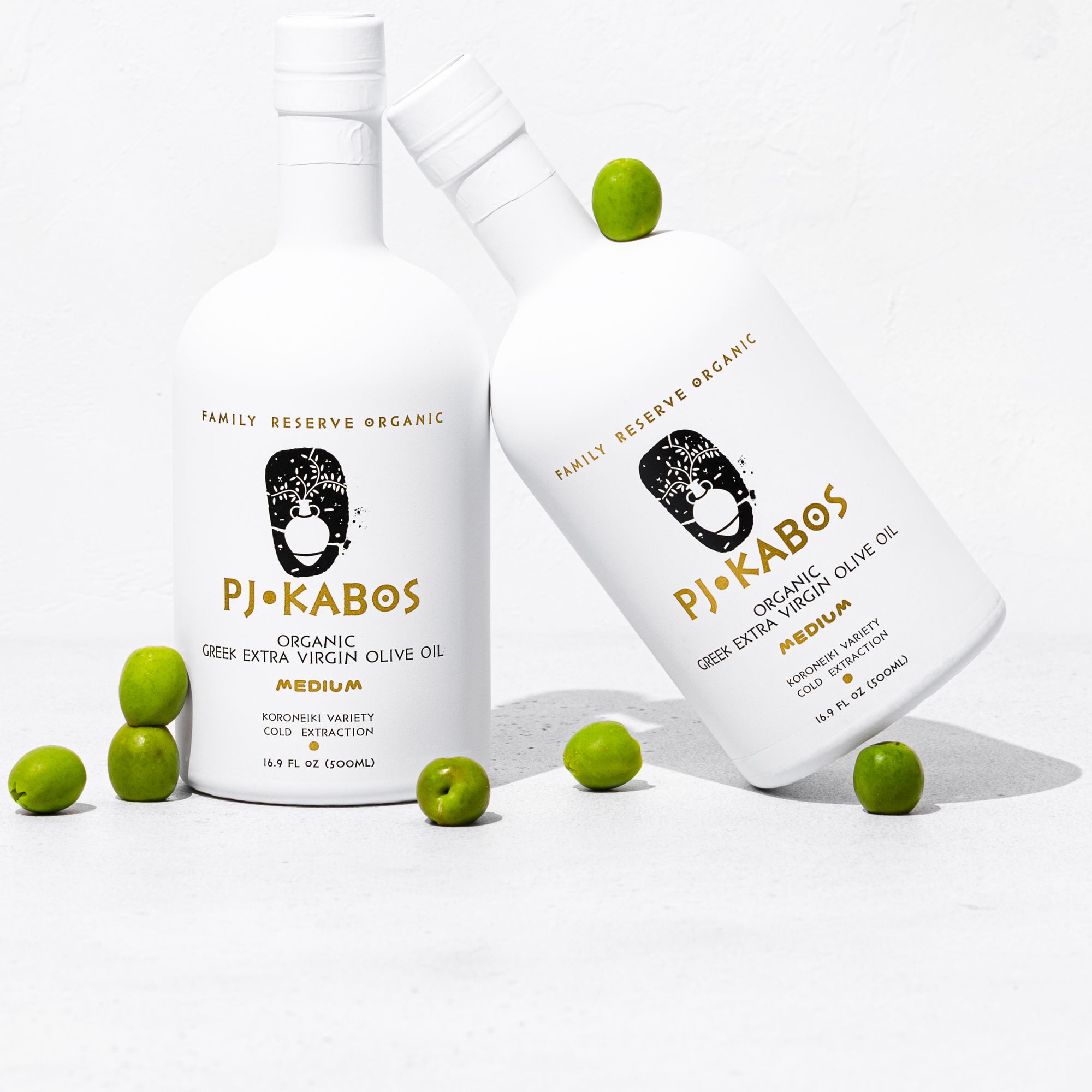 Join the newsletter to receive the latest updates in your inbox.