For cardiologist Dr. Nadal Aker, olive oil is an integral part of a healthy and happy life. His approach to food, lifestyle and attitude values moderation and balance.  
Nadal M. Aker, M.D., a cardiologist at the Illinois Heart Specialists at Decatur Memorial Hospital, loves healthy food. But when it comes to narrowing down what exactly healthy food entails, he is the first to admit that it's complicated. "Food has so many layers—cultural, historical, and nutritional," says Dr. Aker.
Aker grew up in Palestine, and then London, England, before moving to the US to complete an Internal Medicine Residency and Cardiology Fellowship at the University of Illinois, Chicago. In England he worked in geriatrics and studied infectious diseases before turning his focus to cardiology. His work as a doctor, and especially as a cardiologist, has strengthened his conviction in the powerful health benefits of extra-virgin olive oil as part of a healthy lifestyle.
"My parents moved a lot—which broadened my culinary horizons," says Aker. Olive oil is in his blood—his great-great grandfather grew olives and pressed oil. His mom, who worked as a pharmacist, urged him and his family to eat lots of leafy greens and vary the source of their intake, dietary principles he follows to this day.
Not that Dr Aker is a puritan when it comes to nutrition. After growing up in a family so focused on their health, the pendulum briefly swung the other way: "I binged on chocolate in medical school, just because I could" Aker remembers. With time, wisdom, and research, Aker has come to see health as the big picture, from movement to diet. Wholesome food is something he genuinely enjoys and celebrates.
Diet is incredibly complicated to study and measure, especially in the long term, as the variables are huge in number and scale. "What we have is observational data," Aker explains. "It looks like people who consume a Mediterranean diet, including olive oil, seem to live longer. It could be the weather, it could be their demeanor…and olive oil seems to play a role, too."
"More olive oil seems to lower glycemic numbers in diabetics and correlate with fewer cardiac events," according to Aker. "This is especially true when it's part of the Mediterranean diet, which includes a bounty of nuts, vegetables, and fruits." Even a term like the Mediterranean diet can be complicated, as Aker points out that food traditions around the Mediterranean vary widely (the culinary landscape of Greece, for example, and his native Palestine, have little in common, although both cultures use copious olive oil). He suggests a focus on plant-based foods, including fruits, vegetables, whole grains, fish, and olive oil.
Olive oil is comprised of monounsaturated fatty acids (MUFAs), which are considered a healthy dietary fat. MUFAs have been shown to help lower the risk of heart disease by improving related risk factors. For example, MUFAs can lower total cholesterol and "bad cholesterol," low-density lipoprotein (LDL) levels.
The term diet derives from the Greek word δίαιτα (diaita), meaning "way of life" or "lifestyle." A healthy life is not just about putting the right things in our bodies—it's about living a rich, abundant life with friends and family. Greek meals are about putting a bunch of fresh, flavorful dishes—and plenty of olive oil—in the middle of the table and digging in together. Olive oil is versatile and delicious, and it brings people together to enjoy great food and each other. Dr, Aker pointed out that taking actions like drinking in moderation and abstaining from smoking also go a long way in protecting our health.
Another pointer from Aker is to keep moving. "You have to turn the burners on," he suggests. "I'm talking about walking. No one is saying you have to join the Olympics; you don't have to run marathons to be super healthy." Moderation seems to be the name of the game.
When it comes to seeking the healthiest olive oil, Aker chooses extra-virgin, the gold standard of olive oil, which means an oil has met specific production standards and passed strict chemical composition and taste tests. "It's not adulterated, and nothing is added, so there's nothing to disturb the health benefits." He advises researching a brand before you bring it home and tasting your oil to make sure it tastes fresh and flavorful. A bonus: "the fat in oil creates satisfaction, so you don't need as many calories to feel full."
Aker urges us to think beyond salads when it comes to olive oil. He loves to drizzle extra-virgin oil on grilled potatoes and vegetables, and one of his favorite snacks is fresh tomatoes with sea salt and bright olive oil. He also uses olive oil as a dip for crusty bread, along with a generous sprinkle of za'atar, a Middle Eastern spice blend with sumac.
Olive oil is one powerful tool in the toolbox of health. "It's everything together, not one thing in isolation," Aker advises his patients. "It all adds up."
Product placement
PJ KABOS 'Family Reserve Organic - Medium'
High Phenolic and 2022 Gold-Award Winner.
Declared as 'One of the World's Best Olive Oils'.
Click here to shop.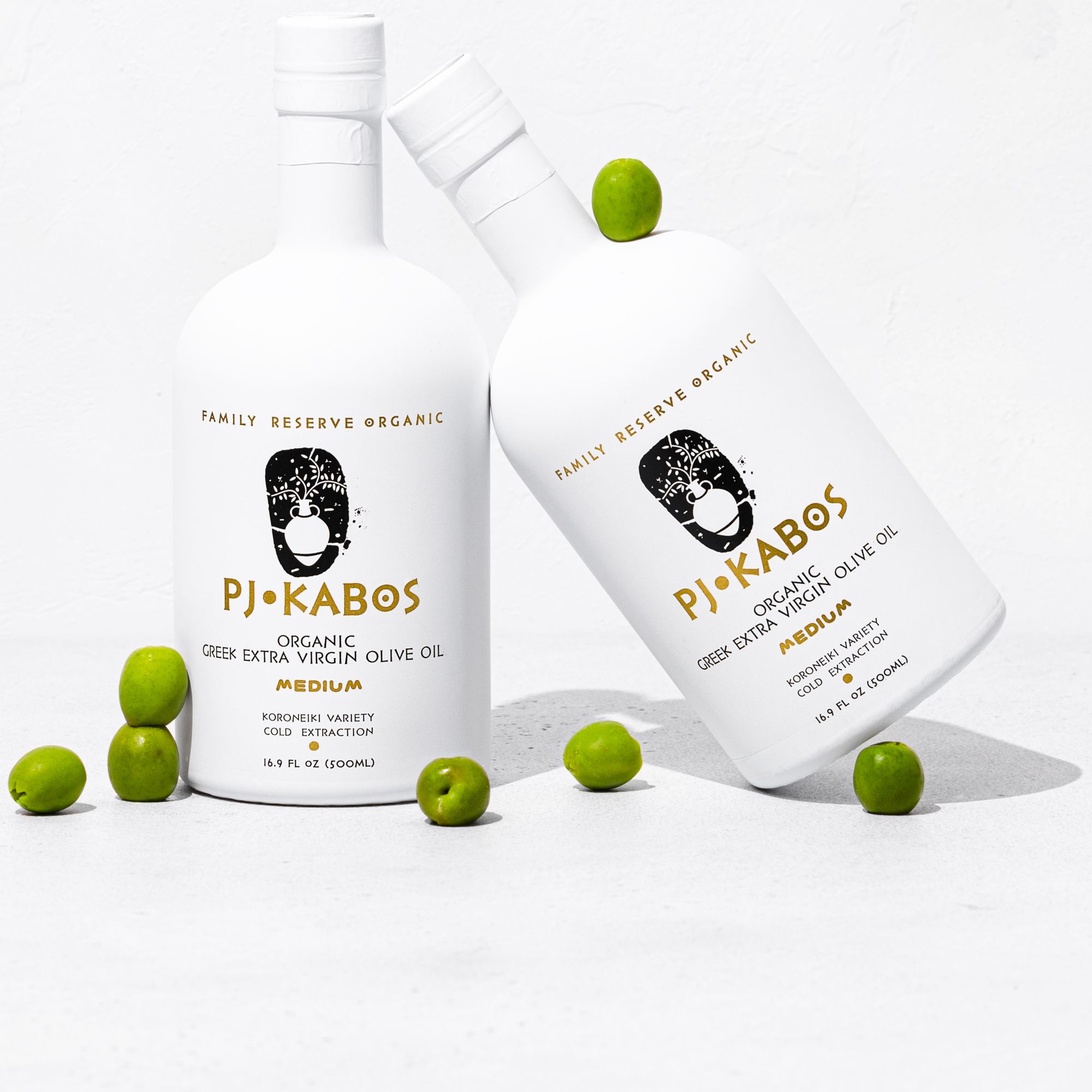 Join the newsletter to receive the latest updates in your inbox.