At thousands of Italian farms, visitors can grab a rake, join the harvest and reap the rewards of a fresh-pressed extra virgin olive oil. Here's a small taste.
CAMPOFELICE DI ROCCELLA, Sicily—A wooden sign with yellow letters indicates the road to Agriturismo Guarnera, where a green gate opens onto thick groves of lemons and varieties of oranges, walnuts, almonds and the ubiquitous olive trees that dot much of Italy's south.
This is one of the country's more than 20,000 "agriturismi," sometimes translated as agritourism, or farm stay. The word refers to both this special brand of tourism and the places themselves. They offer a dive into rural Italy, a way to experience bee-keeping, ricotta making, grape pressing and other traditions that gave birth to much of Italian culture and cooking.
For olive oil lovers, Guarnera is especially alluring because it's among the third of agriturismi that produce, host tastings of and sell their extra virgin olive oil, giving visitors an eye onto the world of olive oil making. Like the best of Italian cuisine, they offer something simple, delicious and satisfying: tasting an olive oil where it is made, with the people who helped make it.
In a few weeks, a small troupe will ascend to the treetops, armed with rakes, to begin the annual ritual. Every fall, this rite's practitioners perch on lithe, tapered ladders placed in receptive nooks of the olive trees. They spread nets to catch the bounty as it falls. Some bring electric harvesters, essentially mechanized combs or rakes that shake the olives off the trees.
For now, on the gentle slopes overlooking Sicily's Tyrrhenian Sea, the farm's grounds are abuzz with insects as a guest relaxes by the pool under the supervision of Minz the cat and Scantu the dog.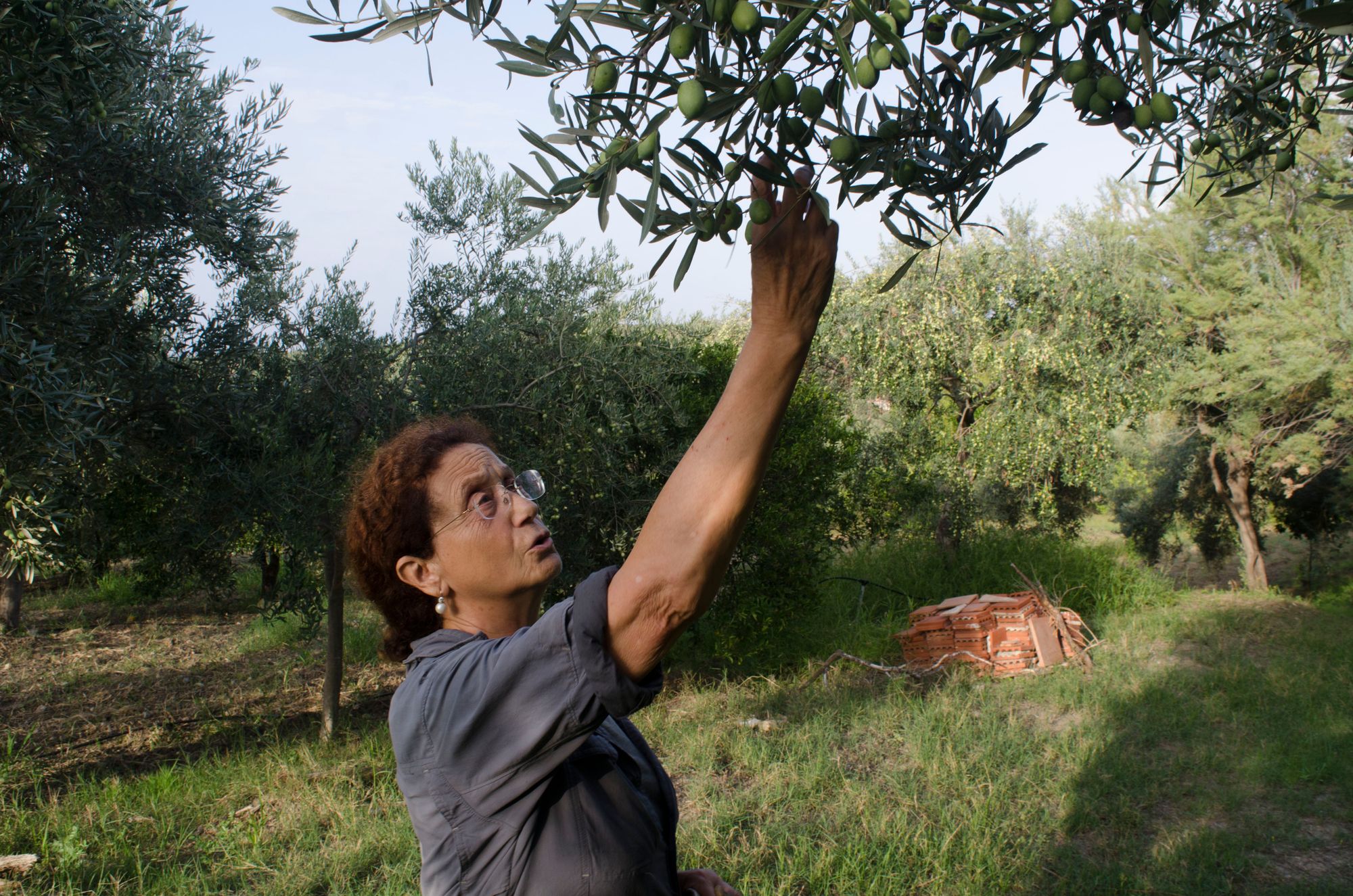 "When you make olive oil, something very special happens," says Donatella Pucci, owner and proprietor. "It gives you peace. It is truly a special liquid, aside from all of its beneficial qualities. We call it yellow gold, holy oil." She speaks slowly, sipping a tonic water with lemon on a late September afternoon.
Pucci's house sits on a 9-hectare organic farm, including about 4 hectares of olive groves. Visitors to Guarnera can stay in the 19th-century farmhouse, surrounded by banana plants, bougainvillea, jasmine and geraniums, that has been part of Pucci's family's landholdings for generations. Her grandfather inherited this special "garden of delights," essentially a pleasure garden for cultivating citrus and exotic fruits, as a graduation present. Twenty five years ago, she moved here full time from Palermo and began a life centered around small-scale organic agriculture and eventually hosting guests.
When harvest time comes in October and November, she and farm workers pick the Ogliarolo, Biancolilla and Nocellara olives, take them to the mill for pressing, and bottle the robust oil. Pucci uses the common practice of splitting the resulting oil with the workers. Her half provides a delicious condiment for the agriturismo's dishes.
Vacationers who visit in season can taste the freshly pressed extra virgin olive oil at its best.  "My guests, especially the foreigners, appreciate our oil," Pucci says.
"We make cavolicelli, a wild green in the cabbage family that grows at harvest time here," she says. "It's pleasantly bitter with the new oil. It's a stupendous thing, delicious. Essentially, new oil is good every way you serve it because it is so tasty. It's fresh squeezed olives!"
About 25 miles away, tucked in the Madonie Mountains national park, olive oil also flows freely at the Agriturismo Bergi. Floriana Di Garbo, one of the four sisters whose family runs Bergi, agrees that there is no one way to best appreciate their farm's organic extra virgin olive oil.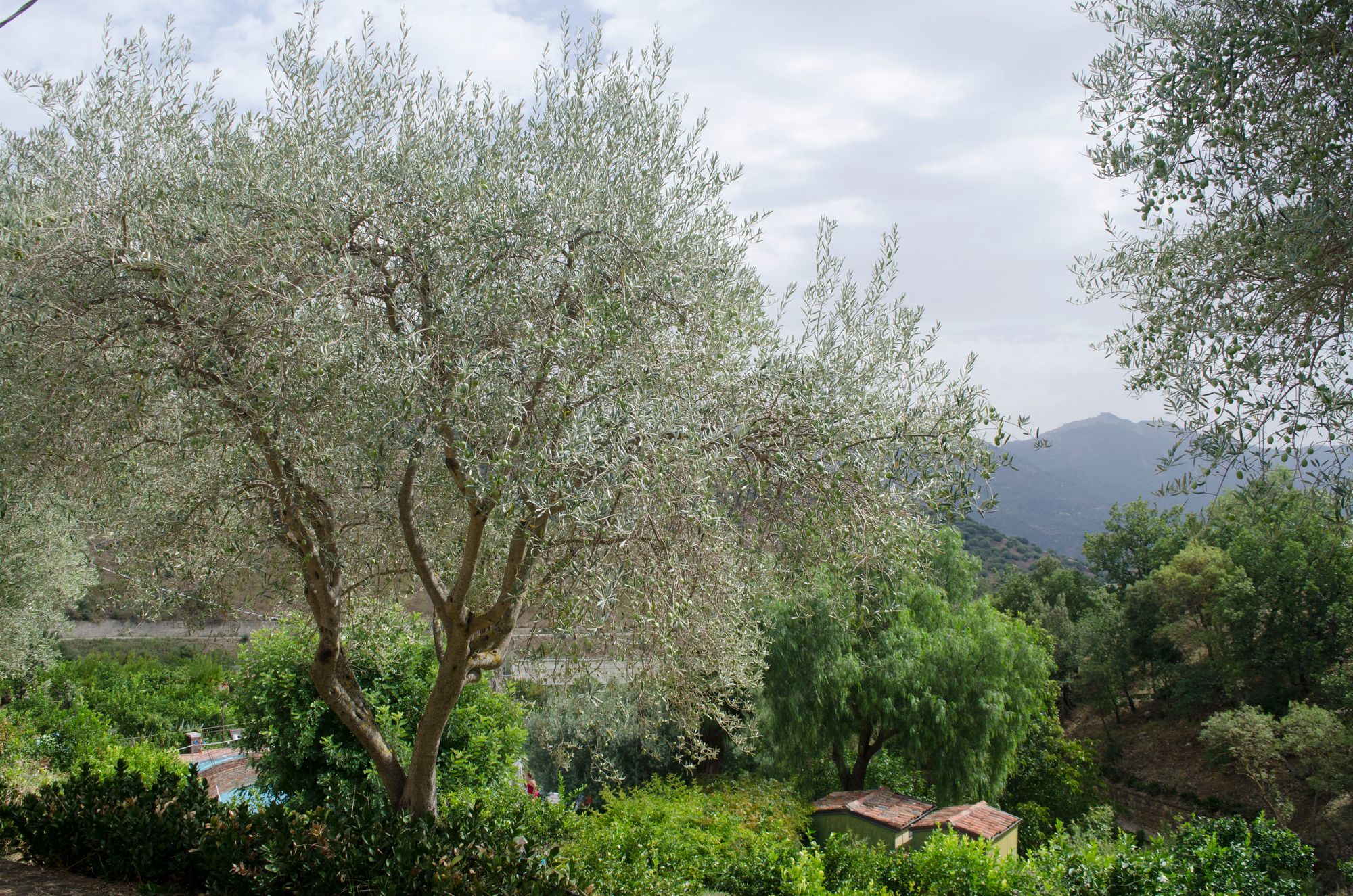 "We use it for everything, even frying, or in stuffed and fried sun-dried tomatoes, bean and grain soup, for zucchini and eggplant, on salads. One of our simplest dishes, but also one of the most appreciated, is bruschetta with olive oil, oregano, salt and sometimes fresh tomatoes," she says.
Her sister, Laura Di Garbo, understands that "there isn't as much of an olive oil culture abroad, so people are very interested when they come here."
To demystify Italian olive oil culture, Bergi has a package for visitors who want to help with the olive harvest. Participants spend the morning on the 100-plus hectare farm, near the medieval town of Castelbuono, raking Crasta, Nerva and Napoletana olives into fine mesh nets, picking out stray leaves and twigs and loading the fruit into crates for transport to the mill. That evening or the following day, a visit to the mill precedes the crowning moment: tasting the fresh olive oil.
Though it is easy to enjoy the extra virgin olive oil with warm bread or a simple pasta dish, the Di Garbos want visitors to know how to taste an olive oil plain, as experts do. "We show them how to appreciate the defects and the merits of an oil, a proper tasting technique," Laura says.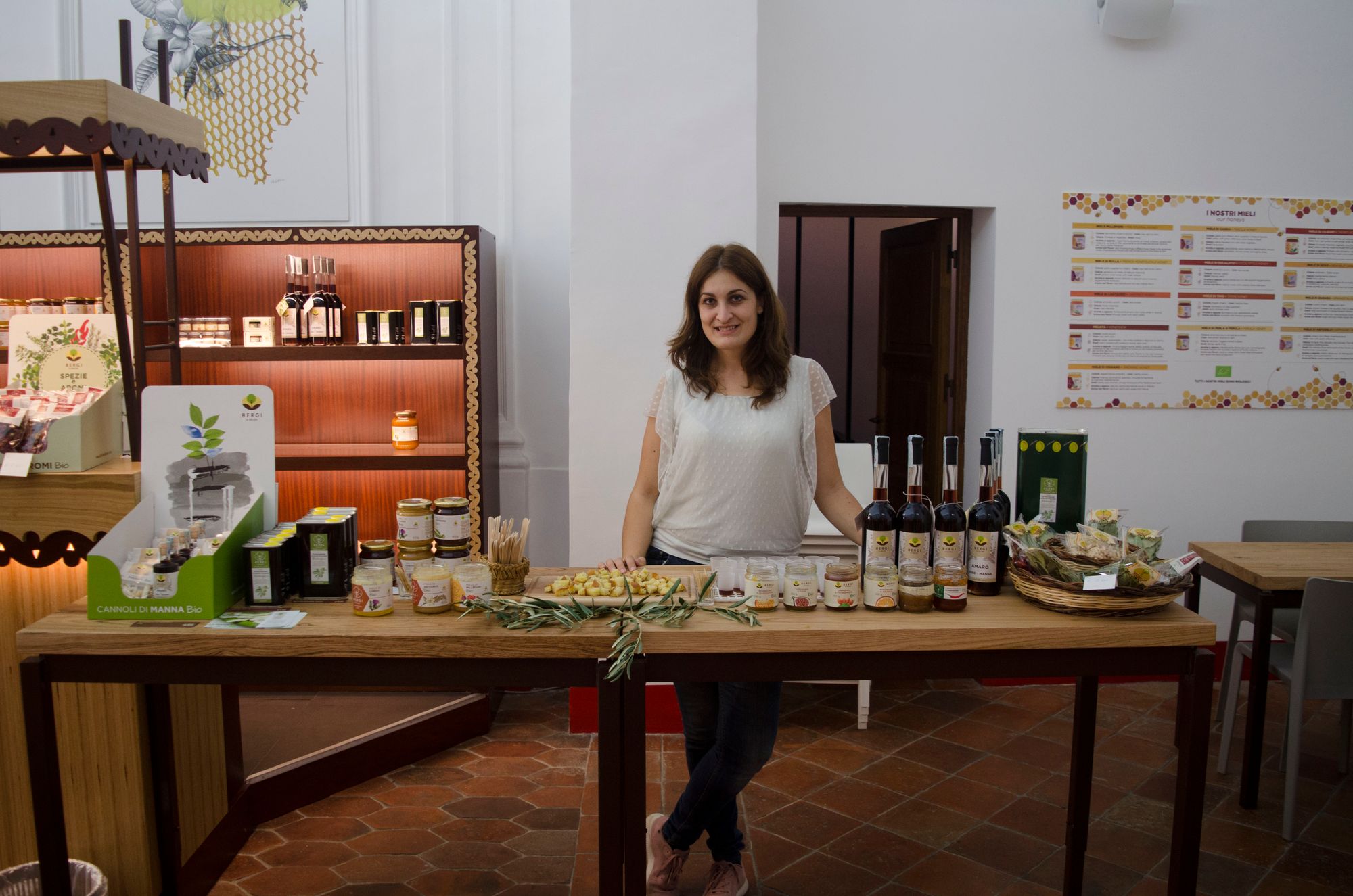 They offer olive oil tastings throughout the year at the agriturismo and their shop in town and explain secrets learned over the years – how to pick without crushing the fruit underfoot, how certain varieties work well together, how to choose the right time for harvest, neither too late nor too early.
The family business has evolved since the sisters' father, Pasquale, was a farmer harvesting other people's trees for a share of the oil. "As children, we went to pick the olives with our parents," Laura recalls. "When there were school holidays we'd go, or if there were strikes. Sometimes there was frost and it was terribly cold, but we pitched in. In our family we've always been willing to lend a hand. Our unity is our strength."
Floriana adds, "Today the tradition continues. The grandchildren now help pick the olives. It's a game for them, nothing out of the ordinary."
Laura's 4-year-old daughter, Giorgia, crawls into her mother's lap.
"She practically drinks olive oil," Laura says, smiling. "She'll put some on a plate, get a bit of bread and sometimes that's dinner for her."
Product placement
PJ KABOS 'Family Reserve Organic - Medium'
High Phenolic and 2022 Gold-Award Winner.
Declared as 'One of the World's Best Olive Oils'.
Click here to shop.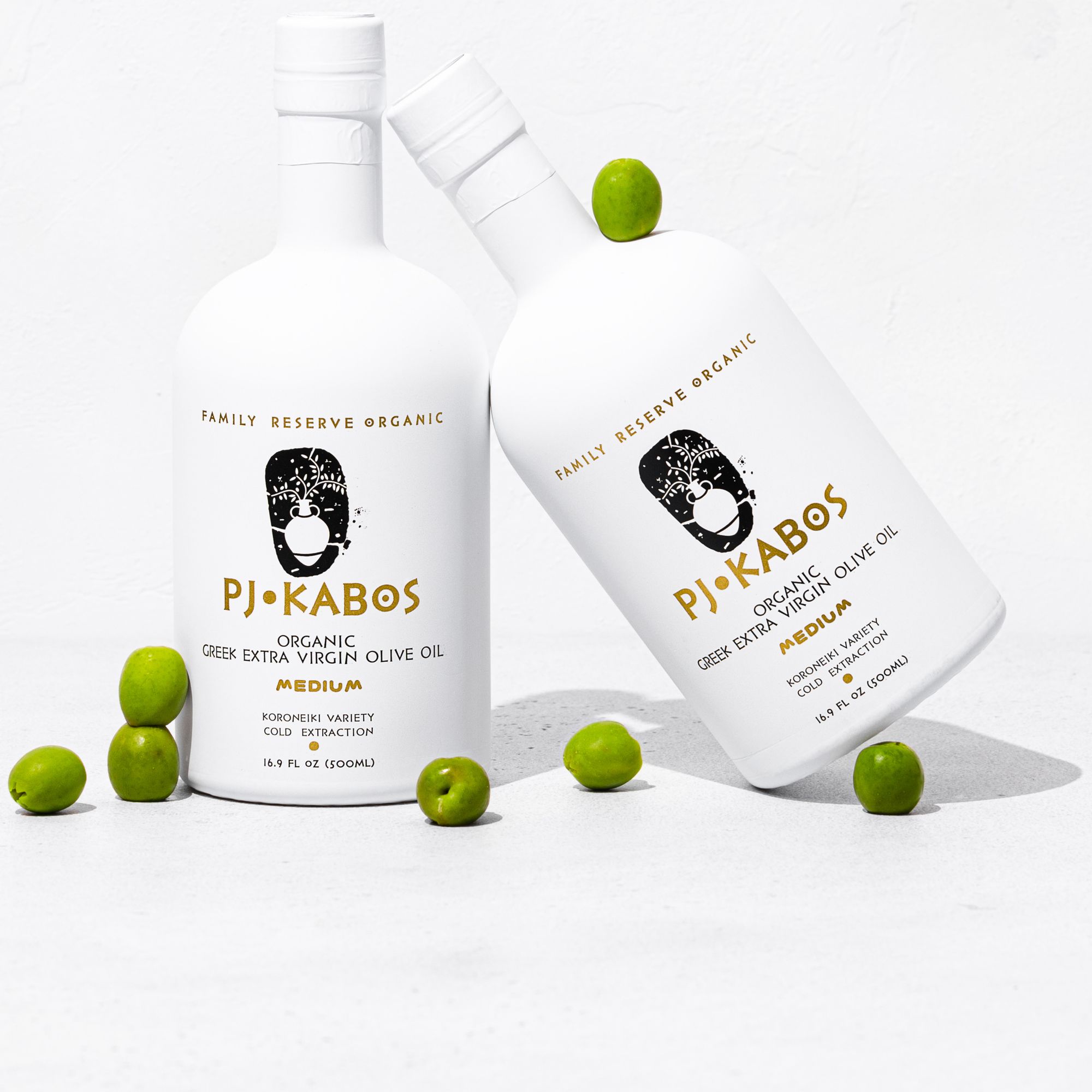 Join the newsletter to receive the latest updates in your inbox.