Why You Want More Olive Oil In Your Diet
Not only is olive oil flavorful and delicious—ranging from robust, herbaceous, and peppery to buttery and fruity—it's just about the healthiest fat you can consume, too. Compared to many other cooking and finishing oils, olive oil is loaded with anti-inflammatory monounsaturated fats (predominantly oleic acid), along with loads of health-promoting polyphenol compounds.
Research has linked olive oil—particularly extra virgin olive oil and its bioactive compounds—to a range of health benefits:
It promotes cardiovascular health and reduces risk of heart attack and stroke
It may reduce risk of certain cancers
It supports healthy memory and brain function
It supports healthy mental outlook and mood
It combats pain and inflammation
It may boost bone health and strength
It supports a healthy gut microbiome and immune system
It may aid in weight loss
and more...
According to the Institute of Medicine Acceptable Macronutrient Distribution Ranges and the Dietary Guidelines for Americans, your total daily fat intake can make up 20-35% of your daily calories—and most of that should be composed of healthy fats like monounsaturated fats from olive oil and omega-3 polyunsaturated fats. Of course, if you're on a low-carb, high-fat diet like keto, you can bump that up a bit more.
Here, learn how you can get more healthy olive oil in your diet.
1. Make Your Own Salad Dressings
Store bought salad dressings are often loaded with low-quality fats (typically vegetable oil), and they can contain a slew of additives, thickening agents, preservatives, and even artificial colors. But making a healthy, flavorful salad dressing at home couldn't be simpler.
All you need is a high-quality extra virgin olive oil, an acid (e.g. balsamic vinegar, red wine vinegar, lemon juice), and flavor boosters like herbs, spices, salt, pepper, mustard, and honey. Typically, a good ratio is 1 part acid/vinegar to 3 parts olive oil—so to get 1 cup of salad dressing, you'd use about ¼ cup vinegar and ¾ cup olive oil. You can also add a tablespoon or two of water to mellow out the flavors without adding extra calories.
Here are two simple recipes to get you started, but don't be afraid to experiment:
Honey Mustard Vinaigrette

¾ cup extra virgin olive oil
¼ cup white wine, red wine, or apple cider vinegar
1 tsp grainy mustard
1 tsp honey
1 garlic clove, minced or grated
½ tsp salt
¼ tsp black pepper
Combine all ingredients in a jar or bottle with a tight seal and shake to combine. Adjust ratios as needed to suit your taste!
Rosemary-Balsamic Vinaigrette

¾ cup extra virgin olive oil
¼ cup balsamic vinegar
1 tbsp fresh rosemary, finely chopped
1 garlic clove, minced or grated
½ tsp salt
¼ tsp black pepper
Combine all ingredients in a jar or bottle with a tight seal and shake to combine. Adjust ratios as needed.
2. Use Olive Oil As A Finishing Oil
A high-quality extra virgin olive oil is ridiculously flavorful—and you want that flavor to shine! So, while you can definitely cook with EVOO, you should also experiment with drizzling it onto your warm, finished dishes, which will unlock its natural aromas even more. Here are a few ways you can use olive oil to finish your dishes:

Swirl into creamy soups
Drizzle onto cooked meats or fish
Mix into homemade hummus
Drizzle onto roasted potatoes
Use as a dipping oil for warm, crusty bread
Drizzle onto steamed or roasted veggies
Mix into grain bowls, or grain-based sides
Drizzle over fried or poached eggs
EVOO makes a great finishing oil all on its own, but if you want to spice things up, you can also try infusing your own olive oils at home with ingredients like garlic cloves, rosemary, lemon peel, and chili peppers—it's surprisingly simple and makes everything taste gourmet!
3. Try Baking With Olive Oil
It might seem surprising, but olive oil works really well in many baked goods. Olive oil is actually pretty common in traditional Mediterranean staples like biscotti, olive bread, and focaccia, but it can also be substituted for butter or vegetable oil in cookies, moist/dense cakes (e.g. chocolate cake, gingerbread cake, fruit cake), brownies, muffins, banana bread, zucchini bread, and more. (Here's exactly how to convert butter to olive oil in recipes and here's everything you need to know about baking with extra virgin olive oil.)

Butter, of course, is a staple in baking, but it does contain a high percentage of saturated fats—and depending on your health goals, you may want to scale back. In fact, studies show that replacing sources of saturated fat, like butter and processed meats, with monounsaturated fats from olive oil is associated with reduced risk of coronary heart disease.
4. Use Olive Oil for Frying, Roasting, and Sautéing

Frying eggs, searing meats and fish, roasting veggies, making stir-fries, and even deep frying chicken or donuts can all be done with olive oil. Yes, really! Many people falsely assume that olive oil can't be used at high temperatures, but it's actually the healthiest oil to use for cooking.
Even EVOO has a moderate-to-high smoke point of 350⁰F to 410⁰F, which encompasses the cooking methods above. But, fun fact, smoke point doesn't actually correlate to how stable a cooking oil is under heat. A 2018 study found that extra virgin olive oil is the most stable cooking oil, resisting degradation better than oils with a higher smoke point, thanks to its abundance of heat-stable MUFAs and polyphenols that combat oxidation.
EVOO, regular olive oil (a.k.a. pure olive oil), and light olive oil are suitable to cook with, the one you pick will depend on your flavor preferences for your finished dish. EVOO will impart more of a flavor, while regular olive oil will be more subtle, and light olive oil will be fairly neutral.
Simple Ways To Substitute Olive Oil For Other Fats
Anything butter, vegetable oil, or coconut oil can do, olive oil can do better. Here's our quick list of some unique ways you can work olive oil into your diet in place of less healthy fats:
Use in tuna and chicken salads instead of mayo
Use on toast and English muffins instead of butter
Use for sautéing veggies and meat instead of vegetable oil
Use in cakes and cookies instead of vegetable oil or butter
Use for frying eggs instead of butter
Use for deep frying donuts, fish, or chicken instead of vegetable oil
Use for blending into coffee (to make "bulletproof" coffee) instead of butter or coconut oil
Use to pan-fry grilled cheese instead of butter
Use on baked potatoes instead of butter and sour cream
Use to grease the pan for baked goods instead of butter or shortening
Product placement
PJ KABOS 'Family Reserve Organic - Medium'
High Phenolic and 2022 Gold-Award Winner.
Declared as 'One of the World's Best Olive Oils'.
Click here to shop.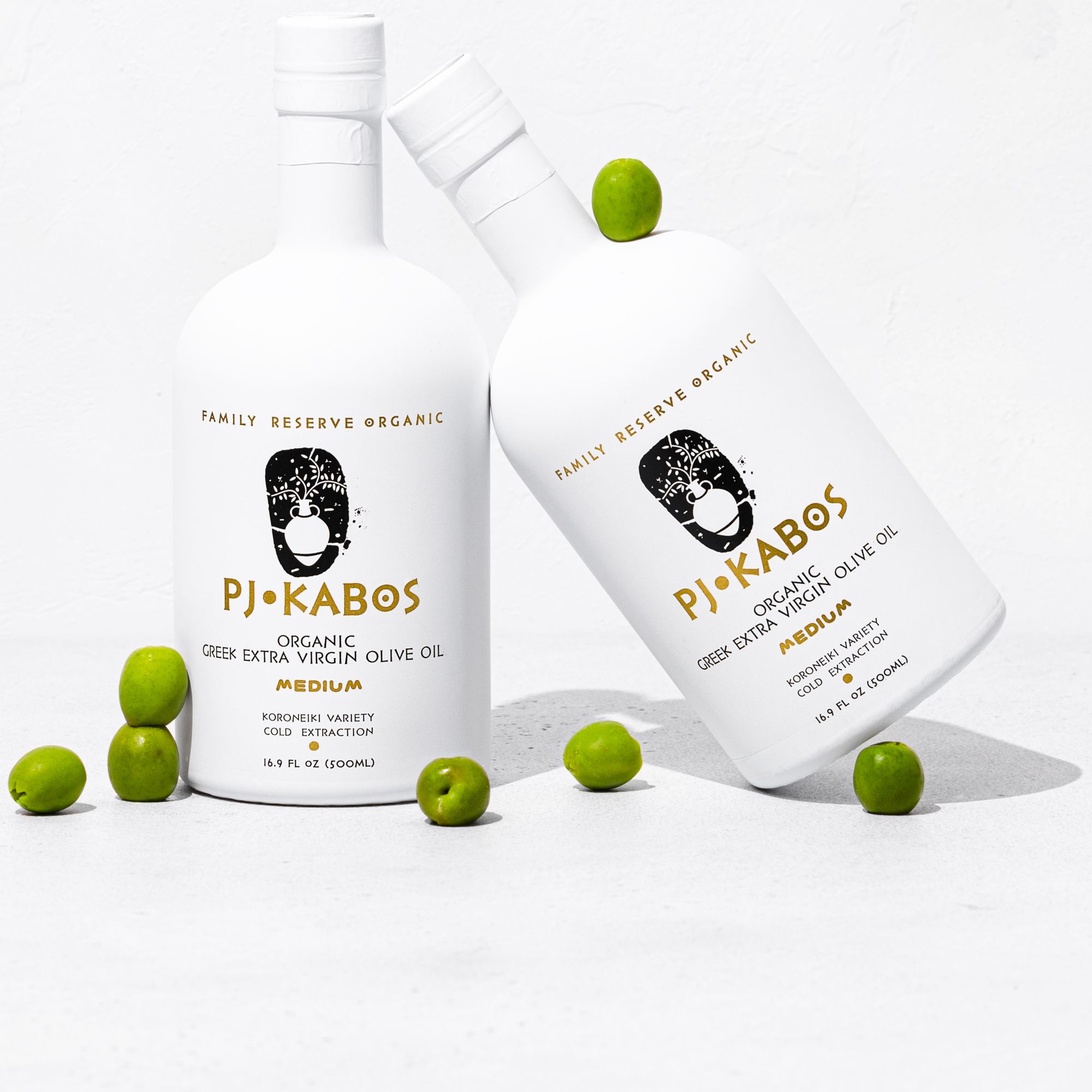 Join the newsletter to receive the latest updates in your inbox.