Smoked olive oil first came on the scene a little over a decade ago. Since then, this silky smooth flavor enhancer has been featured on menus at top restaurants, in the recipes of celebrity chefs, and in the pantries of happy home cooks.
Food Network star Tyler Florence has used the ingredient in his cookbooks, adding some intrigue to a roasted chicken with citrus salsa. Food & Wine magazine has called upon smoked olive oil to add meatiness to a salmorejo, a vegetarian no-cook soup from Spain. For barbecue lovers, smoked olive oil can add a seductive smokiness to vegetables, fresh fish, and – dare we say it – even tofu, all without artificial ingredients or preservatives you may find in other "smoke flavor" additives.
You can buy your olive oil pre-smoked, but foodies with a smoker will find that it's a fun project to try at home. Here's how to make your own smoked olive oil, and how to use it.
What is Smoked Olive Oil?
Let's start with the basics. Smoked olive oil is exactly that: good quality extra virgin olive oil that's been treated in the smoker. While the concept is simple enough, smoking olive oil poses an interesting challenge. Too much heat can degrade the flavor of a nice olive oil.
That said, let's take a moment to bust a quick myth. While you'll often hear otherwise, EVOO has a rather high smoke point of 350 to 410°F. That means sautéing, roasting, and baking (like this Gluten Free Lemon Olive Oil Cake) should all be fine.
The best way to infuse your olive oil with a smoky flavor is to cold smoke it. This technique uses a smoker to infuse whatever you're smoking with that signature smoky flavor. While traditional hot smoking also cooks the food, cold smoking doesn't actually cook anything – it just adds its smoky flavor. With the technique below works on cheeses, tofu, hard-boiled eggs, and, of course, olive oil.
How to Make Smoked Olive Oil
1. Prep your smoker
Your hot smoker may need some adjustments before you can cold smoke anything. In cold smoking, you need to keep what you're smoking (in this case, your olive oil) separate from the heat source. As such, you'll need a smoker with two separate chambers.
Most smokers on the market are made for hot smoking, which means they only have one chamber. If you aren't purchasing a smoker that's made specifically for cold smoking, however (which are hard to find to begin with), it is possible to make some adjustments to your hot smoker.
For most scenarios, the easiest way to turn your hot smoker into a cold smoker is by using an external heat source that pumps into the smoking chamber via a pipe. It all depends on the equipment you have on hand, but there are many ways to set up your gear. You can see a few configurations from the experts here.
2. Choose the type of wood
This technique allows smoke to penetrate the olive oil quite easily, so be sure you choose a wood flavor that you like. Here are a few options:
Alder wood is a very light wood with a little bit of sweetness. These chips are often combined with apple wood chips for a light sweet blend.
Apple wood is dense with a sweet and smoky flavor. These chips are often blended, but taste great on their own, too.
Cherry wood is light and a little fruity. These chips are often mixed with more robust woods like hickory or mesquite.
Hickory wood is a popular smoking chip with a bold flavor. Commonly used for smoking ribs, this might be a bit intense for delicate EVOO. But those who can't get enough of the smoky taste might want to mix some hickory with a lighter wood, like cherry.
Mulberry wood lends a sweet, delicate, berry-flavored smoke that feels gourmet.
A few other options include the savory notes of smoky olive wood, Sonoma smoked olive oil, and oak wood smoke, though we'll save these more unique varieties for another day!
3. Choose the right olive oil
For that rich, buttery flavor, you'll want to use a good quality, fresh extra virgin olive oil. The highest quality EVOO is often slightly green in color with a grassy or floral scent and a peppery flavor (and is in our opinion, a pantry essential).
When compared with regular olive oil, EVOO is unrefined and cold-pressed, which means it has very high levels of bioactive compounds, like oleuropein, hydroxytyrosol, and oleocanthal, which are acclaimed for their anti-inflammatory, antioxidant, and anti-microbial properties. You can read more about the bioactive compounds in olive oil here.
4. Clean the grates
Before you get started, be sure to clean any residue from past smoking adventures out of the smoker. This includes brushing off the grates and wiping them clean with a wet cloth.
This step is particularly important when smoking olive oil. Old grease on the grates can make an acrid smoke that could easily impart its flavor into what you're smoking. While your smoker may not get hot enough to burn off the grease when cold smoking, it's not worth risking the delicate flavor of your fine EVOO.
5. Get smoking (at the right temperature)
One of the most important parts of cold smoking is keeping the temperature below 110°F. If you can, it's worth doing your cold smoking in the cooler months, when the air temperature is 40°F or below. If you live in a hot climate, or just can't wait for the weather to change, smoke at night or early in the morning. You can also keep temperatures low by opening the intake damper and chimney about half an inch.
To get the fire going, place three to five lit charcoal briquettes in the center of your firebox. Then, place a pile of wood chips or your favorite smoking wood over the pile.
6. Pour your olive oil
When the coals are warming up, it's time to prep the olive oil. Pour your extra virgin olive oil into a heat-resistant bowl, such as a Pyrex glass bowl. You can smoke any amount of oil you'd like, depending on your planned usage. A good place to start might be half a cup so you can fine tune your flavor. You can always make more!
TIP: We suggest reserving some of your pure EVOO on the side. If you find the smokey flavor too overpowering at the end, you can add a little plain olive oil to the smoked olive oil, and voilà!
While the oil is smoking, carefully reach in and give it a stir every once in a while to incorporate the smoky flavor. If necessary, you can add some more briquettes or wood chips to the fire, but be sure the temperature stays below 110°F.
After about two hours, give it a taste. If you find it needs more time, let it go for another 30 minutes. This part is very much up to your preference!
How to Use Smoked Olive Oil
Many chefs have taken to smoked olive oil for its ability to instantly beef up a dish without needing marinades, BBQ sauces, or other cliche grilling companions. While some love it on salads and others prefer it on hot dishes, opportunities abound. Here are a few ideas:
Deepen the flavor of your homemade hummus. Blend chickpeas, tahini, and fresh lemon juice with smoked olive oil. For something more subtle, use pure extra virgin olive oil when blending the hummus and drizzle the smoked variety on top.
Baba ganoush is a smoky eggplant dip made from charring whole eggplants on the grill and blending their interiors with tahini, garlic, lemon, and EVOO. You can also broil your eggplants in the oven, which is good for texture but lacks the smoky goodness. Thankfully, smoked olive oil can come to the rescue. This is the case as well when grilling fish isn't an option but you still want that flavor of olive wood smoke.
Drizzled over some boiled or oven-baked potatoes and served with a little salt, pepper, and chives is perfection. Don't be shy to include it in a potato salad either for added depth.
Mix into a fresh corn salad with cherry tomatoes, jalapenos, red onion, and cilantro. This way, you don't need to grill your corn first. Don't forget a little sea salt to complement the flavor.
Add some intrigue to a classic caprese salad. Pour your olive oil over sliced mozzarella, perfectly-ripe tomatoes, and freshly-picked basil. Season with a little salt and black pepper to taste.
For those who want to enjoy the smokiness on its own, smoked olive oil can always be paired with balsamic vinegar and served as a dipping oil with crudités or crusty bread before dinner starts.
Enjoy!
Sources:
https://www.foodandwine.com/recipes
https://www.aboutoliveoil.org/
https://www.smokedbbqsource.com/
Product placement
PJ KABOS 'Family Reserve Organic - Medium'
High Phenolic and 2022 Gold-Award Winner.
Declared as 'One of the World's Best Olive Oils'.
Click here to shop.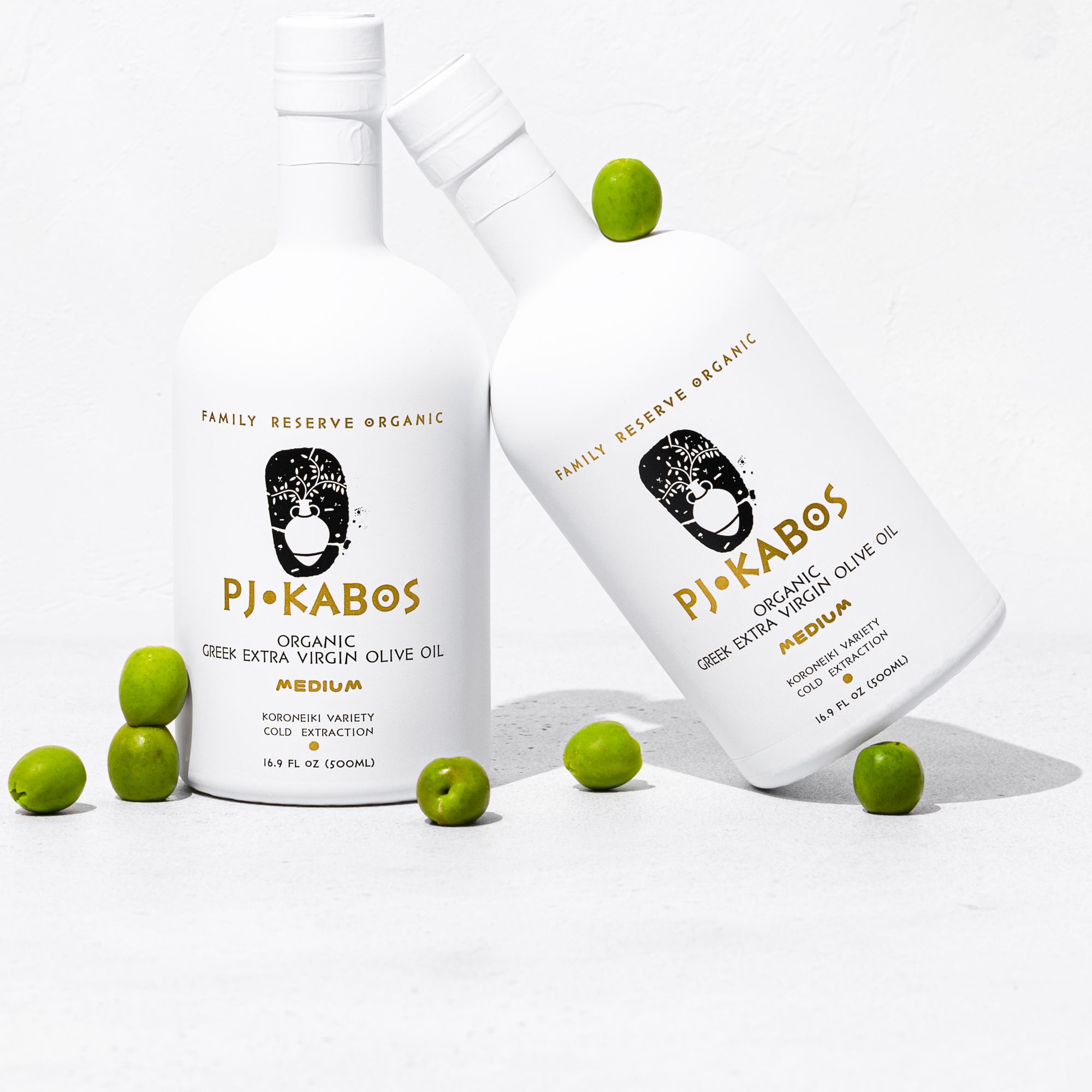 Join the newsletter to receive the latest updates in your inbox.