Olive oil isn't just a multi-tasker in the kitchen – it can also work wonders on your hair. Olive oil is a popular ingredient in conditioners and moisturizing treatments, but you can also experience the benefits of olive oil on healthy hair at home by making your own DIY hair mask made with olive oil and another surprising ingredient from your kitchen: an egg.
Here's how to make your own DIY egg and olive oil hair mask, and why you should consider trying it for yourself!
How Does Olive Oil Benefit Hair?
Olive oil has been used for cosmetic purposes since ancient times. Even Cleopatra used it. Even religious text has a verse that says, "Eat olive oil and use it on your hair and skin, for it comes from a blessed tree."
Even today, after years of innovations, olive oil is still a popular ingredient in hair care products, even though coconut oil seems to be getting all the attention these days. Why? Here are a few benefits of olive oil for hair.
Olive oil delivers moisture to the hair. Olive oil is a monounsaturated fat (AKA one of the "good fats"). A 2005 study showed that certain oils, like mineral oils and essential oils, are not absorbed into the hair, rather sitting on top of the hair. Monounsaturated fats like olive oil, however, can be absorbed by the hair and help with dry scalp and dandruff.
Olive oil pairs well with other hair care ingredients. As hairstylist Gabrielle Cormey explained to Mind Body Green, only water-based hair products actually moisturize your hair. "These oils have many hair benefits, but they work best when in conjunction with a water-based hydrating cream."
Olive oil contains many hair-healthy vitamins. According to Healthline, Virgin olive oil contains vitamins E and other antioxidants. In a 2010 study, researchers found that a nutrient in the vitamin E family could help promote hair growth.
What Are the Benefits of An Olive Oil Hair Mask?
Research is limited, but there are many benefits that may come from using olive oil in a hair treatment like a hair mask. As cited in Healthline, here are a few benefits of this home remedy cited by hair care professionals and users.
Less damage and breakage to the hair
Stronger natural hair
More moisture (so less frizzy hair)
Shinier locks
Softer hair
Fewer split ends
What Are the Benefits of An Egg Hair Mask?
Eggs also have a long history as a hair care ingredient. Research is limited, but many hair care professionals attribute some benefits to a whole egg hair mask. Here are the two main benefits, as cited in Medical News Today.
Hair Growth
Some in the field of natural beauty claim that egg yolks can promote hair growth. Why? One of the key ingredients in an egg yolk is sulfur, which is also an important component of hair. In fact, according to Medical News Today, there are 164.5 milligrams of sulfur per 100 grams of egg yolk. The claim is that egg yolks nourish the roots of hair, and stimulate the scalp and hair follicles.
That said, there is no specific research that shows that applying egg yolk to the hair promotes hair growth or reduces hair loss.
Dry Hair
Another important component of egg yolk is protein. Protein may nourish the hair and give dull hair a healthy shine.
In addition to protein, yolks are high in fat. In fact, there is 26.5 grams of fat per 100 grams of yolk. Fats work to make hair feel softer. One type of fat does the job particularly well: lecithin. Found in egg yolks, lecithin is also used in a range of beauty products. As such, an egg yolk may be an easy, affordable way to give your hair a dose of moisture.
Egg and Olive Oil Hair Mask Benefit
As you can see, both eggs and olive oil have properties that may promote a healthy scalp and hair. More research is needed on the topic, but here are some potential egg and olive oil hair mask benefits.
Increased hair growth
More moisturized hair
Less damage and breakage to the hair
Stronger hair
More moisture
Shinier locks
Softer hair
Increased hair growth
Fewer split ends
Now, how do you make an egg and olive oil hair mask? You might already have the right ingredients on hand. Here's what you need.
What Kind of Olive Oil is Best For Hair?
First of all, what type of olive oil should you use? While any olive oil will add moisture, a high-quality extra virgin olive oil (EVOO) will deliver the most concentrated dose of vitamins and nutrients.

As Dr. Chambers-Harris told Byrdie, "I would recommend going for an organic, extra-virgin olive oil (EVOO) that's unrefined and not treated with any chemicals or heat—it's the highest-quality available, and much healthier for your hair."
How to Make An Egg and Olive Oil Hair Mask
Step One:
Now that you have an egg and a high-quality virgin olive oil, you're ready to get started. If you're hoping to cover all of your hair, start with somewhere between one and two tablespoons of olive oil, depending on the length and thickness of your hair. If you have particularly long hair or thick hair, you may need more. If you're just making a mask for the ends of your hair, you may need less than one tablespoon.
Measure your olive oil into a small bowl.
Step Two:
Separate your yolk from your egg white. (You won't need the white for anything. Maybe this is a good time to make an omelette!)
In a larger bowl, whisk an egg yolk to create a smooth texture.
Step Three:
Add the olive oil to the larger bowl with the egg yolk.
Step Four:
Measure ½ teaspoon of honey and add it to the egg and olive oil mixture.
Step Five:
Mix all ingredients until they are mostly incorporated. You may see some streaks – that is totally fine.
How To Apply The Mask
Apply the mask on dry or damp hair. Place a towel around your shoulders to keep things clean.
If you have an applicator bottle or an old shampoo bottle, pour your mask into the bottle. This will help reduce the mess. If you do not have a bottle, you can use your hands.
Apply to the hair in sections. Massage the mask into your hair from root to tip. (If you have oily hair, focus more on the ends than the roots.)
Once all of the mask has been applied, cover your hair in a shower cap, saran wrap, or a towel. Let it soak for 15-45 minutes. If your hair tends to have excess oil, stick to the lower end. If you have very dry or damaged hair, let it soak for longer.
Get in the shower and rinse it out. Be sure to begin with lukewarm water. If you use hot water, the egg might cook in your hair!
Shampoo and finish with a conditioner.
Do you love the bouncy, shiny results? Keep it up. You can apply this mask once a week.
Who Should Use An Egg And Olive Oil Hair Mask?
Olive oil and egg yolk hair masks are best for those with kinky and curly hair textures and/or very dry hair. These hair types lose moisture easily, as they are more porous.
Additionally, curly hair has more points where it is vulnerable to breakage. That means it needs a little extra moisturizer, especially when washing and detangling.
Other Olive Oil Hair Masks To Try
Did you run out of eggs? Or does the thought of coating your hair in egg yolk make you a little squeamish? There are many other DIY olive oil hair masks you can make at home.
Olive oil and honey: Just skip the egg! Olive oil and honey can help trap in moisture. Dark-haired folks be careful: honey can lighten hair. Mix one tablespoon of honey with three tablespoons of olive oil.
Olive oil and mayonnaise: This combo isn't just good on a sandwich – the mix of fatty acids can leave hair feeling soft and smooth. To make, mix two tablespoons of mayonnaise with one tablespoon of EVOO.
Olive oil and avocado: Mixing these ingredients creates a nourishing vitamin- and fatty acid-packed hair mask. To make the mask, mash a ripe avocado until there are no lumps. Then, mix in two tablespoons of olive oil.
To Sum Up
Hair masks and treatments at the salon promise silky soft hair, but they often come at a hefty price.
Instead, you might already have all the ingredients you need for a luscious hair mask right at home. A simple egg and olive oil hair mask is a natural way to deliver those shiny, bounce, healthy results you're after.
Sources
https://www.islamicfinder.org/news
https://pubmed.ncbi.nlm.nih.gov/16258695/
https://www.mindbodygreen.com/articles/olive-oil
https://www.healthline.com/health/olive-oil-hair-mask
https://www.ncbi.nlm.nih.gov/pmc/articles/
https://www.medicalnewstoday.com/articles/321971
https://www.byrdie.com/olive-oil-hair-4843341
Product placement
PJ KABOS 'Family Reserve Organic - Medium'
High Phenolic and 2022 Gold-Award Winner.
Declared as 'One of the World's Best Olive Oils'.
Click here to shop.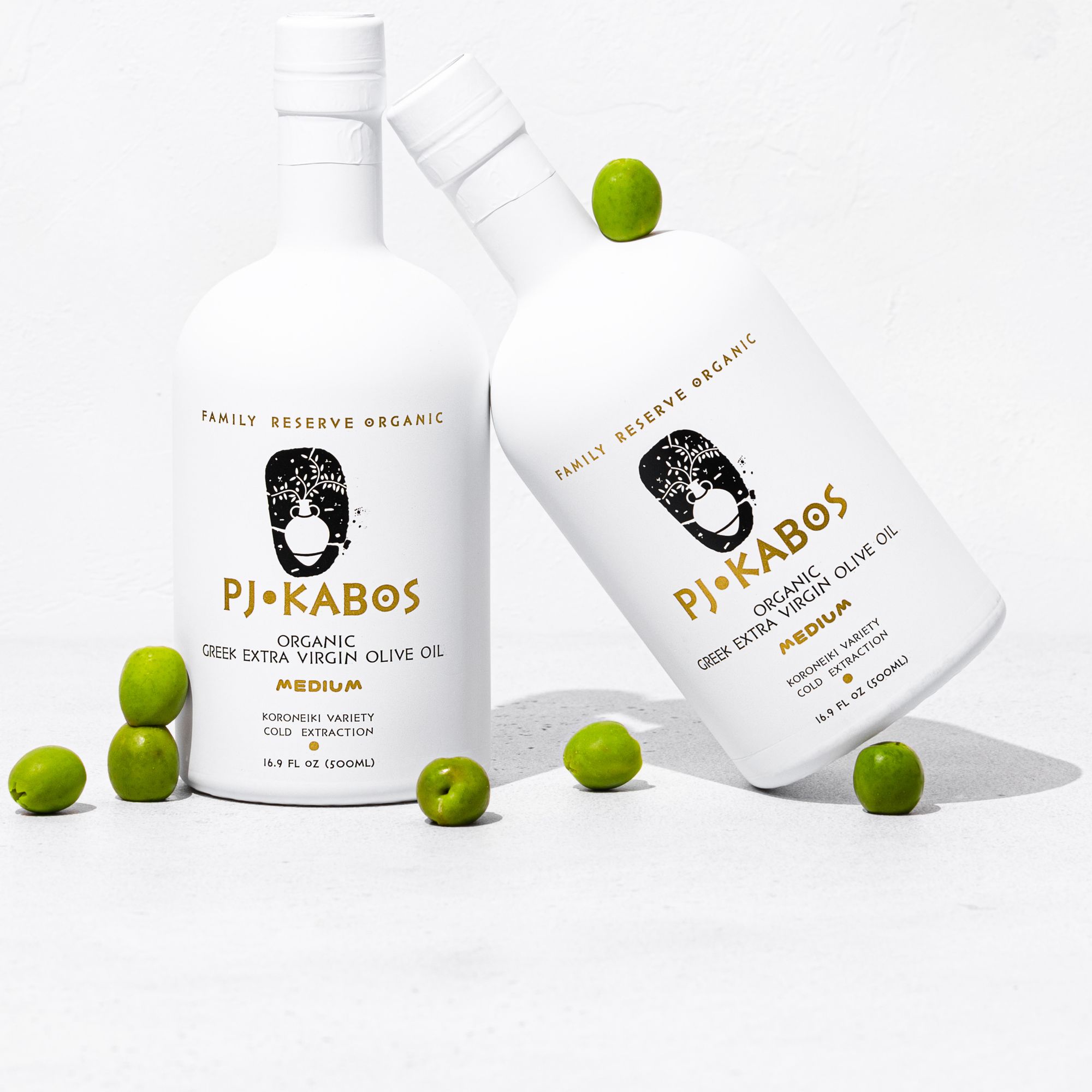 Join the newsletter to receive the latest updates in your inbox.