They say not to fill up on bread before a meal. Of course, that's easier said than done when the waiter at your favorite Italian restaurant brings a shining dish of olive oil and that warm, fluffy, perfectly sliced baguette or ciabatta to the table as an appetizer. Don't even get us started on the fresh garlic, fresh herbs, or that perfect vinaigrette sitting right on top of the oil. Restaurant-style olive oil bread dip (or even a homemade version) isn't just a delicious pre-dinner snack – it's also a wonderful way to taste the nuances of the good olive oil. (See? Consider it research.)
Whether you're tasting olive oil on its own or making your own dipping sauce with balsamic vinegar or herbs, choosing the right olive oil is essential. Which olive oil is best for dipping bread? We'll go through the options below.
Extra Virgin Olive Oil
No questions asked: Extra virgin olive oil (EVOO) is our go-to for any bread dipping oil recipe. As EVOO is cold-extracted and unrefined, it maintains all the flavor that makes swirling your bread so enticing. EVOO also has the health benefits, which means you'll get a boost of bioactive compounds before dinner even starts.
Once you've entered the EVOO category, you still have some choosing to do. Extra virgin olive oils can be intense, medium, and delicate. Within these categories, they can exhibit a vast array of tasting notes. An EVOO can recall herbs, freshly-cut grass, radish, or arugula. Some taste of apples, nuts, or cinnamon.
When you're using olive oil for dip recipe, you'll be able to truly experience these hints of flavor. Here's a look at the varying types of EVOO.
Intense Extra Virgin Olive Oil
Here's the general rule: olives that are harvested earlier will yield a more intense flavor when made into olive oil. By intense, we mean a robust flavor with peppery sensations that you feel in the back of your throat and some of the flavor-enhancing bitterness of fresh green olives.
Don't worry about sending your dinner guests into a coughing fit. The coughing typically takes place at olive oil tastings where you sip your olive oil from a glass. (Does that sound up your alley? Here's our guide to hosting your own olive oil tasting.)
Medium Extra Virgin Olive Oil
A medium extra virgin olive oil is typically made with a combination of olives from the early and middle stages of the harvest season. It may still pack a peppery punch, but will likely have a fruitier profile. As these are more mild than an intense olive oil, these are crowd-pleasers, perfect for sharing around the table. They also work well in a homemade dipping oil (recipes to follow below).
Delicate Extra Virgin Olive Oil
Generally, a delicate EVOO will have been harvested at a later stage. These may have a buttery, smooth taste, a fruity aroma, and a slightly peppery taste to finish. As a delicate olive oil is more mild, these also work well when creating a dipping oil with other ingredients.
Infused Dipping Oils for Bread
Looking for a little more oomph from your dipping oil? Try an infused olive oil. An infused olive oil is flavored with another ingredient, like herbs, citrus, or chili. Typically made from EVOO, these olive oils make are ideal for dipping bread, especially when topped with a little kosher salt.
Do you have another flavor in mind? You can make your own olive oil infusions at home with minimal prep time. Here's how.
How to Make DIY Olive Oil Infusions
If you already have a good EVOO at home, it's easy to make an infusion. There are two methods: a cold infusion and a heated infusion. Use the cold method when working with tender herbs and fresh ingredients, like parsley, fresh basil, and chilis. Use the heated method when working with hardier ingredients like rosemary, thyme, and lemon juice or zest.
Making cold-infused olive oil:
When making a cold-infused olive oil, the ratio should be about one cup of herbs (loosely packed) per quart of olive oil.
Blend the ingredient of choice in a food processor, then mix it in with the oil. Give it a stir, then strain out the ingredient.
According to Bon Appetit, you don't need to let the ingredient steep in the olive oil for very long, as tiny pieces will be left behind after you sift it.
Be sure to keep your cold-infused olive oil in the fridge and use it within the week. As it contains particles from fresh ingredients, these will go bad.
Making heat-infused olive oils:
Place your olive oil in a small saucepan. Heat it very gently, never reaching more than 150˚F, according to Bon Appetit. Measure the olive oil with a thermometer, or just keep an eye on it to make sure there are no bubbles, even tiny ones. Overcooking olive oil can change its flavor profile, potentially giving it a rancid taste.
Once the oil warms up, take it off the heat and add your ingredient. Let it steep while covered. Keep in mind that the longer your lemon zest steeps, the stronger your oil will be.
Once the oil is to your taste, remove the ingredient with a sieve or tongs and use a funnel to bottle. For that gourmet look, you can add a piece of the ingredient to the bottle before filling.
While heat-infused olive oils keep longer than cold-infused olive oils, it's wise to keep them in your refrigerator.
Olive Oil Dipping Sauce Recipes
Herby Dipping Oil: Start with a good, flavorful EVOO (intense or medium would work well here). Stir in some dried herbs (basil, parsley, oregano, and thyme would work well), a little finely minced garlic, sea salt, and a squeeze of lemon. Pour it on a dish and top with the Parmesan cheese.
Sun-dried Tomato Oil: Drain sun-dried tomatoes from their oil and chop them finely. Add tomatoes, chopped fresh basil (dry works in a pinch), and red pepper flakes to a bowl. Cover them liberally with about a cup extra virgin olive oil at least. Add a couple crushed cloves of garlic and let them steep for as long as you can. Remove the garlic cloves to serve.
Rosemary Dipping Oil: If you have a fresh rosemary plant at home, this is an easy way to elevate dinner at home paired your favorite bread and a glass of wine. Start with an EVOO (medium or delicate would work well here) and add some fresh-chopped rosemary. Add a drizzle of balsamic vinegar and top with a pinch of flaky sea salt.
What's the best bread for dipping in olive oil?
Now that you have your olive oil, you'll want to be sure your bread is up to the task. Sure, any bread can work, but certain breads will elevate the experience.
If you really want to focus on the nuances of the olive oil, you might want to go with an unsalted bread. Most of the bread we consume in the U.S. contains salt, if only a little bit. Traditional Tuscan bread, called pane toscano, however, is unsalted.
And according to The Florentine, there's a good reason for that: pane toscano is not meant to be eaten on its own. It's meant to be dipped in Tuscan food, like pappa al pomodoro (tomato and bread soup), acquacotta (a vegetable stew from southern Tuscany), or dipped in a peppery Tuscan olive oil.
Would you prefer a bread with a little salt? We won't tell the Tuscans. Go for a crusty bread that's mild in flavor, like an Italian bread or French bread. While you can certainly use a whole wheat or whole grain variety to increase the nutritional value, these varieties have a stronger flavor and may mask some of the olive oil's nuances. Whatever you do, save garlic bread as a last resort, especially if it's grocery store made, as they tend to add a bunch of garlic powder and Italian seasoning.
Sources
https://www.pjkabos.com/nobumatsuhisa
https://www.theflorentine.net/2018
Product placement
PJ KABOS 'Family Reserve Organic - Medium'
High Phenolic and 2022 Gold-Award Winner.
Declared as 'One of the World's Best Olive Oils'.
Click here to shop.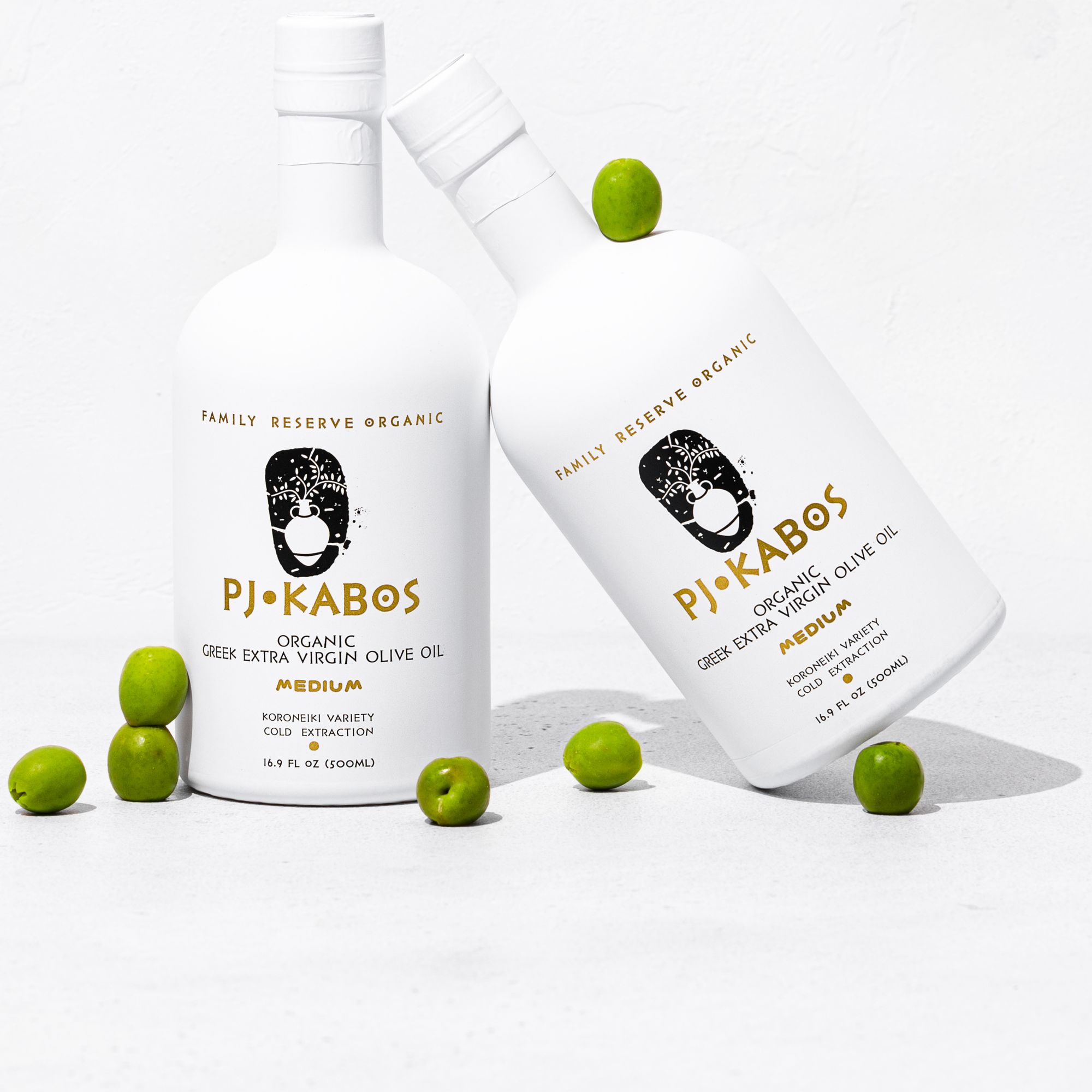 Join the newsletter to receive the latest updates in your inbox.