Nothing makes for a perfect movie night like popcorn. Hot, fresh, and flavorful right off the stove, but something so simple needs to be done with the best ingredients to make it perfect. The right kernels for the job and, of course, the right oil.
You want to pick a good quality pure olive oil. I would stay away from your pricey extra virgin drizzling oil but look for pure olive oil that is not mixed with other oils. Pure olive oil has a higher smoke point and can handle the heat of the pan needed for popping. I wouldn't put that EVOO away though! Let's put that great flavor to use to help us top our popcorn after it's done. Using an oil mister is a great way to lightly flavor your popcorn because it gets the oil onto the popcorn without overloading it and making it soggy. So load up your favorite oil mister and get ready to bring the flavor.
The Best Kernels for Stovetop Popping
Orville Redenbacher's Originals- You can't beat the popping and freshness of these kernels. They are one of the oldest names in the business and their popped corn kernels are quite fluffy, crunchy, and large.
Bob's Red Mill's White Popcorn- non-GMO verified and fresh tasting, these kernels also have a high yield with very few unpopped kernels.
Trader Joe's Organic Yellow Popcorn- Organic and a little more on the expensive side, these kernels pop big, white, and fluffy with very fresh corn flavor.
This recipe is Vegan, Vegetarian, Gluten Free, Keto, and Mediterranean friendly.
Makes 4 to 5 cups popcorn
3 Tbsp. pure olive oil
½ cup popcorn kernels
Extra Virgin olive oil, for spritzing
Kosher or coarse sea salt
Place a 4-quart pot with a lid over a medium high flame. Add the oil and 3-4 kernels to the pot and partially cover with the lid. When the kernels in the pot begin to pop add the remaining kernels and cover. Once the popping starts, shake the pot back and forth constantly. After about 3 minutes, the popping should slow down. If you can count to 5 without a pop, it's done. Remove from the heat and give the pot a final shake. Transfer to a large bowl,  spritz with extra virgin olive oil and season to taste with salt.
Fun Flavors & Topping Suggestions
My favorite way to dress popcorn is in layers, that way you get maximum coverage of the whole bowl. Pour a third of your freshly popped popcorn in the bowl, using an oil mister, spritz some good quality EVOO onto the popcorn and toss with a third of your add-ins and some salt. The oil helps the powdered flavors stick to fresh popped kernels and adds to the flavor profile. Repeat with the remaining two thirds of the popcorn for a complete experience. Remember to always season to taste with kosher or coarse sea salt, even if your toppings are sweet, it helps bring out all the flavors.
For 4-5 cup batches of freshly popped popcorn:
Ranch and Chive: 3 Tbsp. ranch dressing powder, 3 Tbsp. fresh thinly sliced chives or 2 Tbsp. dried chives, and season to taste with kosher salt

The Mountaineer: ½ cup coarsely chopped jerky, ¼ cup raisins, ¼ cup dried cranberries, ¼ cup honey roasted peanuts, ¼ cup smokehouse almonds (coarsely chopped), and season to taste with kosher salt and freshly ground black pepper

Garlic and Parm: ½ cup finely grated parmesan cheese (preferably Parmigiano Reggiano), 1½ tsp. garlic powder, and season to taste with kosher salt and freshly ground black pepper

Cinnamon Toast Pop: In a small bowl, combine 3 Tbsp. raw or turbinado sugar with 1½ tsp. ground cinnamon. Add to the popcorn and season to taste with kosher salt
Movie Night: 10 red licorice ropes cut into ½-inch pieces, 1 box plain candy covered chocolate, 1½ cups mini pretzel twists, and season to taste with kosher salt
Product placement
PJ KABOS 'Family Reserve Organic - Medium'
High Phenolic and 2022 Gold-Award Winner.
Declared as 'One of the World's Best Olive Oils'.
Click here to shop.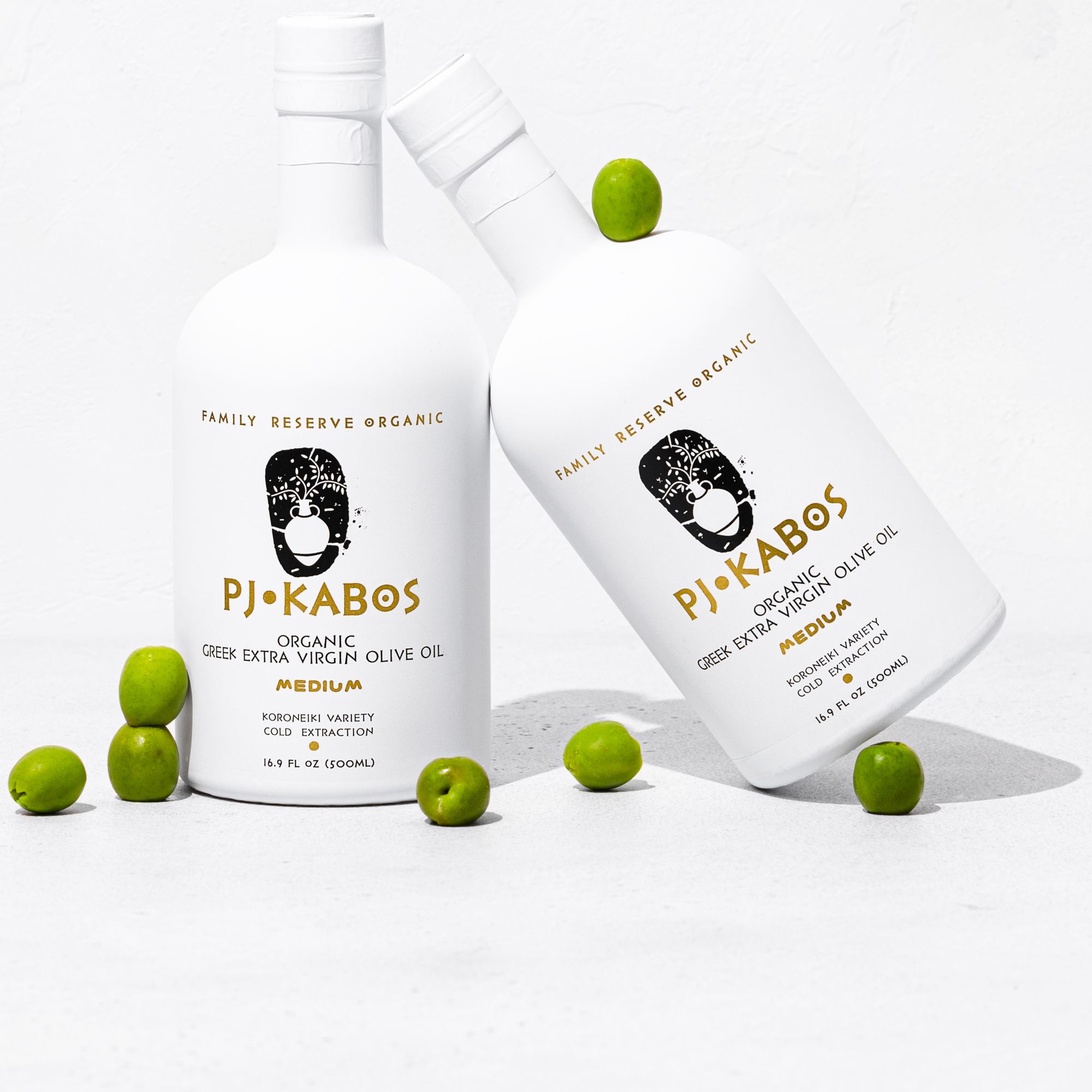 Join the newsletter to receive the latest updates in your inbox.