Olive oil is packed with health benefits, from promoting bone health to potential cancer prevention. Unsurprisingly, the benefits that get the most press are those that come from eating olive oil as part of your diet.
That's only half the story – there are many benefits of applying olive oil to the skin, too. Here's a guide to olive oil benefits for the skin, whether you're drizzling on top of a salad or adding it into your skincare routine.
Olive Oil Benefits For Skin
We'll start with the part we all know and love: eating olive oil. Olive oil contains health-promoting monounsaturated fats as well as polyphenol compounds shown to improve everything from pain to brain function to cancer prevention.
That's where the skin comes in. Some research shows that when eaten as part of a Mediterranean diet, olive oil may help reduce risk of certain types of skin cancer, including melanoma, the most dangerous form of skin cancer.
Olive oil contains polyphenol compounds that have been shown to reduce inflammation, induce apoptosis (programmed cancer cell death), and hinder the ability of the cancer cells to metastasize (spread to another part of the body).
Benefits of The Mediterranean Diet For Skin
The Mediterranean diet is an eating plan inspired by the diet of people living in Mediterranean countries like Greece, Italy, Spain and Croatia. This diet – which consistently tops the list of U.S. News & World Report's list of best diets – is rich in healthy fats, primarily olive oil, fish, vegetables, and fruit. Many dermatologists agree that the Mediterranean diet has many skin benefits. Here are a few.
Skin may appear plump and soft.
The Mediterranean diet is filled with fruits and vegetables, which contain high amounts of Vitamin C. Vitamin C has been shown to keep skin looking plump and soft. Some of the Vitamin C-packed foods that are a-okay on the Mediterranean diet are broccoli, cauliflower, oranges, bell peppers, sweet potatoes, and kiwis.
Skin appears hydrated.
All those fruits and vegetables have another benefit: they contain a lot of water for hydrating. As registered dietitian Tina Bauermeister told INSIDER, "Fruits and vegetables foods have a high water content; up to about 80% water! An increase in fluids may help with your hydration and make your complexion appear less dry."
Fruit and vegetables can only take you so far. For your skin to get that extra-hydrated glow, you'll need to make sure you're drinking plenty of water, too. According to the Mayo Clinic, aim for more than 3.7 liters for men or 2.7 liters for women.
Skin may appear less irritated.
If you're kicking the sugary, processed foods to the curb in favor of healthy fats, fruits, and grains, your skin will certainly thank you. As delicious as they are, all those refined carbohydrates can cause unwanted effects on the skin.
As Dr. David Lortscher, a board certified dermatologist, told Healthline, "Sugar in any form influences the two major causes of acne: hormones and inflammation. As you eat refined and processed carbohydrates like white sugar, your blood sugar levels increase at a faster rate, and your pancreas responds by releasing insulin. By eliminating sugar, you may be able to decrease the amount of insulin (and as a result, oil and acne production) your body makes."
The Mediterranean diet may prevent premature skin aging.
The Mediterranean diet features plenty of antioxidant-rich foods, like extra virgin olive oil (EVOO), berries, beans, nuts, and red wine. Antioxidants can lead to the appearance of anti-aging, because they help fight cellular damage, which leads to premature aging.
Legumes may fight skin irritation and redness.
While some parts of the Mediterranean fill up on pasta (we're looking at you, Italy), the Mediterranean diet encourages skipping refined carbohydrates like pasta made with white flour in favor of legumes.
What does that have to do with your skin? Chickpeas, lentils, peanuts, peas, and other legumes are high in fiber and minerals. As registered dietitian Tina Bauermeister told INSIDER, "these foods may help to reduce blood pressure, which in turn may help your skin and complexion."
Give your legumes a heart-healthy boost by adding some EVOO. Make your own hummus with a good EVOO, cook your lentils in olive oil, or drizzle it over your peas. Some small studies have suggested that extra virgin olive oil may improve cholesterol. How? The polyphenols in olive oil might lower blood pressure and prevent "bad cholesterol" from oxidizing into a more harmful form.
Topical Olive Oil Benefits For Skin
Olive oils can also work wonders when applied to the skin. Olive oil has been used for cosmetic purposes since ancient times. Nowadays, while face and body oils are having a moment, exploring the nourishing powers of EVOO in your beauty routine feels more relevant than ever. Here are some of the benefits of applying olive oil topically.
Olive oil is packed with powerful antioxidants.
Those same antioxidants that protect you from free radicals from the inside-out might also flex their muscles from the outside-in.
As reported in Medical News Today, olive oil's antioxidants might prevent premature aging when worn on the skin. In fact, some additional research suggests that applying olive oil after sun exposure could protect against cells that cause cancer.
This exciting study applied olive oil to the skin of mice that had been exposed to potentially harmful UV rays. The mice coated in olive oil showed significantly less tumor growth than the mice without olive oil. More studies are needed, namely on human skin, but it is an intriguing result.
Olive oil is moisturizing.
We don't need a scientific study to back this up: we've all felt the moisturizing effects of olive oil on our hands after tossing some broccoli to roast or preparing some pizza dough.
Olive oil is moisturizing because of its high fatty acid content. As explained by the respected skincare resource Paula's Choice, olive oils contain essential fatty acids that benefit dry skin, including oleic acid, palmitic acid, and linoleic acids.
Olive oil is an emollient, which means it smooths and softens skin. This gives skin a smooth, moisturized feeling. However, olive oil does not actually hydrate the skin. As Harper's Bazaar explains, there are two main types of moisturizers: occlusives and humectants.
Occlusives, like oils, coat the skin and seal moisture inside so it doesn't evaporate. It acts a skin barrier, which is why your cuticles might look so good after you've worked with olive oil.
Humectants attract moisture from the environment or the skincare product and draw it into the skin like a magnet. Two examples of humectants are hyaluronic acid and glycerin.
To get the most out of your olive oil, combine it with another product that has a humectant. Try the clear and silky The Ordinary Hyaluronic Acid 2% + B5, the lightweight Glossier Priming Moisturizer, or the rich and nourishing CeraVe Moisturizing Cream.
Olive oil is high in vitamins.
You already know olive oil has loads of vitamins. But how do they affect the skin when applied topically? According to Medical News Today, applying vitamins A, D, E, and K may benefit the skin. Vitamin E is commonly used to treat psoriasis and eczema and prevent scarring.
Read on for more side effects and how to apply olive oil to the skin.
Side Effects Of Olive Oil On The Face And Skin
While olive oil boasts many potential benefits for the skin, everyone's skin type is different. Those with oily skin might find olive oil too to be too heavy because it is comedogenic. For some people with oily skin, olive oil can clog pores, so it may not be the best choice for a makeup remover or face wash for sensitive skin.
People with acneic skin should also proceed with caution. As cosmetic chemist Ee Ting Ng told Byrdie, "The fatty acids prevalent in olive oil—and all plant oils and butters in general—are the very food source for acne-causing bacteria and yeasts to grow. Thus, olive oil is not ideal for acne-prone skins."
How To Apply Olive Oil
Olive oil seals in moisture, so it should be the last step in your skincare regimen, after any serums and emulsions. (During the day, your SPF should go on top!)
You could also mix your olive oil with a lotion. As always, it's best to apply moisturizer right after showering, when your skin is a bit wet.
Keep it light. You don't need much to experience the benefits of olive oil. Too much olive oil can clog the pores, especially if your skin is sensitive.
What Kind Of Olive Oil Should Be Used For The Skin?
When choosing an olive oil to apply to the skin, reach for an organic, non-GMO extra virgin olive oil. The finest grade of olive oil in the world, EVOO contains a high concentration of vitamins and antioxidants.
Product placement
PJ KABOS 'Family Reserve Organic - Medium'
High Phenolic and 2022 Gold-Award Winner.
Declared as 'One of the World's Best Olive Oils'.
Click here to shop.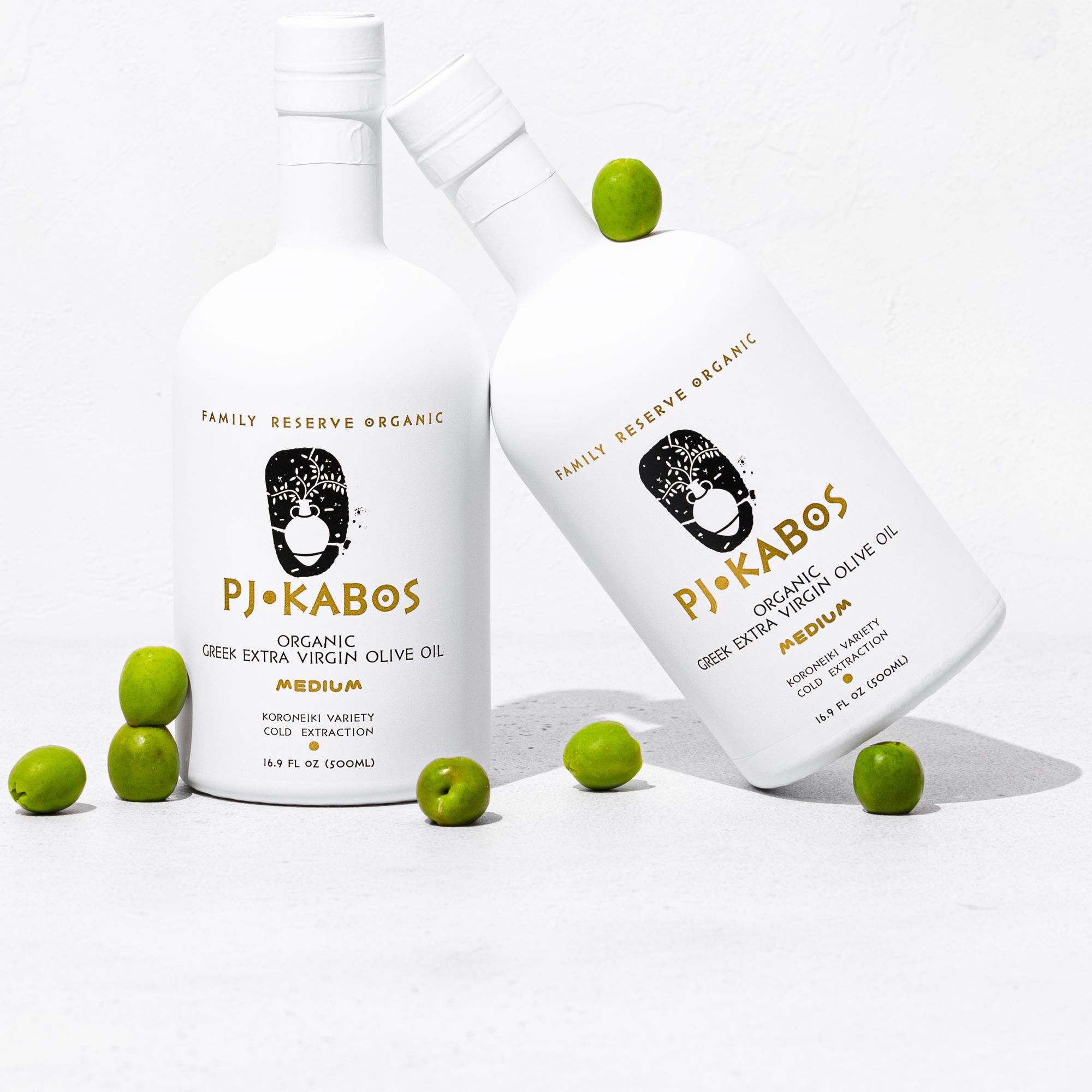 Join the newsletter to receive the latest updates in your inbox.