Do you find that restaurant salads taste more exciting than the salads you make at home? Here's the key to taking your salad to the next level: make your own salad dressing rather than using one from the grocery store.
Olive oil isn't just for marinades, grilling, and sautéing. A homemade salad dressing made with high-quality extra virgin olive oil can elevate even a simple salad of arugula, tomatoes, and black pepper to something exciting. But where to begin? Here's a little guide to dressing salads, and how you can do it better.
What's In A Salad Dressing?
According to The Association for Dressings & Sauces (yes, it's a real organization!), the Babylonians used oil and vinegar to dress their greens almost 2,000 years ago. That combination of the richness from fatty acids and acidity has endured. It's no wonder – it's the perfect complement to greens.
Since Baylonian times, our salad dressing repertoire has expanded beyond the simple vinaigrette to include creamier options. Today, we have ranch dressing, blue cheese dressing, and Caesar – named for Italian-American restaurateur Caesar Cardini, not Julius Caesar. All of these can also be made with olive oil.
Making salad dressing is super simple, whether you're drizzling a little extra virgin olive oil and balsamic vinegar on top of your greens or making a more in-depth recipe. Here's how to choose the right olive oil for the job.
What Is The Best Olive Oil For A Vinaigrette?
If you're new to making homemade salad dressing, a vinaigrette is your Salad Dressing 101. A vinaigrette is a simple melange of oil and acid. According to The Kitchn, the basic ratio is about one part acid to three or four parts oil. But there's no need to measure! You can easily eyeball it.
So, what olive oil should you choose? That depends on what you're going for. If you're making a simple Mediterranean-inspired salad with just greens and tomatoes, for example, your dressing will take center stage. And if your dressing is going to highlight the qualities of the oil, we suggest choosing a good extra virgin olive oil worth highlighting.
Something to keep in mind when choosing your olive oil, as well, is that a good oil will not be coming in a clear bottle (unless it is also in a box). Rather, these high-quality oils are usually stored in dark glass containers or opaque tins, because light will accelerate the oxidation of olive oil and make it turn rancid more quickly.
In most cases, for salads you'll want to choose an extra virgin olive oil (EVOO). Why?
EVOO is considered to be the top-tier olive oil, both for taste and health benefits. The international standards require true EVOO to not have any flavor defects.
There's another compelling reason to choose EVOO. Virgin olive oils are packed with health benefits, which mean EVOO will make your healthy salad even healthier (on top of more delicious!). Read all about the science-backed health benefits of olive oil here. We've pulled a couple below.
EVOO and virgin olive oil are made with mechanical methods, never exposed to high heat or chemicals. Cold-pressed and unrefined, these oils retain their health benefits. Some of the bioactive compounds found in these olive oils are oleuropein, hydroxytyrosol, and oleocanthal, which have anti-inflammatory, antioxidant, and anti-microbial properties.
Thanks to these powerful components, EVOO and virgin olive oil may have benefits for cardiovascular and heart health, as well as cancer prevention, research shows.
However, some of these types of olive oil can have a robust, peppery flavor profile. If you are working with delicate greens, veggies, and fruits, these tasting notes may overpower the fruity flavors in your salad. If that's the case, look for a milder style extra virgin, or use your particularly flavorful EVOO for half the oil, and use a  mild olive oil, such as "regular" or light olive oil, for the rest. In fact, you can even get different flavor notes from the different varieties of olives, like Koroneiki, Frantoio, Picual or Itrana.
What Is The Best Vinegar For A Vinaigrette?
Olive oil is only half the recipe – or rather, three quarters. The rest is something acidic, which may be vinegar or citrus juice. You can try balsamic vinegar, red wine vinegar, white wine vinegar, apple cider vinegar, or rice vinegar. Regular distilled vinegar is very harsh, so that's probably not the best choice.
How Do You Season A Vinaigrette?
Finally, you'll want to season your dressing. You might just want some salt and pepper, or you could kick it up a notch with some other additions. You can add some spicy dijon mustard, shallots, scallions or garlic (a little goes a long way!). That's the best part about making your own dressing – you can cater it to your own tastes. Here are a few recipe ideas.
Vinaigrette Recipes With Olive Oil
Balsamic Vinaigrette: Whisk together one part balsamic vinegar and three parts olive oil with some salt and pepper. If you like a little extra tanginess, add a spoonful of dijon mustard. Any olive oil will work here, as the balsamic comes to the forefront.
French Dressing: Start with a good EVOO with a mild flavor and whisk in one part vinegar, such as white wine vinegar, red wine vinegar, or sherry vinegar. Add a spoonful of dijon mustard and some finely minced shallots. Finish with salt and pepper to taste.
Lemon Vinaigrette: A vinaigrette doesn't need to have vinegar – citrus is another option. Add six tablespoons of good EVOO to a mason jar with the juice of one whole lemon. Add a pinch of salt and some fresh black pepper.
How Do You Store A Vinaigrette?
If you're just making a single serving of dressing, you can just mix it up in a bowl and serve immediately. But if you eat a lot of salads (well done!) you can make a larger serving for the week. Put all the ingredients in a mason jar, close the lid tightly and give it a shake. Dressing done, keep it in the fridge.
As olive oil solidifies a bit in the refrigerator, you might get some solids in the jar. Just run the closed jar under warm water until they break up. Then, give it a good shake to incorporate the ingredients, as the oil and vinegar will separate.
What Is The Best Olive Oil For A Creamy Salad Dressing?
While a vinaigrette feels light, bright, and sometimes bracing, some salads call for a more decadent dressing. Creamy dressings don't necessarily need to be unhealthy, but they do feel more substantial. These dressings work particularly well on heartier greens, like kale.
As these dressings call on other ingredients to do the heavy lifting, like yogurt and mayonnaise, a more mild bottle of olive oil can do the job well. Sure, reach for that heart-healthy EVOO if you'd like. Or, you can choose a more neutral, less pricey olive oil like regular olive oil that you'd use for cooking oil or even light olive oil, depending on the recipe.
Creamy Salad Dressing Recipes With Olive Oil
Creamy Italian Dressing: While it may seem like a lot of ingredients, a homemade creamy Italian dressing is way fresher (and healthier!) than the store-bought varieties. You'll need some good natural mayonnaise, white wine vinegar, lemon, dried Italian herbs, honey, parmesan cheese, garlic, and olive oil. We recommend using a good EVOO (maybe even one from Italy) for the health benefits and a different flavor, but you can absolutely get away with using a more neutral olive oil. Get the full recipe here.
Caesar Dressing: With its simple list of ingredients, a Caesar salad is only as good as its dressing. What goes inside? Well, this dressing is a little different than the others. It's made with raw egg yolks, anchovies, garlic, lemon juice, dijon mustard, vegetable oil, Parmesan cheese, black pepper, and olive oil. Any olive oil will suffice, as the other ingredients (read: anchovies, garlic, and parm) are so powerful. Read the full recipe on Bon Appetit here.
Ranch Dressing: The king of creamy dressings, ranch dressing is not the healthiest choice on the shelf. However, making your own ranch dressing at home means you can get that classic flavor in a cleaner way. You'll need some light olive oil, an egg, canned coconut milk, apple cider vinegar, dill, dried spices, salt, and pepper. The full recipe is here.
In Closing
There are many ways to dress up a salad, and we think olive oil is one of the best. In fact, you can just drizzle some olive oil over your greens, add a pinch of sea salt and call it a day.
Sources:
Product placement
PJ KABOS 'Family Reserve Organic - Medium'
High Phenolic and 2022 Gold-Award Winner.
Declared as 'One of the World's Best Olive Oils'.
Click here to shop.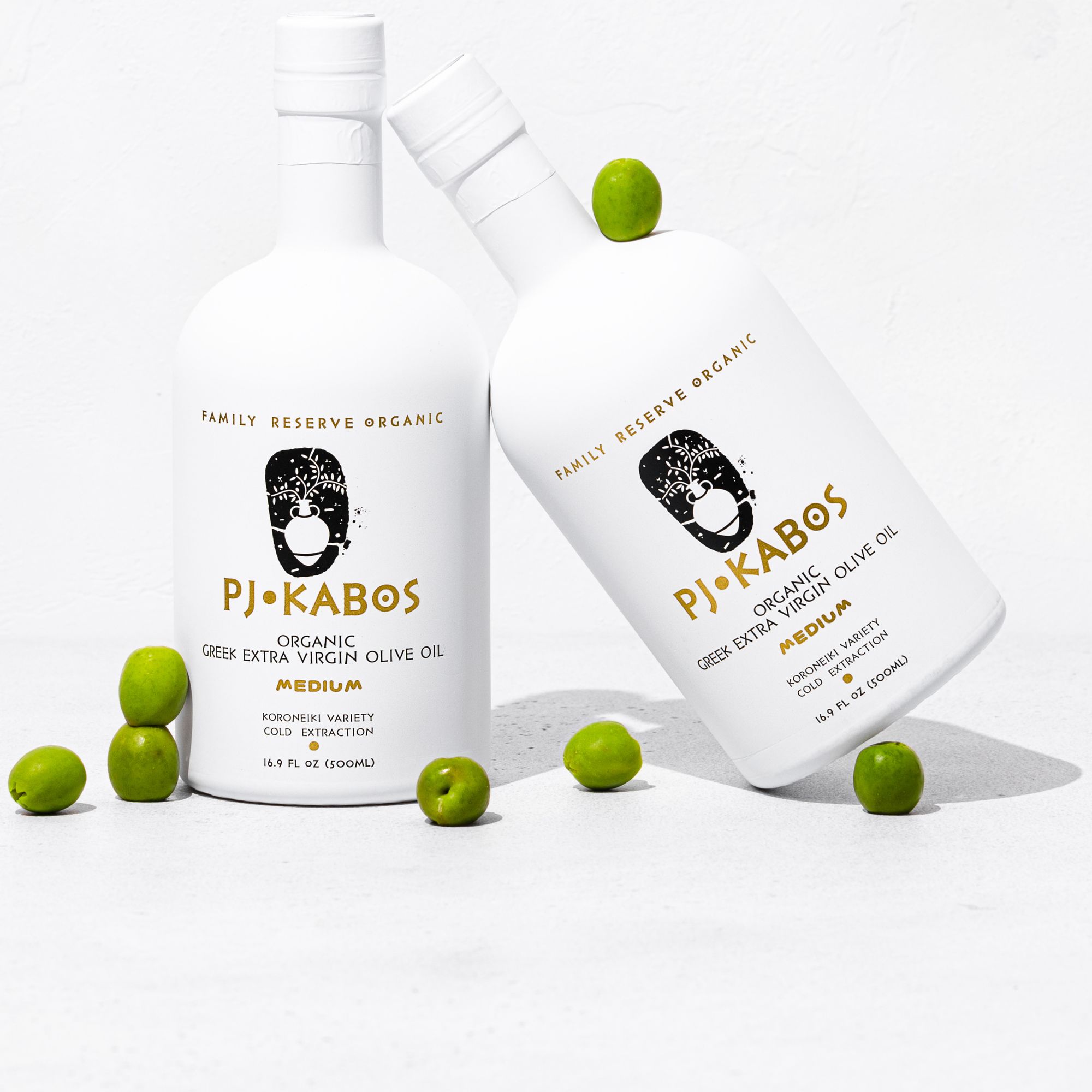 Join the newsletter to receive the latest updates in your inbox.