Thanks to its high levels of antioxidants and beneficial fatty acids, consuming extra virgin olive oil has been associated with loads of health benefits—from boosting heart health to curbing risk of cancer and neurodegenerative diseases like Alzheimer's.
But if you're a new parent or parent-to-be, you might find yourself wondering: Do the benefits of olive oil extend to babies? Turns out, that answer is a little complicated.
While the internet is full of olive oil home remedies for little ones, many of these articles are full of outdated information that could put your child at risk. Spoiler: straight, undiluted olive oil is not ideal for regular use on a baby's skin.
Here, we set the record straight on when it's safe to add olive oil to your baby's diet, and whether it's an effective way to treat common ailments such as eczema, ear aches, and more.
First off, is it safe for babies to eat olive oil?
Just like it's great for adults, extra virgin olive oil (or any type of olive oil) can be a safe and healthy component of your baby's diet—that is, after they turn 6 months old. While it's unlikely to cause major health problems prior to that, the 6-month mark is generally when pediatricians recommend adding in foods beyond just breast milk and formula.
So, why should you consider adding olive oil to your baby's diet in the first place?
Olive oil is loaded with monounsaturated fatty acids (some of which are also found naturally in breast milk, including oleic acid and linoleic acid ). It's widely regarded as safe for babies when drizzled onto food, pureed with veggies and fruits to make homemade baby food, or used to cook meats, fish, and eggs.
Extra virgin olive oil, specifically, is packed with polyphenol antioxidant compounds that promote overall health, reduce inflammation, and combat oxidative stress—all things that affect little ones, too, not just adults. Certain highly processed vegetable oils, on the other hand, may actually promote inflammation.
Healthy fats are an essential fuel for babies' growing brains, as it helps form the protective myelin coating that surrounds neurons (brain cells), and promotes the absorption of other essential vitamins and minerals found in food.
Some pediatricians have even recommended adding a little olive oil to babies' diets as a way to promote weight gain if they're going through a period of picky eating. Of course, you should always check with your pediatrician on the recommended quantity first, since excessive amounts of olive oil (or any oil) can cause diarrhea and GI discomfort.
Of course, you still need to be mindful of potential allergic reactions with olive oil, or any food. So start slow and monitor for side effects.
Can olive oil help with baby colic and digestion?
Olive oil is often touted as a home remedy for baby constipation and colic. Colic is a common condition among infants characterized by frequent, prolonged and intense crying or fussiness that's often thought to be caused by constipation, gas, or other digestive issues.
However, most colic episodes peak around 6 weeks and decline significantly at 3 to 4 months. In these cases, olive oil would not be a suitable remedy, since babies shouldn't consume olive oil until they're around 6 months old, per American Academy of Pediatrics.
As for constipation? While no research has been done on olive oil's effectiveness for treating constipation in babies or children, recent research on adults suggests it has a subtle laxative effect and boosts the frequency of bowel movements. However—and we can't stress this enough—it's so important to check with your baby's pediatrician before self-treating at home.
Can olive oil help with baby dandruff or cradle cap?
Cradle cap is a patchy, scaly, yellowish rash that begins on newborns' scalps around 2 to 6 weeks. It's similar to dandruff and thought to be caused by hormones from the mother that cross the placenta before birth.
Massaging olive oil through your baby's hair with your fingers or a washcloth is a common internet remedy for cradle cap, but it's not a good one. According to the American Academy of Pediatrics, olive oil may actually promote the growth of yeast on the scalp and make cradle cap, or any form of dandruff, worse. However, gently massaging your baby's scalp with your fingers or a soft brush while their hair is lathered with baby shampoo is a-okay.
Is an olive oil massage safe for babies?
A baby massage can be a great bonding activity for parent and child. But while you may be tempted use extra virgin olive oil as a massage oil—since it contains both nourishing vitamin E and antioxidants)—it's actually not the best choice for anyone's skincare routine.
While applying olive oil to the skin every now and then probably won't cause big problems, one study found that massaging newborn babies' skin with a few drops of undiluted olive oil or sunflower oil twice daily for 4 weeks caused a delay in the development of the protective lipid skin barrier that normally helps prevent water loss and protect against infections and allergies.
This goes for adults, too. An earlier study found that adults who used olive oil as a moisturizer for 4 weeks experienced mild skin redness, possibly due to the damaging or thinning of the skin barrier. The culprit? Olive oil's high content of oleic acid—a fatty acid that does wonders for your health when you eat it, but that's known to make skin redness and irritation worse.
Because of this, using olive oil on your baby's skin, especially if they already have dry skin, may aggravate conditions like eczema.
Natural oils that seem to be safer for direct use on a baby's skin and for baby massages include virgin coconut oil and jojoba oil.
Can olive oil help with diaper rash?
Several online sources recommend creating an emulsion with 2 parts olive oil to 1 part water as a natural remedy for diaper rash. But this level of dilution probably isn't enough to protect a baby's delicate skin from the irritating effects of oleic acid over time.
Plus, an olive oil and water emulsion isn't thick enough to make an effective diaper rash remedy—ideally, you want something that can form a protective barrier against the irritating moisture that causes diaper rash.
That said, there are plenty of home remedies for diaper rash that include olive oil as just one of several ingredients, and these are probably much more effective. This DIY diaper rash salve created by Cate Sibley, PharmD, contains olive oil, coconut oil, beeswax, and essential oils. Not only is this combination of ingredients soothing, but the beeswax helps create a barrier against moisture that allows your baby's skin to heal and shields it from further irritation.
It's not clear, however, if this would be any more beneficial than standard diaper rash creams.
Can olive oil help with a baby's cough?
Consuming olive oil won't do much for a cough, but some people swear by DIY vapor rubs that combine an oil (often olive oil, coconut oil, or almond oil) with beeswax and therapeutic essential oils like eucalyptus. In this case, the olive oil isn't really imparting much of a benefit of its own, it's just helping dilute the essential oils and make them "spreadable."
These can potentially be beneficial, but you have to be very careful: Essential oils are potent, and many homemade vapor rub recipes online are too strong for babies and could actually interfere with breathing. Some essential oils such as clove and rosemary should never be used on babies. Always look for a recipe that has instructions on how to adapt it for babies and that's ideally been medically reviewed (like this one). If you have any doubts, ask your pediatrician.
Can olive oil treat baby ear infections?
If your baby is tugging at their ears and crying more than usual, they could potentially have a very painful ear infection—and yes, olive oil may actually help.
While it probably won't cure the infection, well-known pediatricians like Dr. Bill Sears, MD, along with the American Academy of Pediatrics, say that olive oil may help alleviate the pain that accompanies ear infections. Simply use a dropper to put a few drops of warm (not hot!) olive oil in your baby's affected ear.
Just be sure to inspect your baby's ears first. If there's any fluid draining from the ear, that could indicate a ruptured eardrum, in which case you do not want to use olive oil. Always consult a doctor if there's any discharge, if your baby has a fever, or if symptoms persist for several days.
Bottom line on using olive oil for babies.
Olive oil can definitely be part of your baby's overall wellness routine, or used as an ingredient in extra nutritious baby food—but it's certainly not a miracle cure for every baby ailment.
While it may be somewhat beneficial for ear infections, constipation/ colic, or blending with other ingredients to make a vapor rub or diaper rash cream, undiluted olive oil should not be used as a topical skin treatment on a regular basis, especially not on dry skin or eczema.
As always, if you have a specific question or concern about using olive oil with your baby, check with your pediatrician.
Product placement
PJ KABOS 'Family Reserve Organic - Medium'
High Phenolic and 2022 Gold-Award Winner.
Declared as 'One of the World's Best Olive Oils'.
Click here to shop.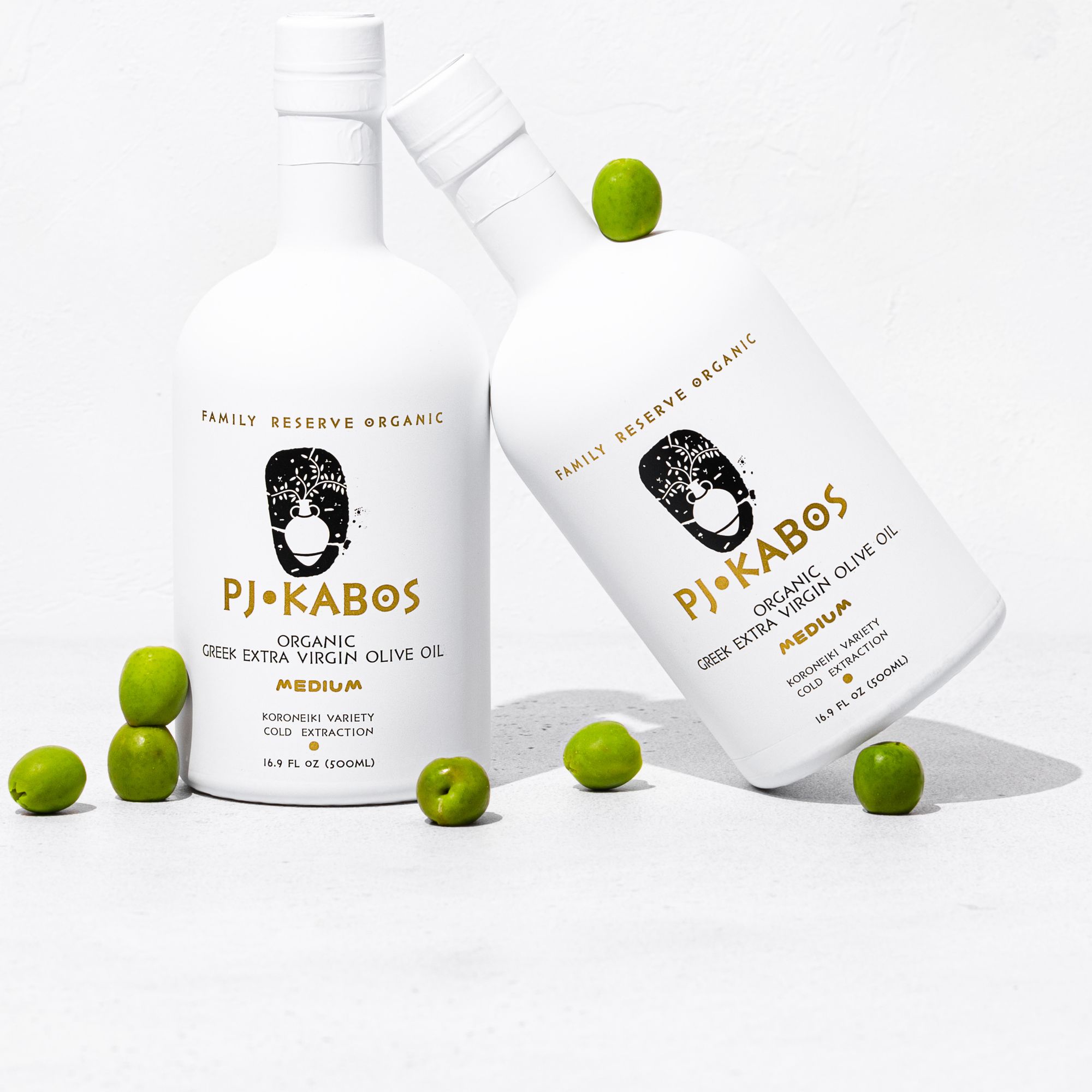 Join the newsletter to receive the latest updates in your inbox.