You can achieve a light flakey pie dough with olive oil as this galette proves. It makes enough for two dough rounds so you can use it for a traditional pie as well or make another galette later in the week! If you want to kick up the olive oil flavor even more, use extra virgin olive oil, just make sure to bake it at 400°F or less so you don't cook the flavor out. You can substitute regular ricotta for a non-vegan version of this delicious pie.
This recipe is Vegan, Vegetarian, and Mediterranean diet friendly.
Serves 4 to 6
For the dough:
2½ cups (11¼ oz.) unbleached all-purpose flour
1 tsp. sea salt
2/3 cup olive oil
5 to 6 Tbsp. ice water
For the filling:
4 Tbsp. olive oil, more for brushing
1 leek, trimmed, washed, and thinly sliced
4 oz. mixed mushrooms, sliced
Kosher or sea salt
2 cloves garlic, minced
1 large bunch rainbow chard, stems trimmed and thinly sliced, and leaves coarsely chopped
Freshly ground black pepper
¼- ½ tsp. red pepper flakes, depending on how spicy you like it
1 cup vegan ricotta
1 lemon yielding 1 tsp. finely grated zest, and 1 Tbsp. juice plus a little more for dressing
¾ mixed leafy herbs, such as parsley, mint, dill, and/or chive, coarsely chopped
For the Dough
In a medium bowl, combine the flour and the salt. Pour in the oil and 5 Tbsp ice water. Using a fork, stir until a ball forms. If the mixture is too crumbly to form, add an additional Tbsp. ice water and stir again.
Divide the dough in half, form into discs, wrap in plastic, and refrigerate at least 15 minutes.
(This dough freezes well. Double wrap it in plastic wrap and freeze for up to 3 months. Thaw in the refrigerator before using.)
Place one dough disc between two pieces of wax or parchment paper about 14- x 14-inches. Using a rolling pin, roll the dough into a round about 12-inches in diameter.
Remove the top layer of parchment paper carefully. Place the dough round (still on the parchment) on a large, rimmed baking sheet and refrigerate until ready to use.
For the Filling
Heat the oven to 375°F. Heat 3 Tbsp. oil in a large skillet over medium heat. Add the leek, mushrooms, and a large pinch of salt and cook, stirring, until softened, about 4 minutes. Add the garlic and thinly sliced chard stems and cook until the stems have softened, about 5 minutes. Stir in handfuls of the chard leaves, in batches, waiting until the leaves wilt before adding another handful, about 10 minutes total. Season to taste with salt, black pepper, and red pepper flakes. Let cool to room temperature.
In a small bowl, combine the vegan ricotta with a large pinch of salt, freshly ground black pepper, and the lemon zest. Mix thoroughly to combine.
Spread the vegan ricotta mixture over the dough round leaving 2-inches of exposed dough around the edges. Stir the Tbsp. lemon juice into the cooled chard mushroom mixture and place over the ricotta. Using the parchment for assistance, gently lift and fold the dough edges towards the center, pleating some edges over others, leaving the center filling exposed. Brush the dough with olive oil and bake until golden brown and crisp, about 25 minutes.
Meanwhile, toss the herbs with the remaining Tbsp. olive oil and a little lemon juice.
Remove the galette from the oven and let cool slightly, about 10 minutes. Top with the fresh herb salad, slice, and serve.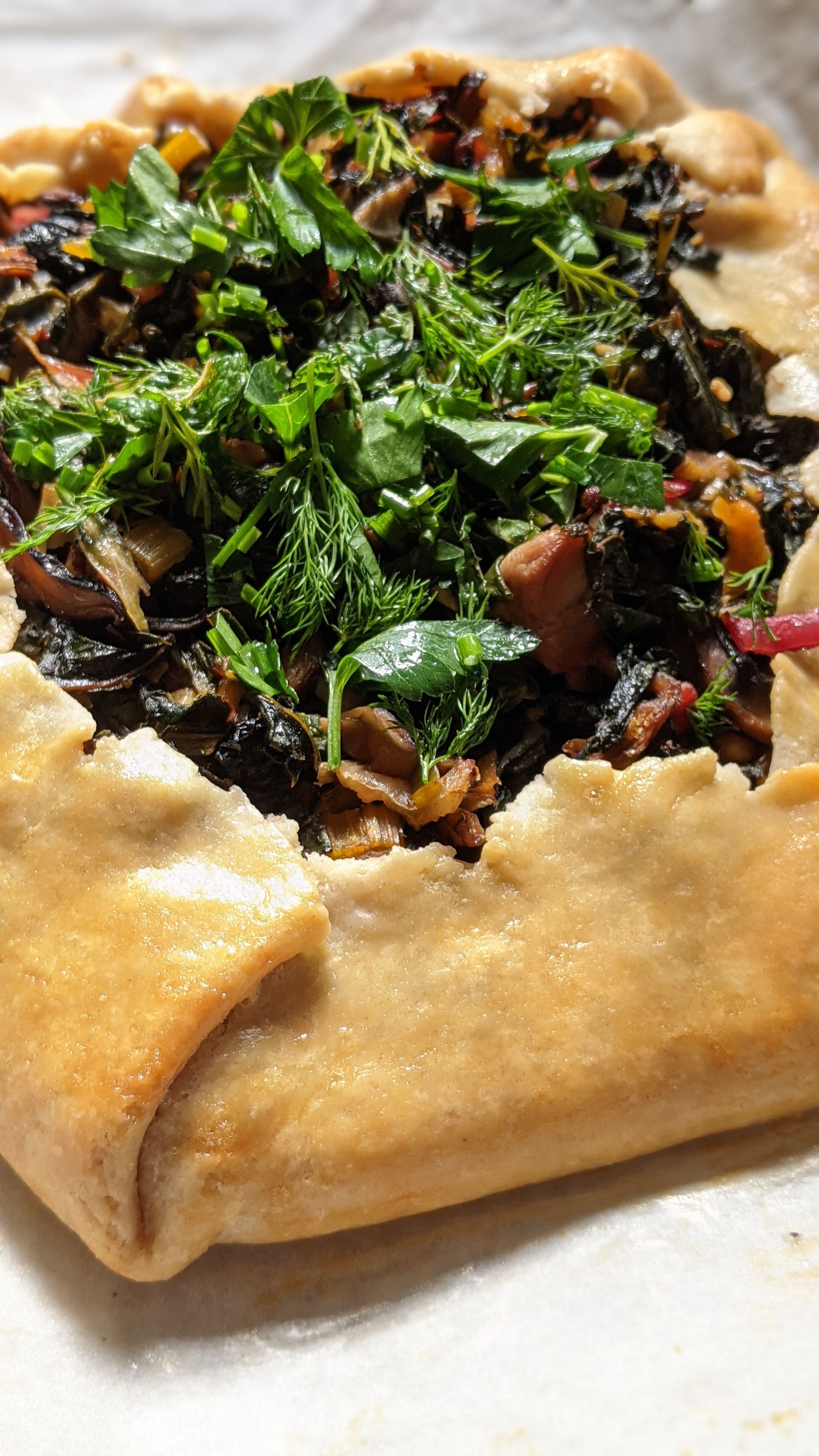 Product placement
PJ KABOS 'Family Reserve Organic - Medium'
High Phenolic and 2022 Gold-Award Winner.
Declared as 'One of the World's Best Olive Oils'.
Click here to shop.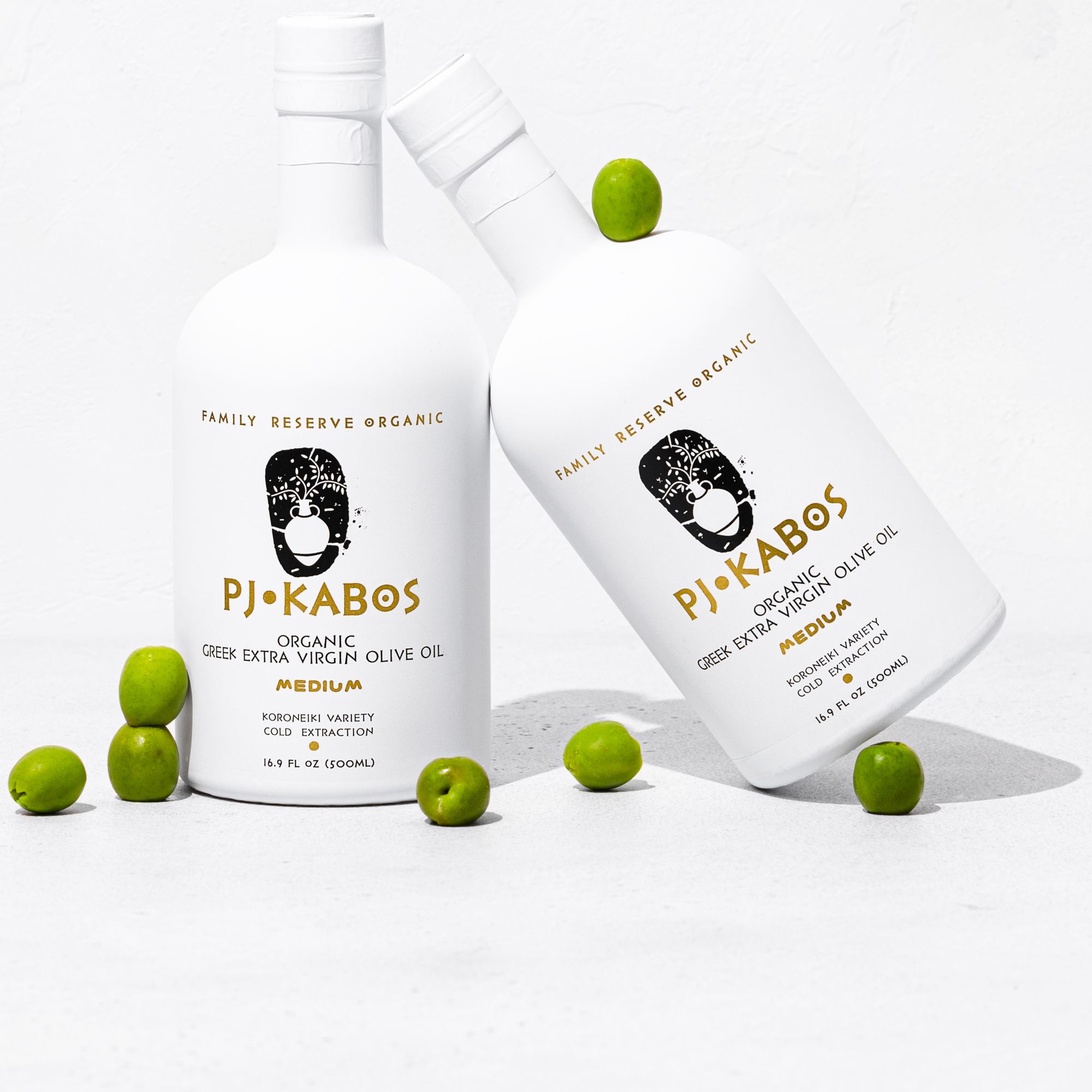 Join the newsletter to receive the latest updates in your inbox.