Blue Zones are areas of the world where a higher-than-average number of people live much longer than the average age. A lot of this is attributed to their lifestyles and the food they eat. Sardinia is one of these places, and this soup is an island classic!
This hearty yet healthy soup is eaten by many daily for lunch. Don't be discouraged by the longer ingredient list, this soup is a delicious and easy meal to put together and great for meal planners. The beauty of this soup is that you can add or subtract vegetables to bulk it out or to use what you got fresh from the farmers' market, so feel free to play. Fregola is a lovely semolina pasta from Sardinia that is available at most Italian markets. The olive oil adds a beautiful velvety feel to this soup and gives you the healthy fats your body craves.
This recipe is Vegan (omit cheese), Vegetarian, and Mediterranean.
Serves 8 to 10
7 Tbsp. extra virgin olive oil, more for drizzling
2/3 cup fregola, couscous, or acini de pepe
1 large white onion, coarsely chopped
2 medium carrots, diced
2 medium celery stalks, thinly sliced
1 medium fennel bulb, trimmed, halved, and thinly sliced
2 cloves garlic, minced
2 bay leaves
Kosher salt and freshly ground black pepper
12 oz. baby yellow potatoes, halved or quartered if large
1 (15 oz.) can cranberry or pinto beans, drained and rinsed
1 (15 oz.) can chickpeas or cannellini beans, drained and rinsed
1½ cups frozen fava or lima beans
1½ quarts vegetable broth
1 (28 oz.) can crushed tomatoes
1 rind pecorino Romano or Parmigiano Reggiano, optional
3 leaves curly kale, stemmed and thinly sliced
Chopped fresh parsley and/or basil, for serving
Grated pecorino Romano, for serving, optional
In a 5- to 6-quart heavy bottom pot heat 3 Tbsp. of oil over medium high heat until shimmering. Add the fregola and toast until browned in spots. Remove from the pot and set aside.
Add the remaining 4 Tbsp. oil and heat until shimmering. Add the onion, carrots, celery, fennel, garlic, bay leaf, a large pinch of salt, and a few grinds of pepper. Cook, stirring, until the onions begin to soften, about 8 minutes.
Stir in the potatoes and beans. Pour in the broth and tomatoes, and add the rind, if using. Bring the soup to a boil, reduce to a simmer, and cook until the potatoes are just tender, about 12 minutes. Add the kale and the toasted fregola, and cook until the fregola is tender, about 8 minutes.
Season the soup with salt and pepper to taste. Remove and discard the bay leaves and cheese rind, if using. This soup can be eaten hot or room temperature topped with a drizzle of extra virgin olive oil, fresh herbs, and grated pecorino Romano, if desired.
Product placement
PJ KABOS 'Family Reserve Organic - Medium'
High Phenolic and 2022 Gold-Award Winner.
Declared as 'One of the World's Best Olive Oils'.
Click here to shop.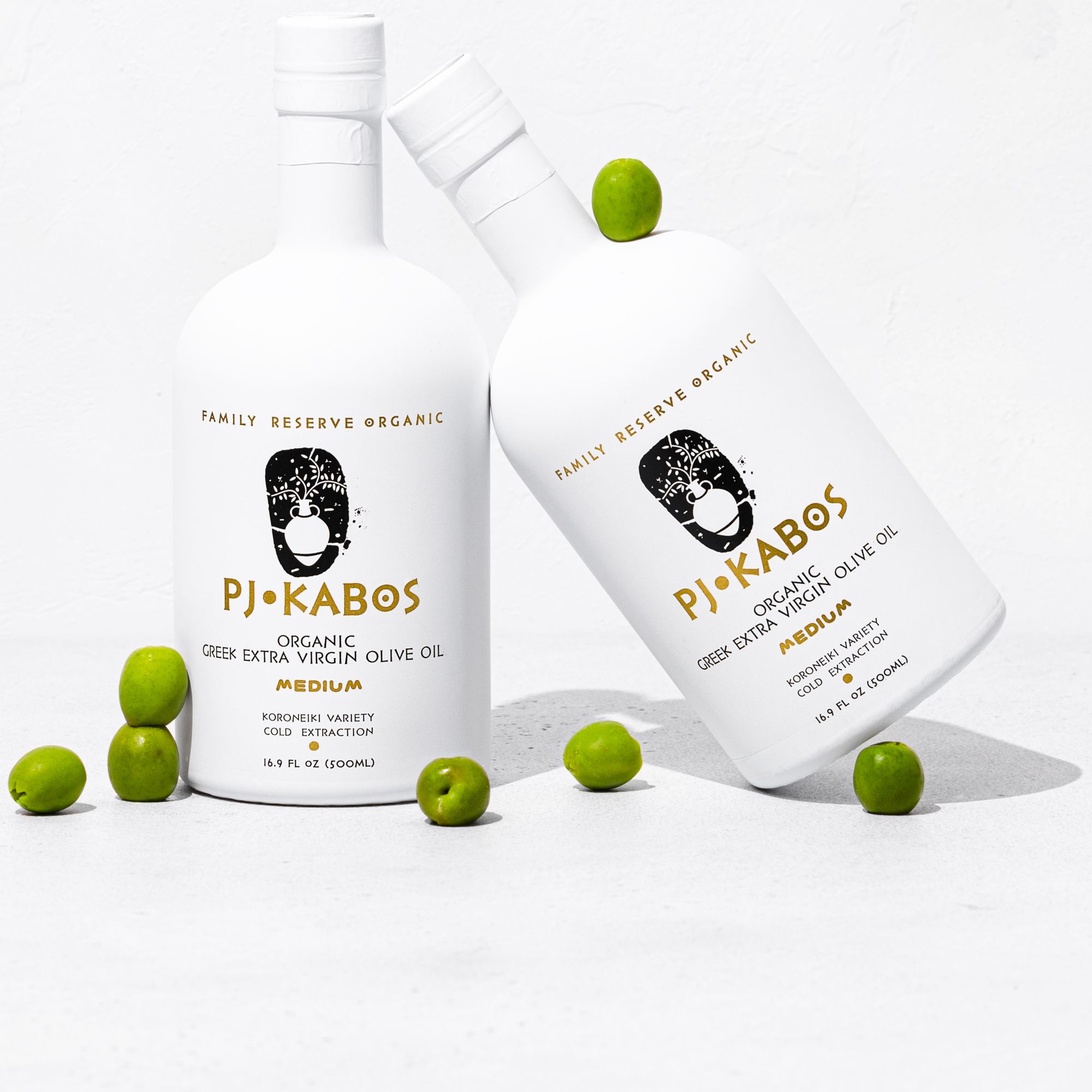 Join the newsletter to receive the latest updates in your inbox.