Making bread at home can be as easy as going to sleep. Mix a few ingredients before bed and you are halfway there.
This bread is Vegan.
Serves 8
Ingredients
15 oz. (3 1/3 cups) all-purpose flour, more for shaping
2 Tbsp. chopped fresh rosemary
1½ tsp. kosher salt
¾ tsp. instant or rapid rise yeast
1¼ cups room temperature water
¼ cup olive oil, more for the bowl and parchment
Recipe
In a large bowl combine the flour, rosemary, salt, and yeast. Stir in the water and olive oil with a large silicone spatula until the flour is completely incorporated and holds together in a ball. The dough should be wet and sticky. Pour about a Tbsp. of oil around the ball and coat it in the oil. Cover the bowl with plastic wrap and let it sit in a warm spot in the kitchen overnight, about 10 hours. The dough will double or triple in size by morning.
Dust a work surface with flour and sprinkle a little flour over the top of the dough. Scrape the dough onto the floured surface. Grab the furthest part of the dough and fold towards you, turn the dough a quarter turn and fold towards you, then another quarter turn and fold over a final time. Turn the dough over and gently form into a ball. Brush a piece of parchment paper with oil. Place the dough on the parchment and cover with a damp kitchen towel. Let the dough rest for 1 hour.
Halfway through the rest period, place a large, oven safe pot with a lid (like a Dutch oven) on the center rack of the oven and heat to 475°F.
Using a very sharp knife, cut four small slits in a square around the top of the bread. Remove the pot from the oven and remove the lid. Lift the parchment by the corners and gently lower it into the hot pot. Cover the pot and put it back in the oven. Lower the heat to 425°F and bake the bread for 30 minutes.
Remove the lid and bake for an additional 15 minutes. The bread should sound hollow when tapped and the internal temperature should be 190°F. Transfer the bread to a rack and let cool.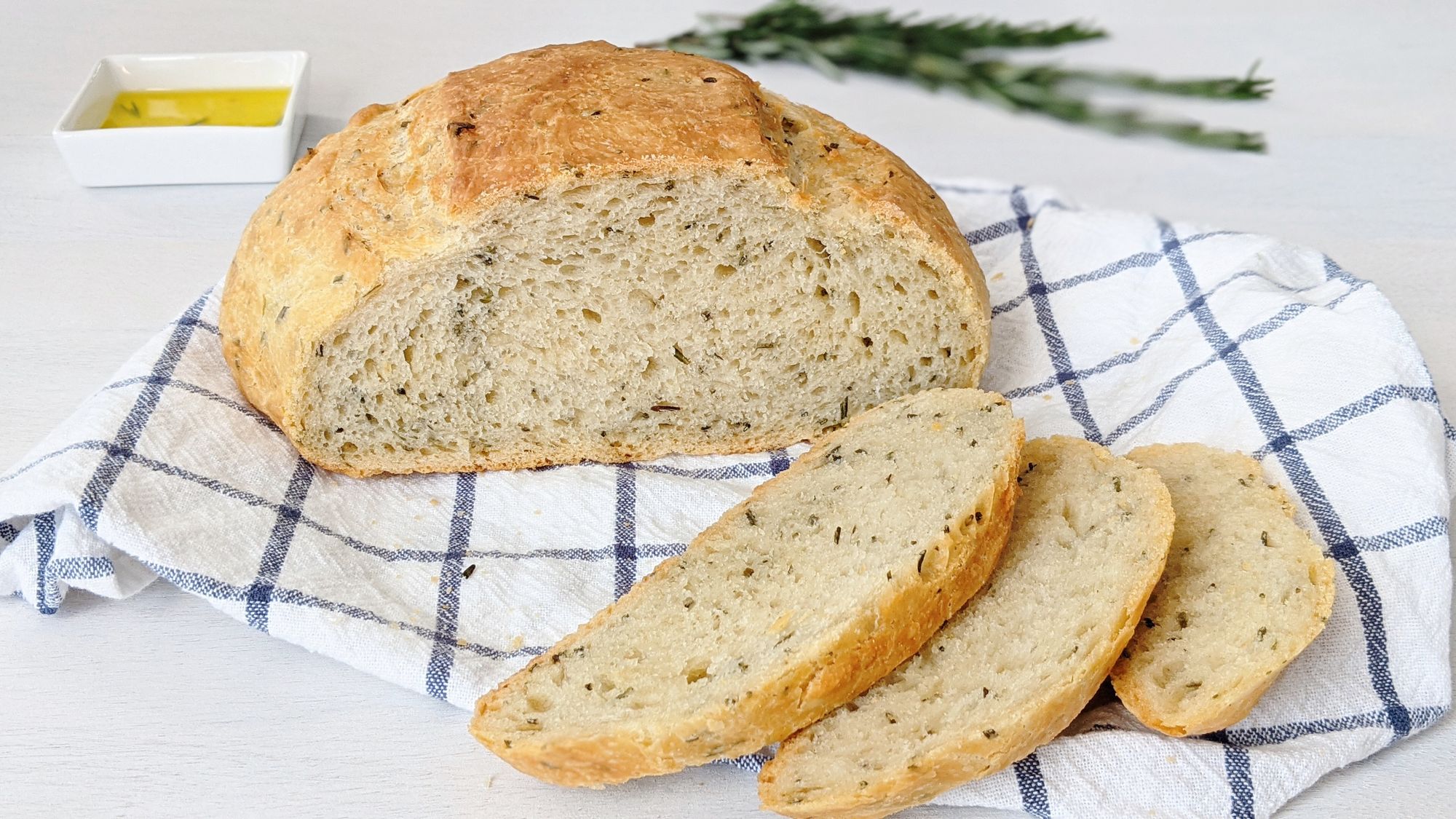 Join the newsletter to receive the latest updates in your inbox.