Not only is this salad colorful and beautiful to look at, but its flavors are also vibrant! Soaking the cabbage in ice water locks its color, so it does not bleed all over the other vegetables. Make sure you use gloves when cutting the jalapeño, to avoid spreading the capsaicin and potentially causing discomfort. You can buy julienned carrots in the produce section of most supermarkets, but if you can't find them, no sweat, just use your box grater instead to shred your carrots. Use this slaw in tacos or as a side dish for grilled meats.
This slaw is Vegan, Vegetarian, Gluten Free, and Mediterranean diet friendly.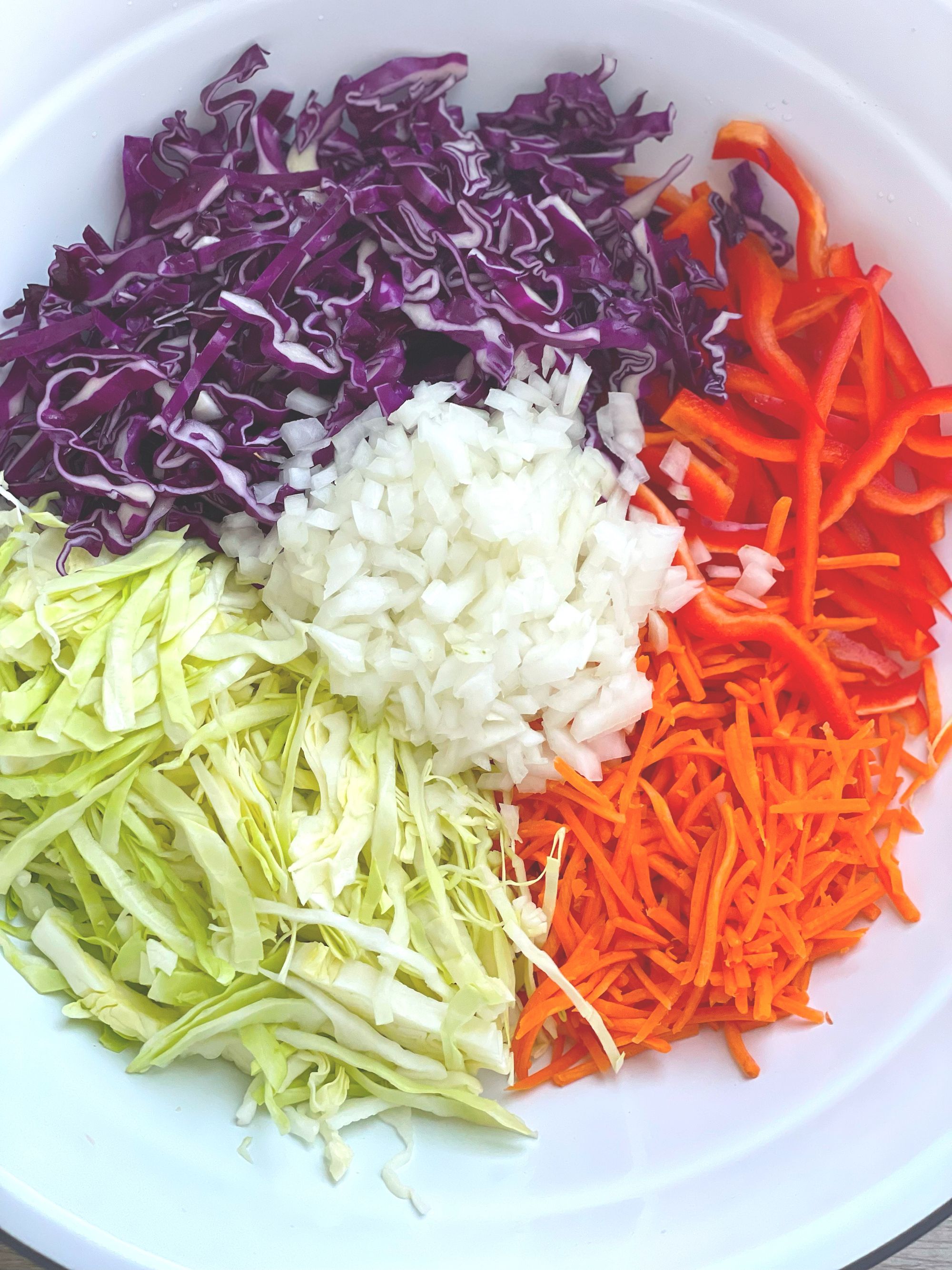 Serves 6-8
¼ small head red cabbage, thinly sliced, about 2 cups
½ cup + 2 Tbsp. extra virgin olive oil
2 corn on the cob, shucked and cleaned of silks
½ cup raw pepitas
Kosher salt and freshly ground black pepper
1/3 cup fresh lime juice, from about 4 limes
1 large jalapeño, seeded and finely chopped
1 tsp. ground cumin
½ tsp. ground coriander
¼ medium head green cabbage, thinly sliced, about 4 cups
1 large red bell pepper, thinly sliced
½ large white onion, finely chopped
1 cup julienned or shredded carrots
½ cup coarsely chopped fresh cilantro
In a medium bowl, soak the red cabbage in ice water for 15 minutes.
Meanwhile, brush the 2 corn cobs with 1 Tbsp. oil. Grill over medium heat, turning to grill all over until the corn has brightened in color and some charing has begun, about 8 minutes.
In a small skillet, heat 1 Tbsp. oil over medium heat. Add the pepitas and cook, stirring occasionally, until golden brown, about 5 minutes. Season to taste with salt. Set aside to cool slightly.
In a jar with a lid, combine the ½ cup olive oil, lime juice, jalapeño, cumin, coriander, 1 tsp. salt, and ½ tsp. pepper. Seal the jar and shake vigorously to combine the dressing.
Transfer the grilled corn to a cutting board. Lay the cobs on their sides and cut the kernels off in planks, as much as possible.
Drain the red cabbage and pat dry.
In a large bowl, combine the green and red cabbage, red pepper, onion, carrots, cilantro, corn, and pepitas and toss to mix thoroughly. Pour over the dressing and toss to coat.
Let the slaw sit at room temperature, about 20 minutes, tossing occasionally, for the flavors to meld.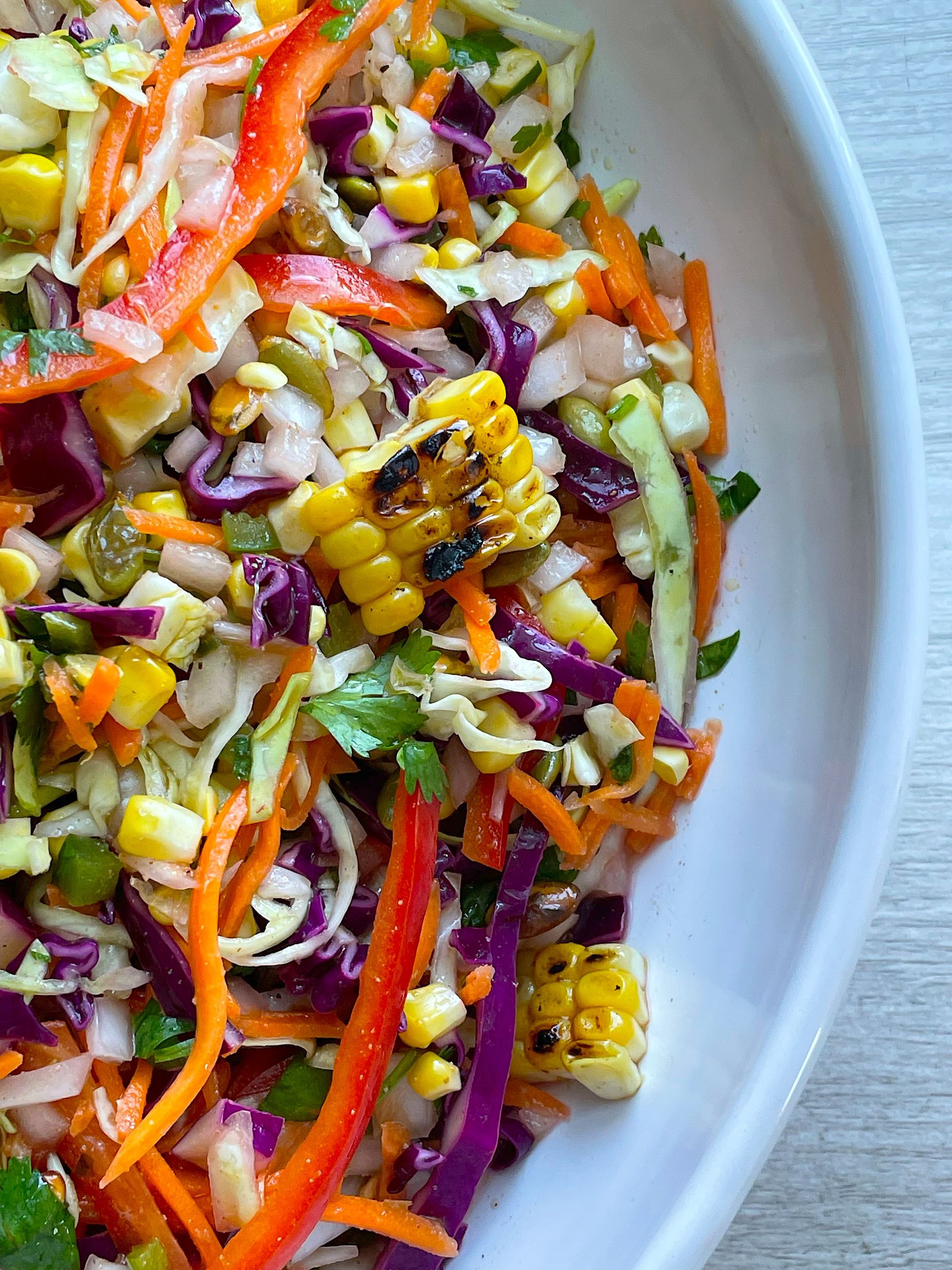 Product placement
PJ KABOS 'Family Reserve Organic - Medium'
High Phenolic and 2022 Gold-Award Winner.
Declared as 'One of the World's Best Olive Oils'.
Click here to shop.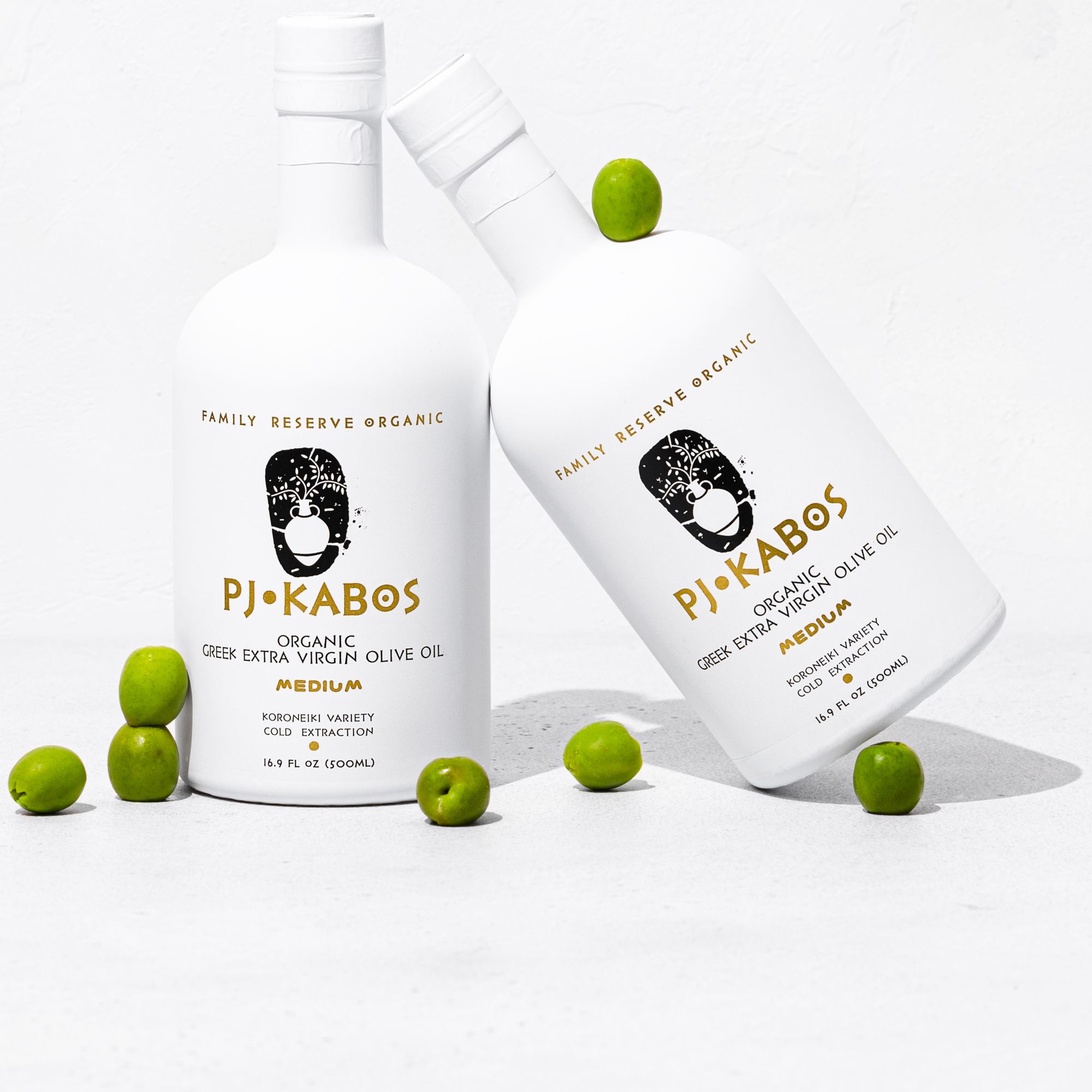 Join the newsletter to receive the latest updates in your inbox.