The Tasting Team at OliveOil.com reviewed extra virgin olive oil from Walmart. In blind tastings by 5 expert olive oil tasters we ranked the options. Here's Part 1: the lower-priced segment costing 21¢ to 35¢/oz. The higher-priced segment is covered in Part 2. Products for OliveOil.com reviews are independently selected and we do not accept payments or affiliate links.
The less-expensive segment of the Walmart assortment yielded a best buy for 29¢/oz: an organic extra virgin olive oil that scored very respectably with the tasters. But this segment also contained some real disappointments: two of the oils were given a Not Recommended rating. Read on for the story!
A success story: our best buy
The highest rated oil in this segment came from Bertolli. In addition to bottling a good, flavorful all-purpose organic extra virgin olive oil, Bertolli's parent company Deoleo has done an great job their labels. Here at OliveOil.com we are big fans of transparent and informative labeling, and the Bertolli products we reviewed have excellent label information. They clearly show a best by date, countries of origin, harvest date and even a production (bottling) date. Olive oil is made at harvest time, so post-harvest, "production" would consist of creating the blend (if it is made from multiple batches) and bottling it.
A harvest date is very valuable and has been a feature of many premium olive oil labels for years. This tells you when the oil was made, and if you're a real olive oil enthusiast, this info will also tell you what sort of year it was (wet, dry, big crop, small crop, etc.)—just like with wines. The Northern Hemisphere harvest (Mediterranean and North America) starts around late September in the warmer areas and continues all the way into the beginning of the new year. That's why the harvest date for a N. Hemisphere oil will read 2020-21; it's not two growing years' harvests, it represents a single fall-winter harvest period. Even better is the practice of designating the month(s): Nov-Dec 2020 leaves no doubt when that oil was made.  In the S. Hemisphere, olives are harvested starting in March and continuing until June or July so a Southern oil will cite a single year for the harvest date.  
Bottling dates are helpful also, as that tells you when the oil left a big tank and a controlled environment and started its journey in the supply chain to your local store. Olive oils are tested at bottling as well, against applicable standards at that time. A best before date is often calculated from bottling. The bottling date on our Bertolli Organic is 3/5/21, so we can see that the best before date of 6/5/22 is set 18 months out.  
Disappointing results for the house brand
Two of our three lowest-rated olive oils were the Walmart house brand Great Value. It's easy to justify this poor result by pointing out the low cost: the 21 & 26¢/oz prices on these products are indeed pretty much rock bottom. But a company with the vast clout of Walmart can surely do better than this. Both of these products sport the Great For You symbol, Walmart's nutrition guidance logo meant to highlight healthier foods. Olive oil definitely belongs in this program, and kudos to Walmart for pointing this out, but the oils we tasted are well past their prime. And shockingly, the best by date on the most rancid oil is still a full year away. Hopefully Walmart will pay better attention in the future and put their private label on some higher quality products. Their customers deserve that. In the meantime, shoppers should spring the extra few cents per ounce to buy one of the much better choices available!  
Our tasting process
All the oils were purchased in mid-August 2021 at Walmart stores in Northern California. We found a total of 24 extra virgin olive oils. The most expensive cost 75¢/oz, and the least expensive was 21¢/oz. A gap in the pricing fell between 35¢/oz and 41¢/oz so that's where we split the categories. Two double-blind tasting sessions were held via Zoom in mid-August. (If you click on the underlined terms below, you'll get a pop-up with further information.)
The olive oils were tasted blind in warmed regulation blue glasses by five trained olive oil tasters. Each oil was evaluated based on a single bottle purchased off the shelf at Walmart. Extra virgin olive oil is a natural product and variation between and within lots is always possible. Because of this, an oil that is rated Not Recommended due to off-flavors may not be representative of the quality of other bottles and lots. This is especially important to remember when an oil gets a low rating. The bottle our team tasted may not be representative of others from the same company—or even from the same lot—depending on how it was handled after bottling. Regardless, we report even the disappointing results because quality protection and control is an important issue for producers, distributors and retailers—and, of course, consumers.
coded samples in amber bottles were sent to the tasters
Sensory analysis—aka taste testing—by a trained, calibrated taste panel of 8 to 12 tasters is part of the legal grading process of olive oil. Such a panel can scientifically grade olive oil according to its sensory characteristics. Our mini tasting panel emulates the practices of an official panel in an effort to improve reliability over the tasting notes and opinions that you might get from a single taster or sommelier.
What did the Tasting Team look for?
Our tasters always ask "Where would this oil fit in the kitchen?" Although the Tasting Team has more stringent standards than most of us—that's why we asked them to do the tasting!—we asked them to give a more practical angle to their tasting notes and look at everyday uses in the kitchen. Also, they are sipping the oils straight with no other flavors or ingredients. Although tasting like this is essential for accurately assessing olive oil's subtle flavors, it's not the way most people use it. Therefore an oil that didn't impress the team solo might be good in a mixture with other ingredients like garlic, herbs and lemon juice. And it would certainly be good for cooking.
Tasters focused on numerous characteristics related to usability in the kitchen. Salad? Sautéing? Finishing/drizzling? In some cases, the consensus was that the oil could be used for all purposes. In other cases, the oils got more limited ratings due to sharp aromas of overripe fruit or other faults, and the tasters agreed they were better for cooking rather than raw applications. (Subtle unpleasant aromas disappear when the oil is heated.)
Intensity and fruitiness. To help you decide if an oil is right for your taste or to complement a particular dish, the team provides an intensity rating and notes on the character of the olive fruit. More intensity indicates a higher level of bitter and peppery flavors. Bitterness—and pepperiness—are a sign of the presence of healthful polyphenols. The type of fruitiness present is indicated on our ripe–green slider, and in the tasting notes. In olive oil, fruitiness is a broad category that includes green vegetative notes like fresh-cut grass and tomato leaf, and smooth ripe flavors like buttery and nutty.
Bitterness is a positive flavor in olive oil—it is not a sign of rancidity—and is a great flavor enhancer. Pepperiness (or pungency as it is known in olive oil tasting circles) is a throat-catching or mouth-warming spiciness.
How fresh does the oil taste? One of the things we love about extra virgin olive oil is its fresh fruity flavors. Evaluating that should be obvious, right? Young = fresh, older = not so fresh. Unfortunately, it ends up that it's not always that clear. Although almost all newly-made oils will taste fresh, a well-made, properly stored olive oil can continue to taste fresh for a year or more after harvest. And for even longer, these good oils can remain very usable, just milder. Tasters use the term tired to describe an oil that is beginning to show its age, but that's not yet rancid. And although an oil that is "tired" may not be as bright or intense as it once was, but it can still have plenty of use in the kitchen.
With age, an oil experiences a general flattening of the flavors due to natural oxidation, and it may leave a greasy after-effect in the mouth.
The Tasting Team
Everyone on the Tasting Team is a current or former member of an official olive oil taste panel and an international and/or domestic olive oil competition judges. They bring a variety of skills and background in olive oil and the culinary world. The tasting team for these evaluations: Deborah Rogers, Nancy Lilly, Alexandra Kicenik Devarenne, Glenn Weddell, Maria Farr, Sandy Sonnenfelt and Arden Kremer.

Bertolli Organic Rich Taste (750mL)
Intensity
Taster Notes
Medium intensity mix of green and ripe flavors. Leafy and herbaceous, tomato leaf and hay green notes, with floral, ripe olive and nutty ripe notes. Good for cooking and for flavorful dishes.
Packaging Notes
Dark plastic bottle; good product info, including harvest and bottling dates.
Recommended Uses
All-purpose
---

Star (500mL)
Intensity
Taster Notes
Mix of green and ripe with herbaceous, tomato leaf, nutty and floral notes standing out. Some overripe fruit notes. Good for cooking, could be used raw in strongly flavored dishes.
Packaging Notes
Dark glass bottle, great pour spout design.
Recommended Uses
All-purpose
---

Bertolli Rich Taste (500mL)
Intensity
Origin
Portugal, Tunisia, Spain
Taster Notes
A bit more ripe than green, with slight bitter and peppery flavors. Ripe olive, nutty and floral notes plus herbaceous and grassy greens. Probably best for cooking but could be used where strong flavor is wanted. Getting tired.
Packaging Notes
Dark plastic bottle; good product info, including harvest and bottling dates.
Recommended Uses
All-purpose
---

Terra Delyssa (1L)
Intensity
Taster Notes
Very mild, ripe oil. Some nutty, buttery and floral notes, but getting tired. Suitable for cooking and baking, or where very little olive flavor is desired.
Packaging Notes
Dark glass bottle with QR code for traceability.
Recommended Uses
All-purpose
---

Pompeian Organic Robust (473mL)
Intensity
Origin
Argentina, Spain, Tunisia
Taster Notes
Most ripe olive, buttery and nutty flavors with some hints of leafy greens. Overripe fruit aromas. Tired, flat, better for cooking.
Packaging Notes
Dark plastic bottle
Recommended Uses
All-purpose
---

Gem (250mL)
Intensity
Origin
Italy, Spain, Tunisia, Turkey and/or Argentina
Taster Notes
Mostly ripe and overripe notes: ripe olive, buttery, nutty. Better for cooking than raw applications.
Packaging Notes
Clear plastic bottle will need protection from light.
Recommended Uses
All-purpose
---

Pompeian Robust (473mL)
Intensity
Origin
Spain, Greece, Tunisia, Turkey
Taster Notes
Strong aroma of overripe fruit. Some users might be okay with it in raw applications but better suited to cooking.
Packaging Notes
Dark plastic bottle
Recommended Uses
All-purpose
---

Great Value (502mL)
Intensity
Origin
Oil from one or more of the following: Greece, Italy, Morocco, Portugal, Spain, Tunisia, Turkey
Taster Notes
Oxidized. Dominant overripe fruit notes and some fermentation. Would be okay for frying.
Packaging Notes
Dark plastic bottle
---

Pompeian Smooth (473mL)
Intensity
Origin
Spain, Greece, Morocco, Tunisia
Taster Notes
Oxidized, rancid, fermentation. Not recommended.
Packaging Notes
Dark plastic bottle
Recommended Uses
Not recommended
---

Organic Great Value (500mL)
Intensity
Taster Notes
Oxidized, rancid, fermentation. Not recommended.
Packaging Notes
Dark glass bottle
Recommended Uses
Not recommended
---
Product placement
PJ KABOS 'Family Reserve Organic - Medium'
High Phenolic and 2022 Gold-Award Winner.
Declared as 'One of the World's Best Olive Oils'.
Click here to shop.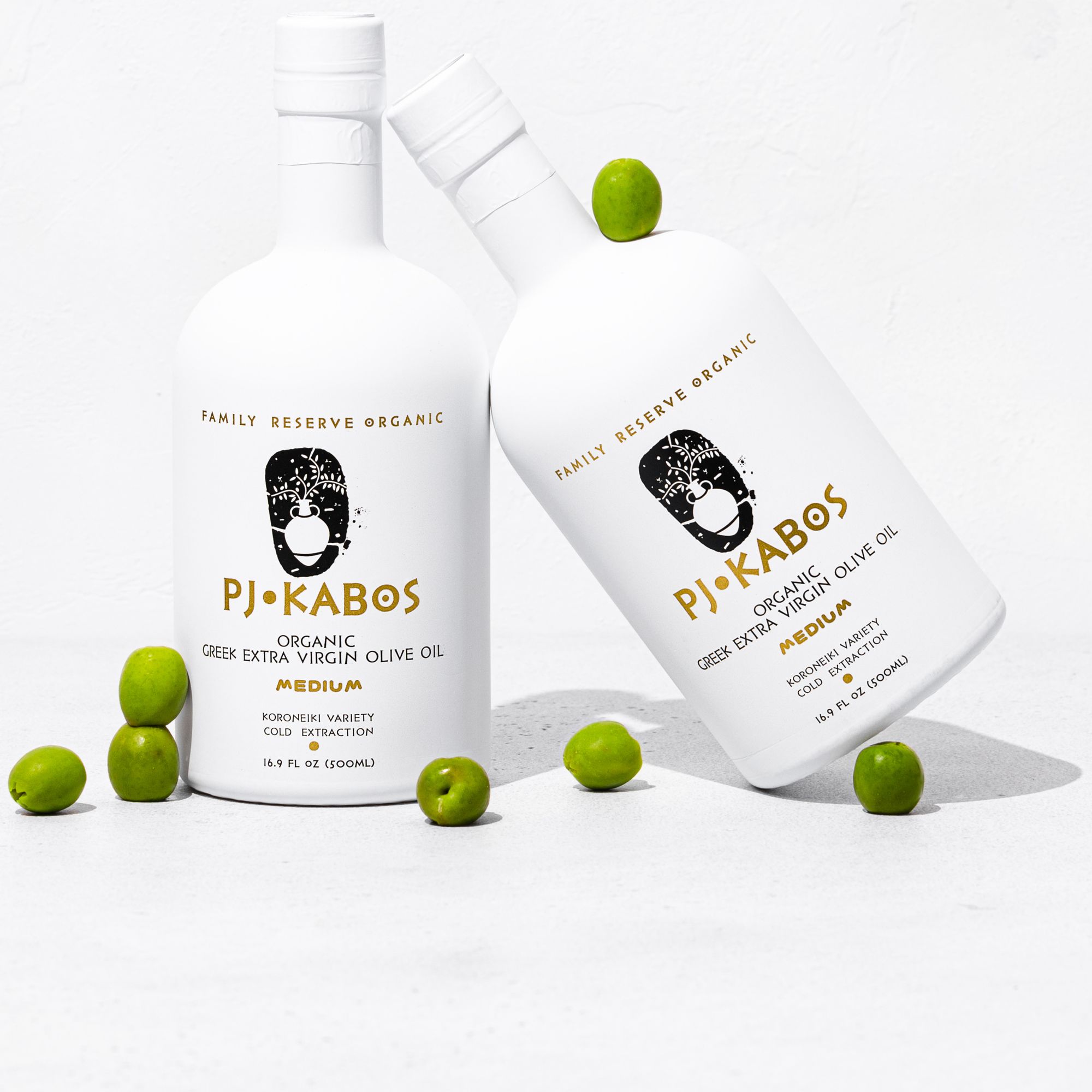 Join the newsletter to receive the latest updates in your inbox.