California's Central Coast is famous as a wine destination, but did you know it is also the home to some of the state's best extra virgin olive oil? The OliveOil.com tasting team reviews a selection of the region's finest! We provide links to the producers as a courtesy— OliveOil.com does not receive payment in any way for its reviews or from the olive oil sales they may generate. Jump to the results.
The Central Coast of California reaches from below San Jose in the north to Ventura/Oxnard in the south. Coastal mountains and valleys thread their ways through the region, producing an assortment of micro climates. The region produces both grapes and olives capable of making products of extraordinary quality, so alongside a prestigious wine industry, the Central Coast has grown a vibrant artisan olive oil community. They have a grower association, Central Coast Extra Virgin, that meets monthly to discuss production challenges, share resources, discuss important policy and regulatory issues, taste olive oil—and enjoy some good food and wine! Thanks to this combination of education and peer pressure, these Central Coast craft producers are storing their oil in stainless steel under controlled temperatures, embracing filtration, and working in many ways to continually improve their processes and products.
The producers of the Central Coast are mostly small and doing estate production. The definition of "estate" varies a bit, but generally it refers to olive oil made from olives grown by the brand owners. Getting into the details, "estate grown" would mean that the olives are grown on the owner's property, but could be milled offsite. "Estate produced" would be an oil from olives grown and milled on the owner's farm.  The critical element of estate production is the farming of the olives: great oil starts in the orchard—and there also lies the greatest risk. Farmers are at the mercy of nature (and policy), and that makes for a wild ride. There is a famous joke in agriculture: "Do you know why they call it farming? Because 'gambling' was already taken." Funny not funny.
The unpredictability of farming can be crazy-making if you are a grower-producer. A real-world example: one of the producers featured in this piece, Jeff Martin of Frantoio Grove, had an abysmal crop in 2020. He grows a single cultivar—Frantoio—and it just let him down. But there was a solution thanks to the strength of the California craft olive oil community—a bumper crop at another ranch came to the rescue. McEvoy Ranch was the source of the trees that Jeff planted many years ago, and the two farms stay in touch. Jeff was able to buy certified organic olives to mill in 2020 and so produced some olive oil to keep his customers supplied. An important point is that since normally this is an estate grown and milled oil, he clearly states the source of this year's olives on the label. An honest solution to a vexing problem!    
Our Tasting Process
As always, the tasting team worked blind with no knowledge of what they were tasting. The team for this review consisted of Deborah Rogers, Nancy Lilly, Glenn Weddell, Alexandra Kicenik Devarenne and Maria Farr; they tasted remotely, conferencing over Zoom. This tasting was a bit different in that only good oils were selected for this review. There is no ranking because they are all excellent—just different! The objective is to provide some guidance about flavor to help you find an oil you will love. We also added a little profile of the producer to help you know the people and the farm behind the product.
In contrast to what you'd find in the average supermarket, many of these oils are on the intense/robust side.  This means that they will have distinct peppery and bitter character. There are also some choices in the medium category; they still have some pepper and bitterness but it's more subdued. Any of these oils would be fantastic for cooking (let the "you can't cook with extra virgin olive oil" myth disappear forever!) but you will get the most out of them if you use them raw to pour on food after it's been taken off the heat to add lots of flavor. Don't feel bad about keeping an inexpensive extra virgin in the house for cooking—then you can then indulge in multiple estate oils for finishing, dressing and low heat uses!
Intensity and fruitiness. To help you find the right olive oil for your taste, or to use in a particular recipe, the tasting team gives an overall intensity rating—from 1 olive for mild to 5 olives for very intense—plus a note on the character of the olive fruit flavors. A higher intensity rating indicates more bitter and peppery flavors. Bitterness and pepperiness are positives in olive oil, and are signs of the presence of healthful polyphenols. As you explore the olive oil world, you might want to start trying some robust oils on your hearty hot dishes. The type of fruitiness present is shown on our ripe–green indicator icon, and descriptors appear in the tasting notes. Olive oil fruitiness goes beyond what we would normally think of as fruit to include vegetative notes like fresh-cut grass and tomato leaf, and ripe flavors like buttery and nutty.
Bitterness is a positive flavor in olive oil—it is not a sign of rancidity—and is a great flavor enhancer. Pepperiness (or pungency as it is known in olive oil tasting circles) is a throat-catching or mouth-warming spiciness.
Medium Intensity
These extra virgin olive oils are fruity with slight to moderate pepperiness and bitterness. They are listed alphabetically.
---
---
---
---
Robust Intensity
These olive oils range from moderately robust to downright assertive! They have pronounced peppery and bitter flavors, and will be excellent enhancements to hearty dishes. Learn more about using these robust higher polyphenol oils. They are listed alphabetically.
---
---
---
---
---
---
---
Product placement
PJ KABOS 'Family Reserve Organic - Medium'
High Phenolic and 2022 Gold-Award Winner.
Declared as 'One of the World's Best Olive Oils'.
Click here to shop.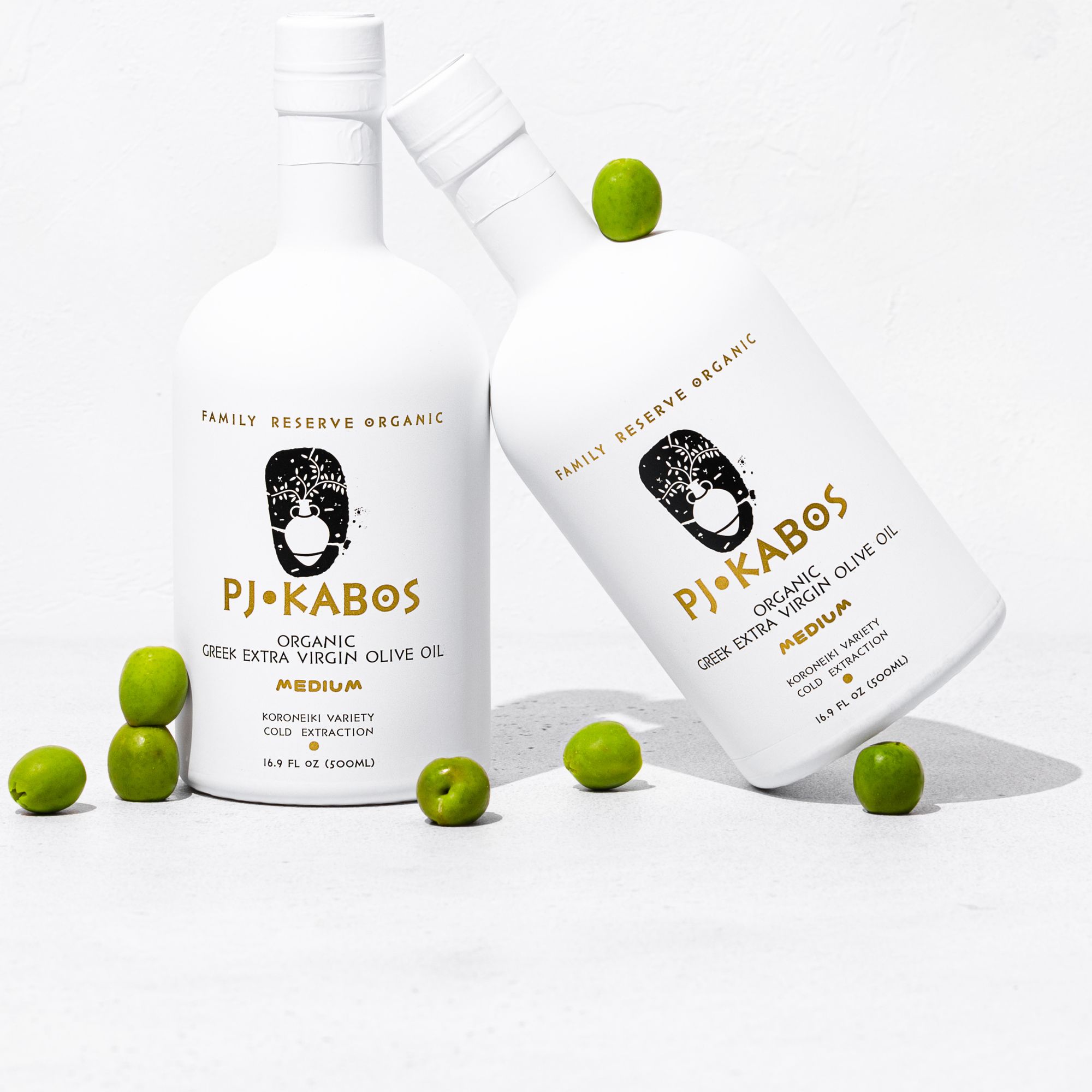 Join the newsletter to receive the latest updates in your inbox.