In their second look at the Whole Foods Market olive oil department, the Tasting Team from OliveOil.com finds both some real treats and some disappointments in the 47¢ to 87¢/oz category. In a blind tasting these 5 expert olive oil tasters rank the extra virgin options. Jump to the results.
The olive oil section at Whole Foods Market is far too big to address in a single article so we divided it into three segments by price. You can check out the lower-priced selections in Part 1 of our series and the high end in Part 3. In this article—Part 2—we look at the mid-range oils, priced from 47¢ to 87¢ per ounce. An unexpected issue came up when we starting to dive into this segment, and it resulted in a decision not to rate one product because of its lack of label transparency. But before we get into the results, a bit about the tastings themselves.
Our tasting process
All the oils were purchased in late February 2021 from a Whole Foods Market in Northern California. We chose only products that were also available in other stores in the Midwest and Northeast. If we missed one of your favorites, please let us know. We'd like to hear which olive oil brands you would like the Tasting Team to review so we can add them to the list!
The oils were tasted blind in warmed regulation blue glasses by five trained olive oil tasters who connected via Zoom due to pandemic restrictions in late February and early March. Each oil was evaluated based on a single bottle purchased off the shelf at Whole Foods. Because EVOO is a natural product, variation between and within lots is always possible. In some cases an oil that is rated Not Recommended due to off-flavors may not be representative of the quality of other bottles and lots. This is especially important to remember when an oil got a low rating. This means that the bottle our team tasted was unimpressive; it may not be representative of others from the same company—or even from the same lot—depending on how it was handled after bottling. We decided to report even the disappointing results because quality control is an important issue.
coded samples in amber bottles were sent to the tasters
Sensory analysis—aka taste testing—by a trained, calibrated taste panel of 8 to 12 tasters is part of the legal grading process of olive oil. Such a panel can scientifically grade olive oil according to its sensory characteristics. Our mini tasting panel emulates the practices of an official panel in an effort to improve reliability over the tasting notes and opinions that you might get from a single taster or sommelier.
What did the Tasting Team look for?
As always, the tasters asked "Where would this oil fit in the kitchen?". The Tasting Team has more stringent standards than most of us—that's why we asked them to do the tasting! But we also asked them to give a more practical angle to their tasting notes and look at everyday uses in the kitchen. And remember that they are sipping the oils straight from a little blue glass with no other flavors or ingredients. Although tasting olive oil plain like this is essential for accurately assessing its subtle flavors, it's not the way most people will be using it. So an oil that didn't impress the team by itself might be good in a mixture with other ingredients like garlic, herbs and lemon juice. And it would certainly be good for cooking.
Tasters focused on numerous characteristics related to usability in the kitchen. Salad? Sautéing? Finishing/drizzling? In some cases, the consensus was that the oil could be used for all purposes. In other cases, the oils got more limited ratings due to sharp aromas of overripe fruit or other faults, and the tasters agreed they were better for cooking rather than raw applications. (Subtle unpleasant aromas disappear when the oil is heated.)
Intensity and fruitiness. To help you figure out whether an oil is the right one for your taste or to complement a particular dish, the team provides an intensity rating and notes on the character of the olive fruit. More intensity indicates a higher level of bitter and peppery flavors. Bitterness—and pepperiness—are a sign of the presence of healthful polyphenols so give them a chance! The type of fruitiness present is indicated on our ripe–green slider, and in the tasting notes. In olive oil, fruitiness is a broad category that includes green vegetative notes like fresh-cut grass and tomato leaf, and smooth ripe flavors like buttery and nutty.
Bitterness is a positive flavor in olive oil—it is not a sign of rancidity—and is a great flavor enhancer. Pepperiness (or pungency as it is known in olive oil tasting circles) is a throat-catching or mouth-warming spiciness.
How fresh does the oil taste? A lot of the appeal of an olive oil lies in its impression of freshness. That should be easy, right? Young = fresh, older = not so fresh. Unfortunately, it ends up that it's not always that simple. Although almost all newly-made oils will taste fresh, a well-made olive oil may continue to taste fresh for a year after harvest, or even more. Most of the oils for this tasting came from the 2019 harvest—which means that they were over a year old—and they ranged from really good and fresh-tasting to rancid. Tasters use the term tired to describe an oil that is beginning to show its age, but that's not yet rancid. And although an oil that is "tired" may not be as bright or intense as it once was, but it can still have plenty of use in the kitchen.
With age, an oil experiences a general flattening of the flavors due to natural oxidation, and it may leave a greasy after-effect in the mouth.
The Tasting Team
Our tasting team brings a variety of skills and background in olive oil and the culinary world. All are current or former members of an official olive oil taste panel and international and/or domestic olive oil competition judges. The olive oil tasting team for this evaluation was: Deborah Rogers, Nancy Lilly, Alexandra Kicenik Devarenne, Glenn Weddell, Sandy Sonnenfelt.
What did we find?
There was a broad range of quality scores in this category, from a high of 4.0 to a low of 0.1. We noticed that the top-rated oil had a freshness advantage over the others in the category because of its Southern Hemisphere origin: it was essentially six months younger. The harvest in the Northern Hemisphere runs about September–January, and the Southern harvest goes March–June. Because of its dual Northern and Southern hemisphere origins, the California Olive Ranch Destination Series 2019-2020 harvest date is actually two different harvests, Northern in late 2019 and Southern in mid-2020. A Northern hemisphere oil might say "2019-20," but that refers to a single harvest season. But it's important to note that freshness is not everything in an oil! The quality of the fruit and the processing as well as handling and storage all add up to give the final flavor impression.
We had two oils that the tasters unanimously found to be poor. They both showed signs of fermentation, and oxidation to the point of rancidity, resulting in off-flavors and aromas. Although heating will cause a lot of minor problems in an oil to evaporate, the tasters felt that they would not even use these oils for cooking. As mentioned earlier, the team tasted only one bottle from one batch—you might find a bottle from a different batch to be fine, especially if you have used this oil in the past and liked it.
A transparency and accurate labeling fail
Another oil we have classified N/A because we deemed it a failure for a different reason: lack of transparency in the labeling. The 365 100% California Small Batch didn't pass our sniff test for label accuracy. Because olive oil labeling has been such hot topic over the years—e.g. products prominently labeled "Imported From Italy" when in fact the oil comes from other countries and is only bottled in Italy—we examine labels as well as bottle contents and make comments in our Packaging Notes. And this 365 private label product set off an alarm for us.
The obvious question was "What is considered a small batch?" We know that commercial olive oil processing can be done on a scale from small to enormous. So we wrote and asked Whole Foods for the definition of "small batch." The answers were evasive and not satisfactory. "Small batch means it is processed in small batches" was the answer, without ever saying how big a "small batch" could be. When we asked for more detail, we got "Unfortunately, we are unable to provide specific manufacturing information. We are sorry for the inconvenience." This is a totally inadequate response when you are making a label claim based on "specific manufacturing" practices that raises the price of this "small batch" bottle by 25% over the other 365 100% California product.
Whole Foods needs to do better. There is a real cost to this sort of squishy labeling language. If Whole Foods can put a "Small Batch" claim on an oil without any evidence to back it up, that undermines the real craft producers who operate with no economies of scale and produce truly small batch extra virgin olive oil. So if you want true California small batch olive oil, we would suggest you look into one of the many wonderful artisan producers of the state. And if Whole Foods responds with some evidence to back up their claim, we will be sure to tell you about it.

Cobram Estate 100% Australia Select (375mL)
Intensity
Taster Notes
Ripe fruity and sweet impression. Some leafy green, mostly tropical, buttery, stone fruit/berry notes.
Packaging Notes
Best before date is etched on the glass and hard to read.
Recommended Uses
All-purpose
---

Cobram Estate 100% California Select (375mL)
Intensity
Taster Notes
More ripe than green, with ripe olive, nutty, buttery, hay, tropical and herbaceous notes. Balanced bitter and peppery flavors.
Packaging Notes
Best before date is etched on the glass and hard to read.
Recommended Uses
All-purpose
---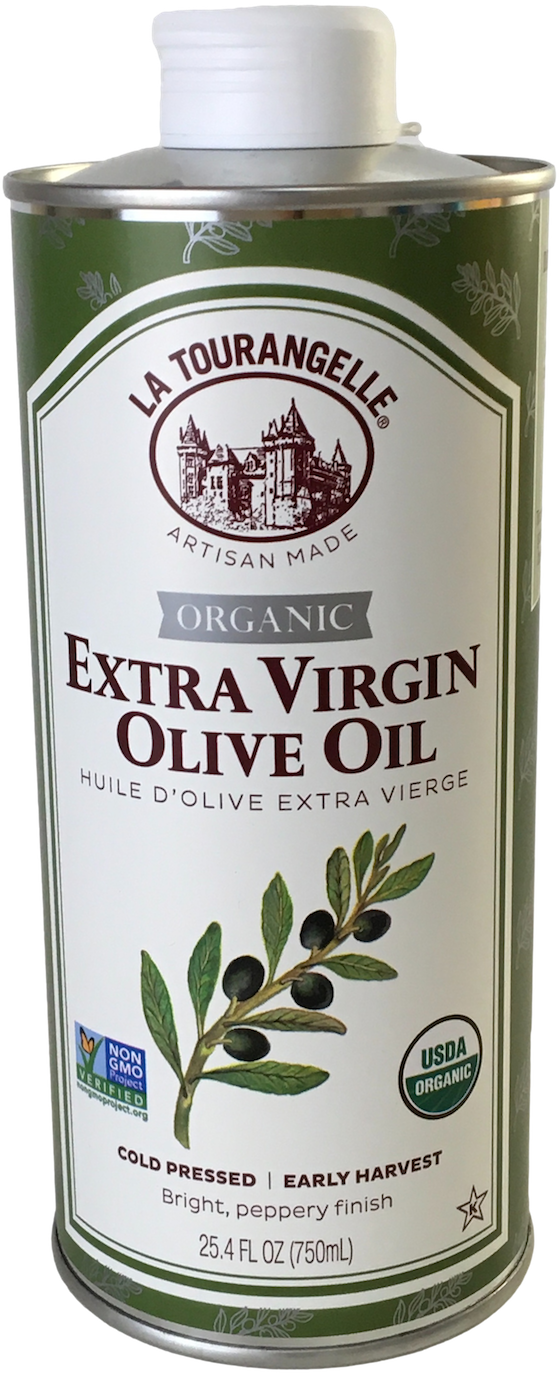 La Tourangelle Organic (750mL)
Intensity
Origin
Product of Spain; Packed in USA
Taster Notes
Lots of varietal character. Herbaceous tomato leaf, nutty, hay, tropical. Balanced moderate bitter & peppery.
Packaging Notes
This oil is imported from Spain but in the label "romance copy" it mentions "using traditional French techniques to produce delicious artisan oils in CA." This is misleading—it is only bottled in the USA. Tin provides protection from light.
Recommended Uses
All-purpose
---

California Olive Ranch 100% California (1L)
Intensity
Taster Notes
Mix of ripe buttery, floral, banana and green herbaceous flavors. Slight bitterness and pepperiness.
Recommended Uses
All-purpose
---

California Olive Ranch Destination Series (1L)
Intensity
Origin
Argentina, Chile, Portugal, California
Taster Notes
Ripe and green notes: nutty, herbaceous, banana, floral,tropical. Moderate balanced bitterness and pepperiness.
Recommended Uses
All-purpose
---

Spectrum Culinary Organic EV Olive Oil (750mL)
Intensity
Taster Notes
Mostly ripe olive and leafy notes, with some banana and floral. Slight bitter and peppery flavors. Getting tired.
---

Cobram Estate 100% California Classic Flavor (375mL)
Intensity
Taster Notes
Mostly ripe: buttery, nutty, ripe olive flavors. Some leafy green notes. Some bitterness and pepper on the finish. Tired.
---

Nuñez de Prado Organic (500mL)
Intensity
Taster Notes
A classic Spanish profile. Some overripe fruit notes but also interesting green aromas. Tomato leaf, herbaceous and eucalyptus, with nutty ripe notes
---

Colavita Premium Selection (500mL)
Intensity
Origin
Greece, Portugal; Imported From Italy
Taster Notes
Ripe olive and herbaceous dominate. Some overripe notes. Balanced bitterness and pepperiness.
---

Spectrum Culinary Organic Extra Virgin Olive Oil (375mL)
Intensity
Taster Notes
Ripe olive, nutty and buttery notes with hay and leafy undertones. Tired.
---

Lucini Everyday Extra Virgin Olive Oil (500mL)
Intensity
Taster Notes
Mostly ripe flavors: ripe olive, buttery, tropical. Slight little leafy green note. Tired.
---

Bragg Organic (16 FL OZ)
Intensity
Taster Notes
Mostly ripe notes: nutty, ripe olive. Tired.
---

Spectrum Culinary Organic Extra Virgin Mediterranean Olive Oil (1L)
Intensity
Origin
Product of Tunisia; Packed in USA
Taster Notes
Off notes and oxidation.
Recommended Uses
Not Recommended
---

Napa Valley Naturals Extra Virgin Organic Olive Oil From the Mediterranean
Intensity
Origin
Product of Spain; Packed in California
Taster Notes
Multiple issues: off notes, fermentation aromas, oxidation.
Recommended Uses
Not Recommended
---

365 100% California Small Batch (500mL)
Intensity
Packaging Notes
Confusing labeling/lack of transparency (see article above).
---
Product placement
PJ KABOS 'Family Reserve Organic - Medium'
High Phenolic and 2022 Gold-Award Winner.
Declared as 'One of the World's Best Olive Oils'.
Click here to shop.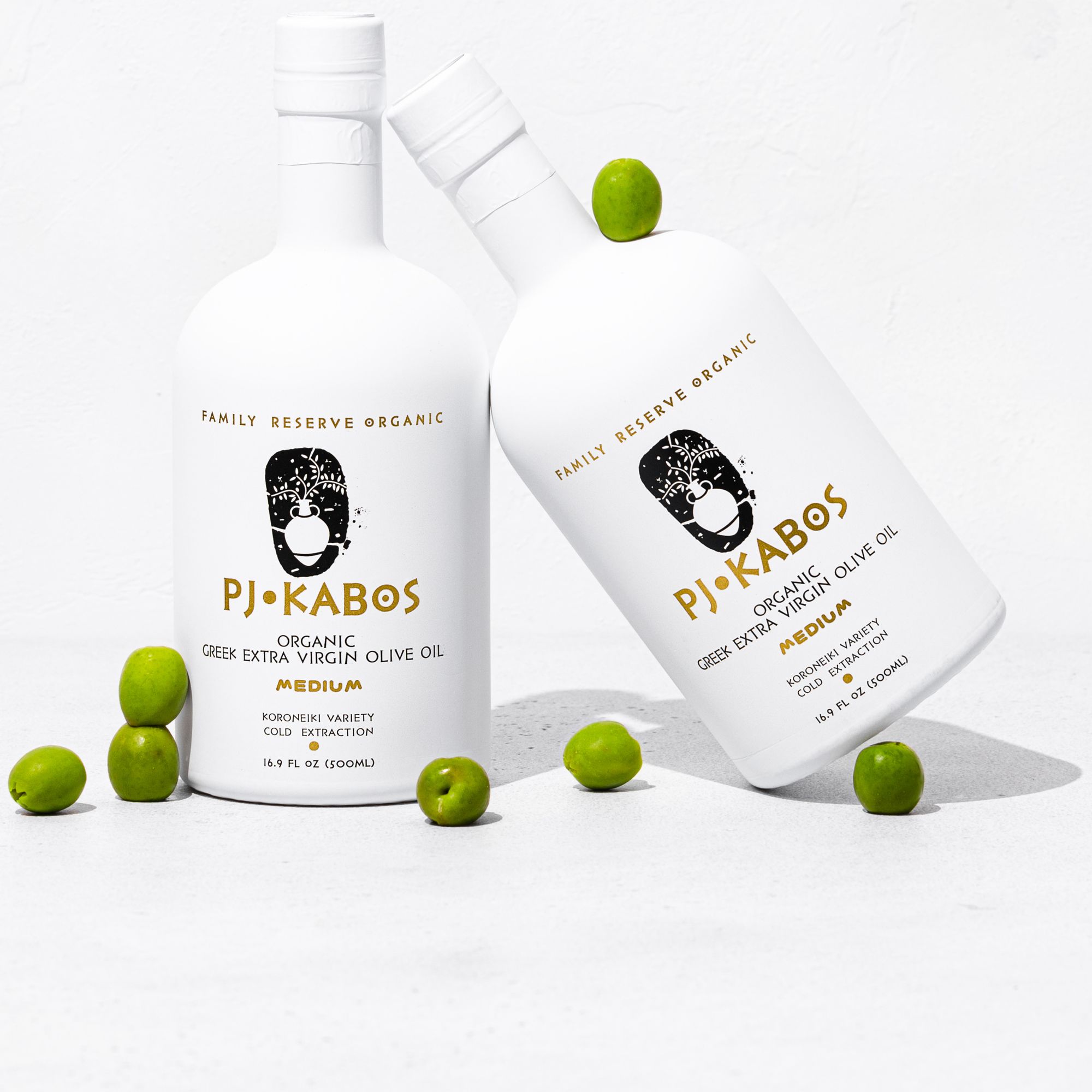 Join the newsletter to receive the latest updates in your inbox.