Our expert tasters reviewed Brightland and were unimpressed. An examination of the brand's web marketing and labeling yielded even worse results.  
Brightland blazed onto the American olive oil scene via Instagram, with an eye-catching bottle, great visual marketing campaign and a sensational origin story. The brand got lots of conventional media attention as well and became an overnight hit.
The marketing savvy and fashion sense evinced in the Brightland saga is not a surprise when you look at the history of the founder. After college, Aishwarya Iyer interned in the PR division at L'Oreal cosmetics during the early days of the influencer era. In an interview with Shakti Collaborative, she says, "I had always loved telling stories, but I didn't understand until this experience that I could make a career out of it. PR is essentially creative and analytical storytelling. You're convincing people to write about your company in a compelling way."
This PR experience has served the brand well.
Nausea and lifestyle aspirations
The Brightland narrative emphasizes several themes. A key part of the story is the founder's transition to cooking at home, followed by stomach aches. The blame is placed on the olive oil that Iyer and her husband are using. This leads her to the 2010 and 2011 UC Davis reports (now 10 years old and bearing a notice to that effect) which she loosely interprets as saying "Most olive oil that Americans consume is rotten, rancid, or adulterated." She climbed onto this bandwagon: "I wanted to change this and that's how Brightland was born."
The story includes a move from NY to LA (either in 2015 to work in communications with a tech startup, or in 2017 to revolutionize the olive oil industry, depending on the source) and the plan to build a new California olive oil brand. A class at the UC Davis Olive Center provided education on olive oil.
The other part of Brightland's story that stand out is the aspirational lifestyle aspect. The social media and website for the brand are sumptuous, beckoning not only with the usual gorgeous food photography, but also with aspirational imagery and words. "Savoring the simple moments. Everyday elegance.… Understanding traceability. Endless curiosity... Seeking the truth… Analog moments… Reading the newspaper… Being fully engaged in the present. Living well."  Lots of photos of books and sunny interiors.
Seeking the truth
We reached out to Brightland for this article, to try to reconcile some of the contradictory information we found on the website and in interviews. We received no response. The topics we wanted to clarify center around around whether the products are, as the story goes, organic, traceable and made from partner-grown heirloom olives.
Organic or not?
On their website FAQ is the question "Is Brightland certified organic?" The answer they give is "Brightland olive oil is milled in a certified organic mill, and is stored in a certified organic storage room. Brightland's farm partner is committed to organic practices and uses zero pesticides." Yet when our products arrived, there was no organic certification from CCOF, USDA or anyone else on the bottle. This means the actual answer is a lot shorter: No.
Organic certification actually means something, and indicates a lot of extra work, cost and dedication on the part of a farmer.  A "certified organic mill" means only that it has a cleaning protocol available that they will use if someone brings in certified organically grown olives and wants to make certified organic olive oil.
It could be misleading to say that the milling and storage are "certified organic" when the fruit is not. If the olives are indeed grown with "organic practices" and "zero pesticides," the more accurate way to refer to it is as "unsprayed." And we need to take their word for it since there is no record or certification of this.
"Where trust and traceability thrive."
Many consumers want to know where their food comes from, and who their farmer is, so traceability has become a hot topic. The popularity of farmers' markets and farm stands is an embodiment of this trend. So are olive mills with tasting rooms where you can chat with the farmer-producer, or the website and social media from a farmer-producer brand where you can see the people who do the work and vicariously share the experience.
Brands that source from multiple farms are also embracing this concept using digital tools. QR codes on the bottles, apps where you can enter the lot code to trace to the source, farmer profiles on the website—there are various methods of connecting that bottle in your hand to the farm it comes from. In other words, traceability means something important in food and agriculture.
Brightland promises traceability in the website header but nowhere on the website or the bottle is there any sign of actual traceability. The bottles do not have lot codes. The only identifiers are the blend name, the harvest date and the olive variety used. Because of legal requirements— the Food Safety and Modernization Act requires a producer to be able to trace food with precision— we must assume that all the bottles bearing that combination of name, date and variety are from a single lot. Yet there is no way to trace to that farm and lot of olive oil. This is not traceability.
Partner or source?
The website is not consistent about the origin of the olives. It variously says "from a family-run California farm," "the golden state of California in the Central Coast," and just generically "lovingly made with heirloom California… olives." The olive varieties also change: our bottle of Awake was advertised as Arbequina on the website, but ended up being Coratina.
There is nothing wrong with using multiple anonymous suppliers for your olive oil; it is a common practice. But it is disingenuous to call them "partners" and make claims about their location, business model, traceability and farming practices that can never be confirmed because these "partners" are never identified.
The one possible validation of the alleged farming practices—a certified organic seal—is absent. When we asked around the Central Coast olive oil community to see if we could find this "family farm" we had no success. And again, emails to Brightland seeking more information went unanswered.
A prospective customer, however, did get a response that was different from the info on the website. "Our heirloom olives are harvested and milled on-site from our farm partners located in the Central Coast and Valley of California." So the Central Coast claim is walked back to include the Central Valley, home of the vast majority of California olive oil production—mostly on large highly mechanized farms.
And for the record, "Heirloom" actually means something in plants, it's not just a catchy marketing term. The heirloom cultivar in California is the Mission olive. One might also refer to trees planted 100 years ago as heirloom trees, regardless of cultivar, although a more accurate term might be centenary trees. But neither of these conditions applies to Arbequina growing in California. In Catalonia, Spain, yes, Arbequina is an heirloom cultivar. But not in Fresno.
Do I need to spend $37 a bottle plus shipping to keep from getting sick?
This is probably the most egregious aspect of the Brightland marketing story. Unsubstantiated claims of traceability, implications of non-existent organic certification, secret farming partners: all of this is sketchy, but not as damaging as the notion that only by spending over $3 an ounce for olive oil can you get a product that is healthy. This is elitist nonsense. For those who have money to burn, it might not be a big deal. But for ordinary people—families with children, folks with college debt, those on fixed incomes, regular working people—this is important.
Olive oil is one of the healthiest foods you can eat, and it should never be regarded as something reserved for rich people. No one can say that Iyer's cooking did not make her and her husband nauseous—obviously there is no way to prove or disprove such a thing. But we were unable to find any research or evidence supporting this claim of rancid olive oil causing stomach aches or nausea.
A bigger problem is shying away from healthy olive oil as your primary fat because you believe you need to spend a fortune on it. There are many good affordable extra virgin olive oils on the market; check out our olive oil reviews for some of the excellent options.
If you buy, buy for the right reason
Our bottom line for Brightland is that if you are going to buy it, buy it for the right reason. If you are looking for traceability and a connection to the olive oil farmer and producer, or if you want organic olive oil, this is not the product for you. If you are focused on California Central Coast, there are many fabulous olive oils from grower-producers there, including some that are certified organic. These products are not cheap (in the $2-2.50/oz range), but you know exactly what you are getting and they are worth every penny. This contrasts with Brightland at $3.19/oz—opaque in origin and production practices, and fair to poor in quality based on the oils we received.
But if you are primarily looking for a beautiful bottle with Instagram cachet, Brightland might be a great fit. Since the bottles don't come with a pour spout and are messy, we would recommend you purchase a spout. A bottle brush and a small funnel might also be a smart purchase.
Our tasting process
The oils were purchased online in early September. They were tasted blind (click on these terms for more info) in warmed regulation blue glasses by five trained olive oil tasters who connected via Zoom in mid-September. Each oil was evaluated based on a single bottle. Since EVOO is a natural product, variation between and within lots is always possible. This means that the bottles we tasted may not be representative of other bottles. Buying direct to consumer, as we did, eliminates the uncertainties of the retail supply chain, but variability is always possible.
coded samples in amber bottles were sent to the tasters
Sensory analysis—aka taste testing—by a trained, calibrated taste panel of 8 to 12 tasters is part of the legal grading process of olive oil. Such a panel can scientifically grade olive oil according to its sensory characteristics. Our mini tasting panel emulates the practices of an official panel in an effort to improve reliability over the tasting notes and opinions that you might get from a single taster or sommelier.
What does the Tasting Team look for?
Our tasters always ask "Where would this oil fit in the kitchen?". The Tasting Team has high standards—that's why we asked them to do the tasting—but we always ask them to give a practical angle to their tasting notes and look at everyday uses. Also, they are sipping the oils straight with no other flavors or ingredients. Although tasting olive oil plain like this is essential for accurate evaluation, it's not the way people will use it! So an oil that didn't impress the team plain might be fine in a mixture with other ingredients. And it would certainly be good for cooking.
Tasters focused on numerous characteristics related to usability in the kitchen. Salad? Sautéing? Finishing/drizzling? In some cases, the consensus was that the oil could be used for all purposes. In other cases, the oils got more limited ratings due to sharp aromas of overripe fruit or other faults, and the tasters agreed they were better for cooking rather than raw applications. (Subtle unpleasant aromas disappear when the oil is heated.)
Intensity and fruitiness. To help you figure out whether an oil is the right one for your taste or to complement a particular dish, the team provides an intensity rating and notes on the character of the olive fruit. A higher intensity number indicates a higher level of bitter and peppery flavors. Bitterness and pepperiness are a sign of the presence of healthful polyphenols. The type of fruitiness present is indicated on our ripe-green slider, and in the tasting notes. In olive oil, "fruity" is a broad term; fruitiness includes green vegetative notes like fresh-cut grass and tomato leaf, and ripe flavors like buttery and nutty.
Bitterness is a positive flavor in olive oil—it is not a sign of rancidity—and is a great flavor enhancer. Pepperiness (or pungency as it is known in olive oil tasting circles) is a throat-catching or mouth-warming spiciness.
How fresh does the oil taste? A lot of the appeal of an olive oil lies in its impression of freshness. These two oils were from the 2020-21 harvest year. Consulting the website, we got a 2022 Best Before date. Olive oil tasters use the term tired to describe an oil that is oxidizing and beginning to show its age, but that's not yet rancid. And although an oil that is "tired" may not be as bright or intense as it once was, it can still have plenty of uses in the kitchen—it will just have a mellower flavor profile and a shorter lifespan, so use it up!
With age, an oil experiences a general flattening of the flavors due to natural oxidation, and when advanced it may leave a greasy after-effect in the mouth.
The Tasting Team
Our tasting team brings a variety of skills and background in olive oil and the culinary world. All are current or former members of an official olive oil taste panel and international and/or domestic olive oil competition judges. The olive oil tasting team for this evaluation was: Arden Kremer, Nancy Lilly, Alexandra Kicenik Devarenne, Glenn Weddell, Maria Farr.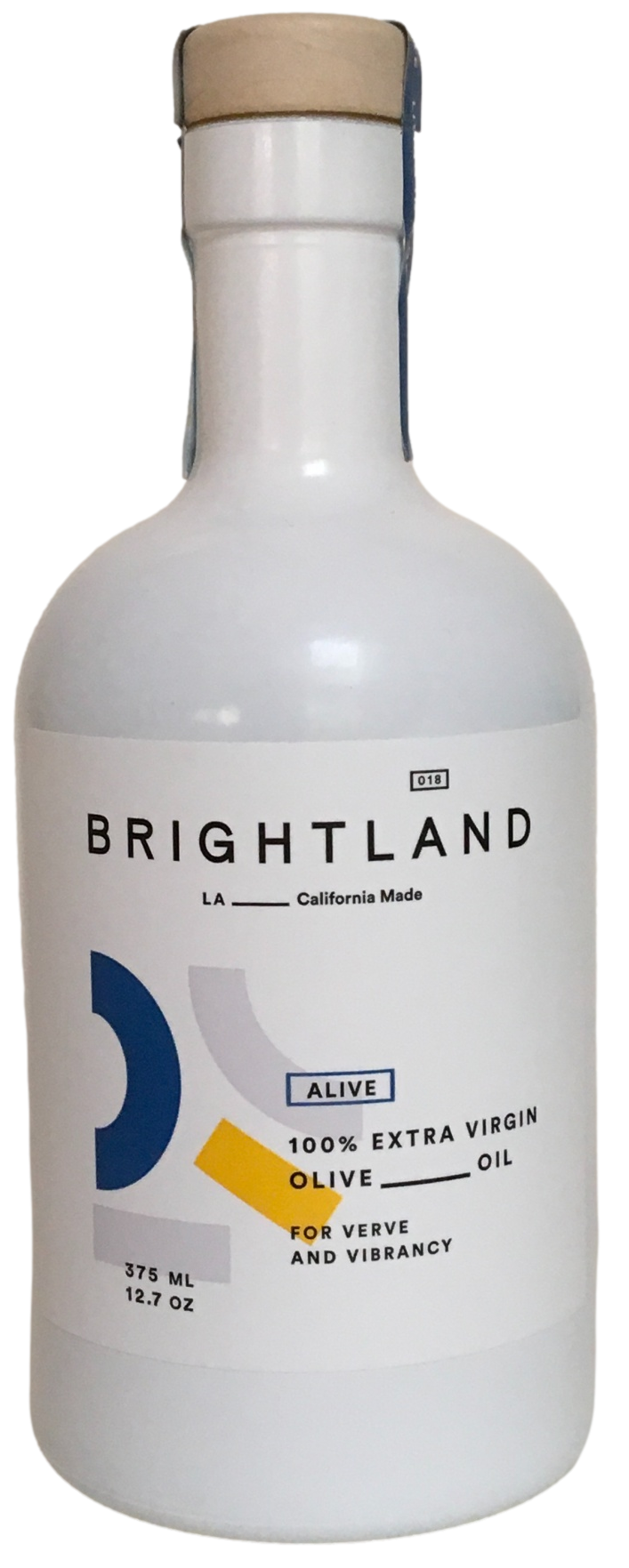 Brightland Alive (375mL)
Intensity
Taster Notes
Low aroma, flat on the palate. Oxidized mouthfeel, some rancidity and off flavors. Might be used for cooking but not recommended for raw use.
Packaging Notes
Opaque bottle provides excellent protection from light. No pour spout insert, so prone to dripping.
---

Brightland Awake (375mL)
Intensity
Taster Notes
Mix of ripe and green notes, mostly nutty, buttery, hay/straw and ripe olive. Light bitter and pepperiness. Tired.
Packaging Notes
Opaque bottle provides excellent protection from light. No pour spout insert, so prone to dripping.
Recommended Uses
All Purpose
---
Product placement
PJ KABOS 'Family Reserve Organic - Medium'
High Phenolic and 2022 Gold-Award Winner.
Declared as 'One of the World's Best Olive Oils'.
Click here to shop.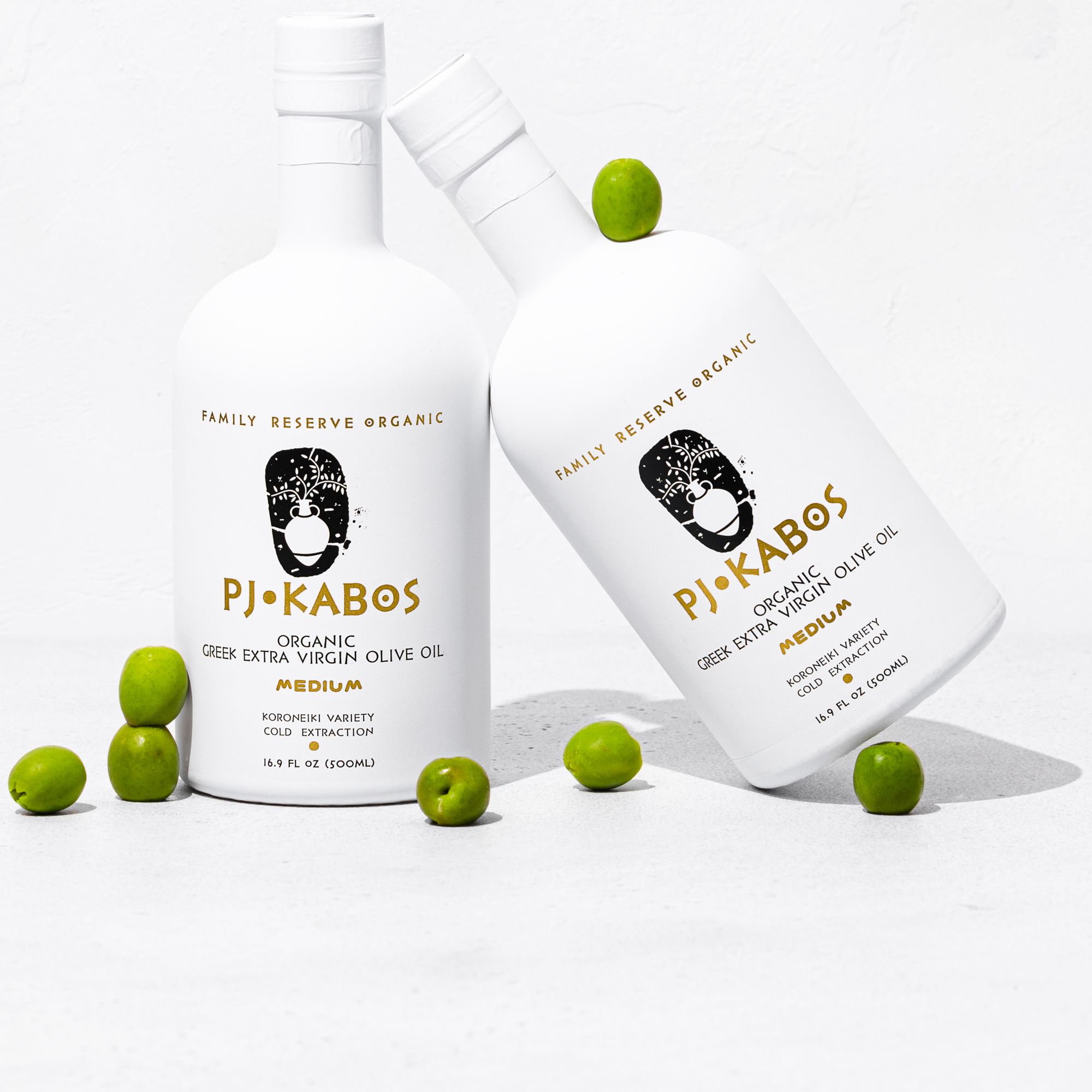 Join the newsletter to receive the latest updates in your inbox.