The Tasting Team from OliveOil.com reviewed olive oil from Costco. In a blind tasting, 5 expert olive oil tasters rated a selection of extra virgin olive oils at 18 to 47¢/oz, finding a favorite at mid-point price. Jump to the results.
Costco members rely on the company to provide high quality products at excellent prices—and olive oil is no exception. Costco has done a great job in developing an olive oil section that provides a number of price points and corresponding product levels, but all are excellent values. Our top-rated oil was only 35¢/oz making it a real bargin for this level of quality (and organic, to boot). The 2 liter Kirkland Signature Organic came in at only 18¢/oz, making it by far the best value in organic extra virgin that the Tasting Team has reviewed so far.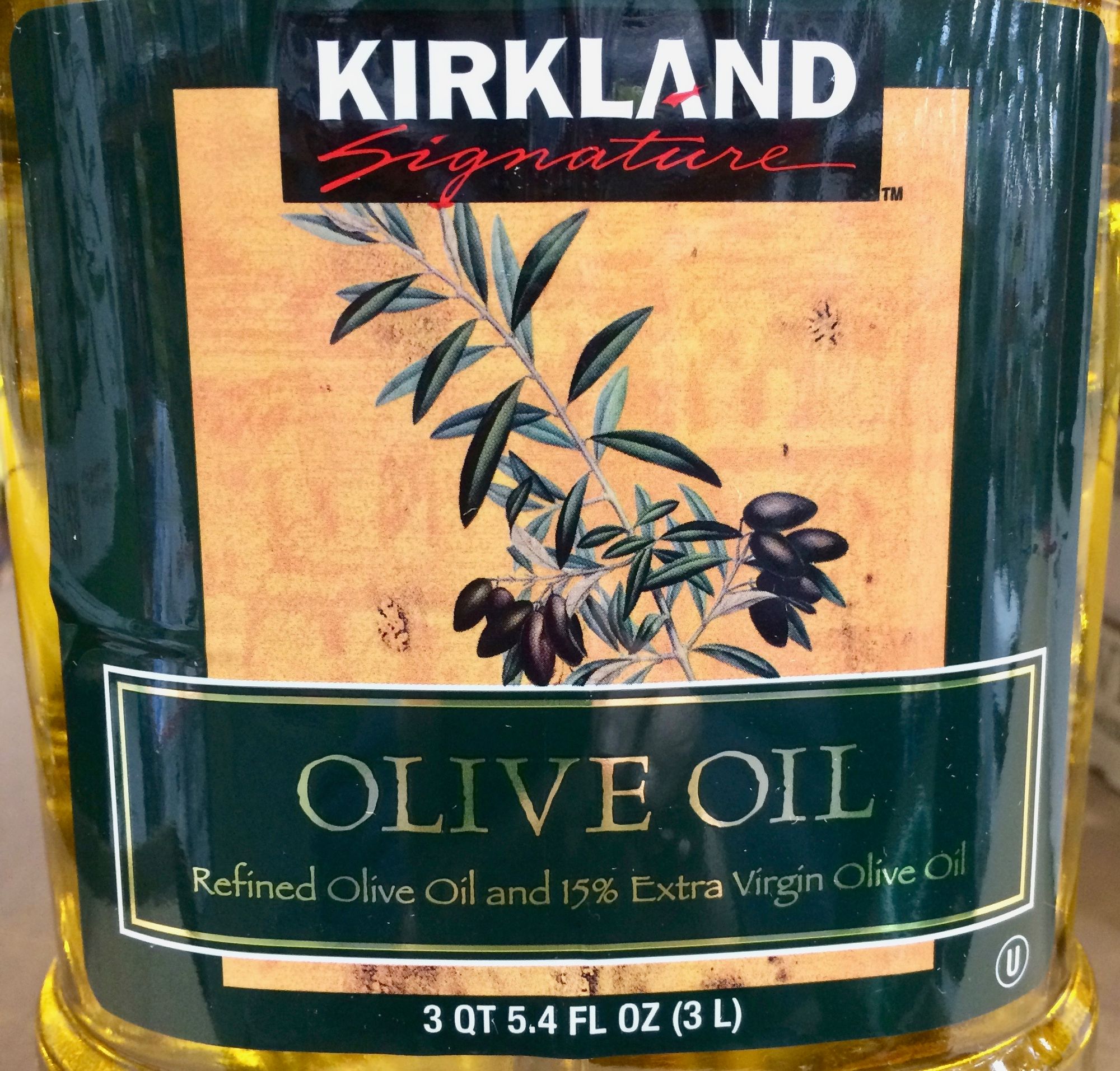 Although the Costco assortment is mostly extra virgin, a great example of their leadership in the category is their regular "Olive Oil" product. "Olive Oil" is a grade, officially defined as a blend of refined olive oil and virgin olive oil. Some official grades and standards—including those of the California Department of Food and Agriculture (CDFA) and the European Union (EU)—require that the label state that the product is a blend of refined and virgin olive oils. Several years ago, Costco voluntarily labeled their Kirkland Signature Olive Oil in compliance with the standards of the CDFA, even including the percentage of extra virgin in the blend, despite the fact that they were not covered by this requirement. It would be great if all the refined seed oils—and they are virtually all aggressively refined—had this level of transparency in their labeling.
Costco has also taken seriously the issue of traceability. Their Kirkland Signature 100% Italian product bears a certification by Bureau Veritas ensuring traceability and authenticated origin. Their decision to feature a changing assortment of products of designated origin also deserves praise. Our top-rated oil of this tasting comes from this Kirland Signature PDO series.
The EU's PDO (Protected Designation of Origin) and PGI (Protected Geographical Indication) programs guarantee the origin and also other characteristics of foods and wines. Each individual PDO or PGI region will have its own rules based on local varieties, production methods, flavor characteristics, etc. By controlling the use of these seals under carefully documented programs, the PDO/PGI system provides the consumer with an assurance of authenticity and quality.
In California—source of two of the products our team tasted—there are two major programs for 100% California-produced olive oil. One is the CDFA /Olive Oil Commission of California (OOCC) sampling and testing program (mandatory for California-produced oil over 5,000 gal). The other is the California Olive Oil Council (COOC) seal program, a voluntary trade association certification seal. It can be safely assumed that both of the CA products we tasted are under the CDFA/OOCC program although they do not bear the OOCC logo (use of the logo is voluntary even when participation in the program is mandatory). Both products do bear the COOC seal which uses the same standards as the OOCC for producers of this size.
All the organic products bear a USDA Organic seal indicating certification, and in one case, a CCOF (California Certified Organic Farmers) seal. On the Carapelli bottle we also see the totally superfluous Non-GMO Project Verified seal. This is a bit like putting a Dolphin-Safe seal on a freshwater trout. There are no GMO olives, and there never have been. The cost of getting certified by an unnecessary program can be a significant burden to smaller companies; it's a waste of resources. So pay no attention to Non-GMO on olive oils—and certainly never pass up an olive oil for not having this unnecessary seal! Canola, corn or soybean oil are a totally different issue—those crops are frequently genetically modified to be resistant to specific pesticides or pests so looking for a Non-GMO seal could make sense.
Our tasting process
All the oils were purchased from Costco in mid May in Northern and Southern California. There was not a lot of variety available where we were shopping at this time, so there is only one example of the numerous PDO/PGI options that might appear in your local Costco. We will visit Costco again and hopefully pick up more of these interesting and diverse extra virgin olive oils for tasting in the future!
The oils were tasted blind in warmed regulation blue glasses by five trained olive oil tasters who connected via Zoom due to pandemic restrictions in late May. Each oil was evaluated based on a single bottle purchased off the shelf at a Costco warehouse. Since EVOO is a natural product, variation between and within lots is always possible. This is especially important to remember when an oil got a less-than-stellar rating. It means that the bottle our team tasted was unimpressive; it may not be representative of others of the same brand, depending on how they were handled, exposure on the shelf and so on.
coded samples in amber bottles were sent to the tasters
Sensory analysis—aka taste testing—by a trained, calibrated taste panel of 8 to 12 tasters is part of the legal grading process of olive oil. Such a panel can scientifically grade olive oil according to its sensory characteristics. Our mini tasting panel emulates the practices of an official panel in an effort to improve reliability over the tasting notes and opinions that you might get from a single taster or sommelier.
What does the Tasting Team look for?
As always, the tasters asked "Where would this oil fit in the kitchen?". The Tasting Team has high standards—that's why we asked them to do the tasting!—but we always ask them to give a practical angle to their tasting notes and look at everyday uses in the kitchen. Also, they are sipping the oils straight with no other flavors or ingredients. Although tasting olive oil plain like this is essential for accurately evaluating it, it's not the way people will use it! So an oil that didn't impress the team plain might be great in a mixture with other ingredients like garlic, herbs and lemon juice. And it would certainly be good for cooking.
Tasters focused on numerous characteristics related to usability in the kitchen. Salad? Sautéing? Finishing/drizzling? In some cases, the consensus was that the oil could be used for all purposes. In other cases, the oils got more limited ratings due to sharp aromas of overripe fruit or other faults, and the tasters agreed they were better for cooking rather than raw applications. (Subtle unpleasant aromas disappear when the oil is heated.)
Intensity and fruitiness. To help you figure out whether an oil is the right one for your taste or to complement a particular dish, the team provides an intensity rating and notes on the character of the olive fruit. A higher intensity number indicates a higher level of bitter and peppery flavors. Bitterness—and pepperiness—are a sign of the presence of healthful polyphenols so give them a chance! The type of fruitiness present is indicated on our ripe–green slider, and in the tasting notes. In olive oil, "fruity" is a broad term; fruitiness includes green vegetative notes like fresh-cut grass and tomato leaf, and ripe flavors like buttery and nutty.
Bitterness is a positive flavor in olive oil—it is not a sign of rancidity—and is a great flavor enhancer. Pepperiness (or pungency as it is known in olive oil tasting circles) is a throat-catching or mouth-warming spiciness.
How fresh does the oil taste? A lot of the appeal of an olive oil lies in its impression of freshness. There was a mixture of harvest dates in this tasting. Some came from the 2019-20 harvest season—which means that they were over a year and a half old—and others were from the most recent harvest, 2020-21. The products without harvest dates had 2022 Best Before dates, indicating they were probably 2019-20 harvest. It's interesting that the highest rated oil, the PDO Terra di Bari was from the 2019 harvest. This illustrates that there is more than just age to the impression of freshness in an olive oil; initial quality, storage, packaging, etc., can all have a major impact. Olive oil tasters use the term tired to describe an oil that is beginning to show its age, but that's not yet rancid. And although an oil that is "tired" may not be as bright or intense as it once was, it can still have plenty of uses in the kitchen—it will just have a mellower flavor profile and a shorter lifespan, so use it up!
With age, an oil experiences a general flattening of the flavors due to natural oxidation, and when advanced it may leave a greasy after-effect in the mouth.
The Tasting Team
Our tasting team brings a variety of skills and background in olive oil and the culinary world. All are current or former members of an official olive oil taste panel and international and/or domestic olive oil competition judges. The olive oil tasting team for this evaluation was: Deborah Rogers, Nancy Lilly, Alexandra Kicenik Devarenne, Glenn Weddell, Maria Farr.
The Results

Kirkland Signature Organic Extra Virgin Olive Oil – PDO Terra di Bari Bitonto (1L)
Intensity
Taster Notes
A complex mild oil with both ripe and green fruit flavors: herbaceous, grassy, floral, nutty and ripe olive.
Recommended Uses
All-purpose
---

Kirkland Signature 100% Italian Extra Virgin Olive Oil (2L)
Intensity
Taster Notes
Mostly ripe fruit: nutty, ripe olive, buttery with some green notes. Good for marinades, dressings with other flavors and cooking.
Packaging Notes
Dark plastic bottle: much better than clear plastic but not ideal for protecting the oil from oxygen.
Recommended Uses
All-purpose
---

O California Extra Virgin Olive Oil Organic (750mL)
Intensity
Taster Notes
Grassy, leafy and green banana notes, with ripe olive, nutty and almond on the palate. Balanced fruity oil, a little tired.
Packaging Notes
Harvest and Best Before date are etched directly on the glass and very hard to read.
Recommended Uses
All-purpose
---

Kirkland Signature California Extra Virgin Olive Oil (1L)
Intensity
Origin
Estate Production Cuyama Valley, California
Taster Notes
Some green aromas of hay, grass and leaves, ripe nutty and buttery flavors in the mouth. A bit tired. Better suited to cooking.
Recommended Uses
All-purpose
---

Carapelli Unfiltered Organic Extra Virgin Olive Oil (1L)
Intensity
Taster Notes
Ripe and sweet, with ripe olive, buttery and nutty flavors. Some overripe fruit notes—would be better for cooking.
Packaging Notes
Countries of origin are indicated in abbreviations on the back label. "Firenze" on the front label is purely historical—this is not Italian olive oil.
Recommended Uses
All-purpose
---

Kirkland Signature Organic Extra Virgin Olive Oil (2L)
Intensity
Origin
Mediterranean Region
Taster Notes
Ripe olive, nutty and buttery with slight herbaceous green notes. A bit tired. Can be used for all purposes but best suited to cooking.
Packaging Notes
Dark plastic bottle: much better than clear plastic but not ideal for protecting the oil from oxygen.
Recommended Uses
All-purpose
---
Join the newsletter to receive the latest updates in your inbox.